11 Quotes About The Power of Witches: List List #276
This List List is sponsored by The Infinite Now by Mindy Tarquini.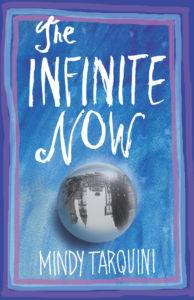 In flu-ravaged 1918 Philadelphia, Fiora Vicente, the freshly orphaned and forward-thinking daughter of the local fortune teller, has goals. She has ambitions. But when faced with a future she hasn't planned, she has second thoughts—and casts her community into a stagnant bubble of time.
Inside the bubble, life among Fiora's superstitious neighbors continues, but nothing progresses, swamped by a steady stream of unspent seconds. As the pressure builds Fiora realizes she must find the courage to collapse the bubble—or risk trapping her dreams in an unbearable, unyielding, and infinite Now.
Perfect for fans of The Night Circus, The Infinite Now is a quirky and unique fantasy read.
---
at Signature, 11 Quotes About the Power of Witches
at Off the Shelf, 12 Book Club Books to Celebrate National Reading Group Month
at Los Angeles Times, 13 New Halloween Reads
at Riffle, Strange Books for Fans of Stranger Things
at Unbound Worlds, 10 Dangerous Quotes From Philip Pullman
at PopSugar, The 12 Must-Read Books of November
at Lee & Low Blog, 5 Favorite Bilingual Poetry Books
at Lit Reactor, The 20 Best Horror Stories Available Online for Free
at Read it Forward, 14 Books to Sweep You Away
at The Paris Review, The 74 Best Entries in The Devil's Dictionary
at Harper's Bazaar, 8 New Books You Need to Read in November
at Kirkus, 10 Most Overlooked Books of This Summer 
Save
Save
Save
Follow Book Riot on Instagram
for books. Obviously.