12 Magical Harry Potter Mugs
Imagine this: a cosy autumn afternoon, the leaves are turning red, and there is just a bit of a nip in the air. It is finally time to start wearing shoes again. Most importantly, it is time to bring out the kettle and snuggle up with a good book and a cuppa. It is no longer too warm for hot beverages, so let us rejoice! In celebration of this change in season, I bring you some of my favourite Harry Potter mugs from across the land.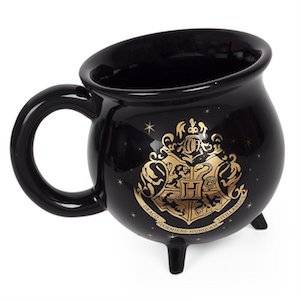 There's a Harry Potter cauldron mug, perfect for holding your favourite brew.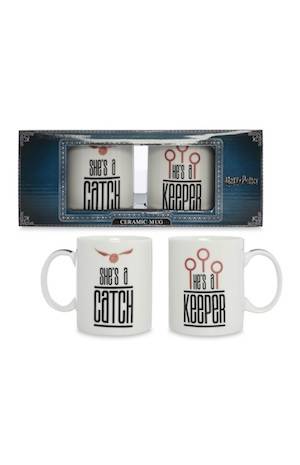 If you want to get a two-set, this matching Quidditch couple mug set is a bargain, declaring 'She's a catch' and 'He's a keeper'. These seem to be only available from Primark UK (and not the Primark US shop), but I've seen similar ones on Etsy, like this set.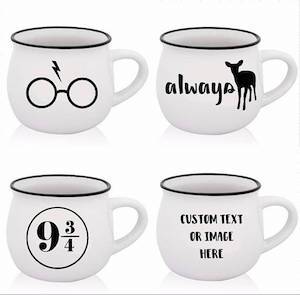 I am a sucker for a good ceramic mug, and one of the most important features I look for in mug-purchasing is how the mug will feel in my hands as I cradle my cup of tea. I love the shape and simple designs of these Harry Potter mugs.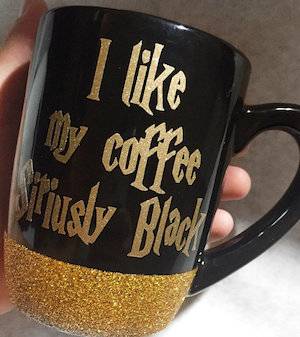 For a bit of bling in your kitchen, there's this one mug that declares how you like your coffee (Siriusly Black).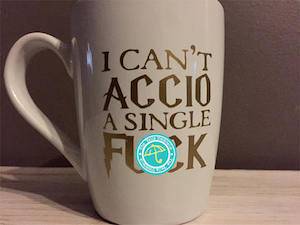 This is the Harry Potter mug for when you're having one of those days: I can't accio a single fuck. I'm considering getting one for myself for when the baby arrives because I imagine there'll be many days where I won't be giving any fucks, but I probably shouldn't be swearing in front of the baby, so…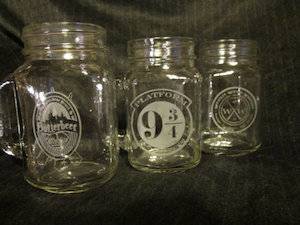 If you want something that's not so traditionally mug-like but would still be suitable for hot beverages, there are these Harry Potter mugs made out of mason jars. Perfect for a rustic Harry Potter themed wedding! Or my kitchen.

One of my favourites. This 'Accio biscuits!' mug. There is something wonderfully comforting about sitting down in the afternoon with a cup of tea and a biscuit (dark chocolate Hobnobs being my preferred biscuit choice, but I'll settle for a digestive in a pinch). For the Americans out there, a cup of tea and a cookie will do, too 😉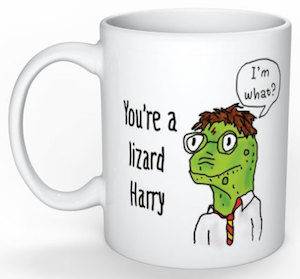 I had to add a funny one: You're a lizard, Harry. Sometimes you just need to have a chuckle, you know? This one would bring a smile with every cup of tea, I reckon.
The famous word that is used on a lot of Harry Potter merchandise these days, with a twist: Tea? Always.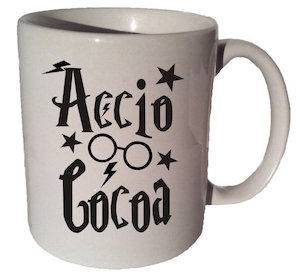 I know not everyone drinks tea or coffee, so here's one for the cocoa fans: an 'Accio Cocoa' mug.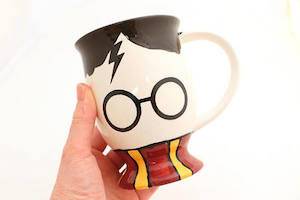 Another ceramic one with a slightly unusual shape: a Harry Potter pedestal mug. This one adds a nice bit of colour to a mug collection.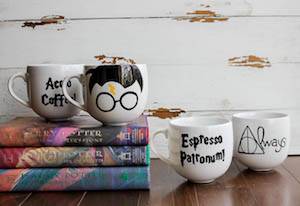 Finally, if you want to make your own Harry Potter mug set, you can with just a plain white mug, a template, and a sharpie (well, and just a couple more items). This tutorial leads you through the process and these Harry Potter mugs look great.
If you're after more bookish mugs that are more generally reading focused and not Harry Potter specific, check out these posts here and here. And the Book Riot store also has a collection of bookish drinkware for your drinking pleasure.
So as the weather turns, may you have many happy afternoons enjoying a good book with a cup of tea and a biscuit. Now, I'm off to make a cup of tea.
By signing up you agree to our Terms of Service