First Listen: Rosario Dawson Reads Andy Weir's ARTEMIS
Earlier this fall we learned that Rosario Dawson (most recently of the Netflix series The Defenders) will narrate the audiobook version of the new Andy Weir novel Artemis. Now you can listen to a clip of the audio recording at Entertainment Weekly.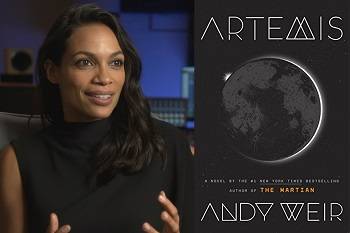 After his blockbuster success with The Martian, Andy Weir will release his follow-up, in print and on audio, on November 14th. The new novel is set on the moon and tells the story of Jazz Bashara, a smuggler caught up in a conspiracy to control the moon's first and only city. According to an interview with EW, Weir hopes that readers will be impressed by his main character: "Jazz is more nuanced. She's flawed. She makes bad decisions. She's incredibly intelligent, but she's always looking for the shortcut." Dawson says she is "ecstatic" to be narrating Weir's main character.
Fans of The Martian AND fans of Rosario Dawson will want to mark their calendars for this exciting release. Follow along with our coverage of ARTEMIS here.
By signing up you agree to our Terms of Service
We're giving away
our favorite Books of 2018...so far
. Go
here to enter for a chance to win
, or just click the image below. Good luck!