40 of Your Favorite YA Fantasy Books
This Riot Recommendation is sponsored by Elly Blake's Fireblood, published by Little, Brown Books for Young Readers.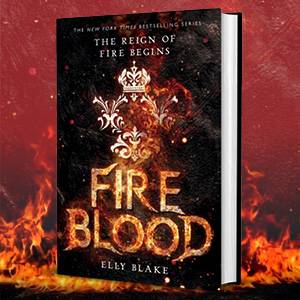 In this action-packed sequel to the New York Times bestselling Frostblood, Ruby must choose between her fiery homeland and the icy king who loves her.
---
From Harry Potter to Flame in the Mist to Shadow and Bone, nobody can deny the success and proliferation of beloved YA fantasy books. It's the go-to genre for so many people of all ages, perhaps because there's something absolutely, well, magical about the idea of growing up in a world of fantasy. We asked you to tell us your favorite YA fantasy books and you responded. Here are 40 of your favorites!
Tiffany Aching Series by Terry Pratchett
Red Rising Saga by Pierce Brown
The Iron Fey Series by Julie Kagawa
The Raven Cycle by Maggie Stiefvater
The Young Elites Series by Marie Lu
The Trylle Trilogy by Amanda Hocking
Finishing School Series by Gail Carriger
House of Secrets Series by Chris Columbus
Shadow Magic Series by Joshua Khan
Frostblood Saga by Elly Blake
Queen's Thief Series by Megan Whalen Turner
Lumatere Chronicles by Melina Marchetta
Throne of Glass Series by Sarah J Maas
Graceling Trilogy by Kristin Cashore
Harry Potter Series by J.K. Rowling
In Other Lands by Sarah Rees Brennan
Splintered Series by A.G. Howard
The Hero and the Crown by Robin McKinley
Howl's Moving Castle by Diana Wynne Jones
The Princess Bride by William Goldman
Shadow and Bone Series by Leigh Bardugo
Mythos Academy by Jennifer Estep
Seven Realms Series by Cinda Williams Chima
The Daughter of Smoke and Bone Series by Laini Taylor
Strange the Dreamer by Laini Taylor
Heroes of Olympus by Rick Riordan
The Changeover: A Supernatural Romance by Margaret Mahy
Chrestomanci Series by Diana Wynne Jones
The Heavenly Horse of the Outermost West by Mary Stanton
The Last Unicorn by Peter S. Beagle
Tortall Series by Tamora Pierce
Skinjacker Trilogy by Neal Shusterman
Dark is Rising Series by Garth Nix
Mister Monday Series by Garth Nix
The Tiger Saga by Colleen Houck
The Knife of Never Letting Go by Patrick Ness
The Winner's Trilogy by Marie Rutkoski
Maximum Ride Series by James Patterson
The Kingfountain Series by Jeff Wheeler
Shatter Me Series by Tahereh Mafi
You could win a six-month subscription to an amazing Romance box!
Go here to enter for a chance to win
, or just click the image below: