Periodic Table of Literary Villains: Critical Linking, August 18
Sponsored by Flatiron Books
---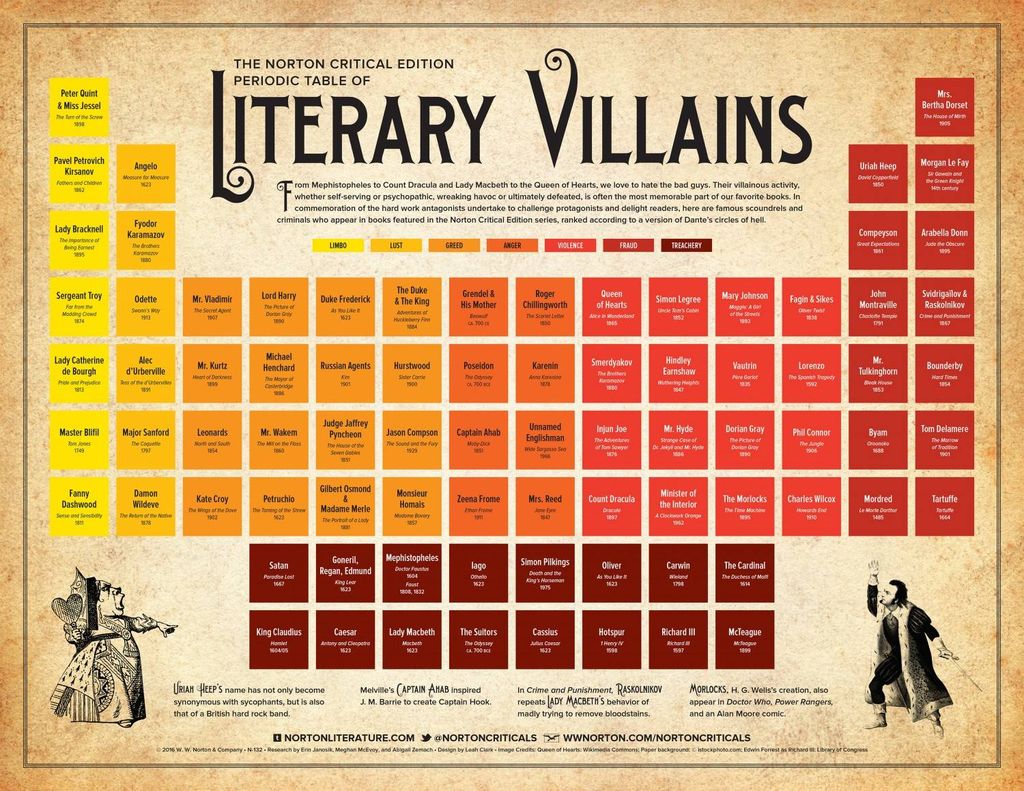 This is neat–head over to The Digital Reader for a version you can zoom in on.
---
This was all prompted by a remark I made on the Radio 4 series The Invention of Free Speech; in it, I said: "In the 1980s I both protested against the opening of a sex shop in Cambridge and taught Fanny Hill. Nowadays I would be worried about causing offence to my students." I didn't, as I was accused in the papers, remove Fanny Hill from the university course reading list for The Age of Oppositions, 1660-1780 "following a consultation with students" as the Times reported. It was never on the course, therefore it could not have been withdrawn.
Well there goes that hysteria.
---
It is now common practice for foreign novelists writing books containing LGBT characters and stories to find their work shrinkwrapped in plastic and given an 18-plus rating in Russia, in order to comply with the law, which brings fines for individuals and organisations who break it. Schwab's Russian publisher, Rosman, took a different approach: cutting a flirtatious scene in the second novel in the series – in which two male characters are reunited after three years apart – down to just a few lines. Rosman did not respond to questions from the Guardian, but told Russian press that "we only did this so that we wouldn't violate the ban on gay propaganda for minors … but we kept the romantic plotline as a whole…"
V.E. Schwab's Russian publisher removed an entire queer plotline from her books.
By signing up you agree to our Terms of Service