Featured Book Trailer: THE MOURNING PARADE by Dawn Reno Langley
This week's featured book trailer is for The Mourning Parade by Dawn Reno Langley. Check it out!
---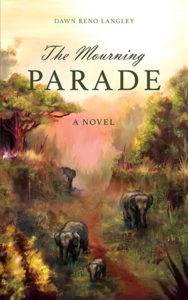 Natalie DeAngelo lost everything the day her two sons were killed in a school shooting. Desperate to move on, she volunteers as a veterinarian on an elephant sanctuary in Thailand. Despite her nightmares and a vindictive colleague, Natalie must find a way to heal an angry, injured elephant, Sophie. The pair attempt to heal together and find ways to enjoy life again.
This deeply emotional novel explores the capacity of a mother's love, the challenge of overcoming a devastating loss, and the long, tiresome journey to healing.
We have a $100 e-gift card to the country's only romance-only bookstore, The Ripped Bodice!
Go here to enter for a chance to win
, or just click the image below. Good luck!