Best Comics of the Year (So Far)
It's been an excellent year for comics so far! Here are the Rioters' favorites:
Bitch Planet Vol 2.: President Bitch By Kelly Sue DeConnick/Taki Soma/Valentine De Landro/Kelly Fitzpatrick 
This book has been a long time coming. Fans have waited for over a year and a half for Volume 2, and it totally delivers. To be honest, I am such a fan of Bitch Planet that I would wait even longer as long as the promise of more is present. Volume 2 brings with it more knowledge but exponentially more questions. We learn that the prisoners on Bitch Planet that we got to know in Volume 1 were not the first to be incarcerated. We learn that The Fathers were not always the ones in charge. The thing this creative team has done best is to leave us wanting more. Each issue sees through the sci-fi facade of Bitch Planet and alludes more to the notion that we are already there. — Patricia Elzie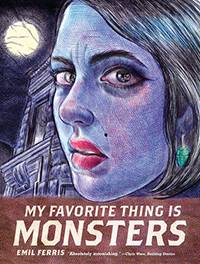 My Favorite Thing is Monsters by Emil Ferris
Ferris has created a rare combination of must-turn-page-to-know-what-happens-next with must-linger-on-page-to-look-at-every-detail-of-the-artwork. Set in 1960s Chicago, ten-year-old Karen Reyes identifies with monsters so much that she dreams of being bit and turned into one–which would be an escape from her life with a sick mother, an absent father, an artistic womanizing brother who seems to regularly find trouble, and a murdered neighbor. Reyes, a unique and wonderful child, occupies herself by trying to solve the murder and collects all the information in the diary she's sketching inside a notebook (what we're reading) which is filled with nods to artists, horror b-movies, and pulp magazines. I can't wait for volume 2 of this unique, gorgeous, and fantastic graphic novel. — Jamie Canaves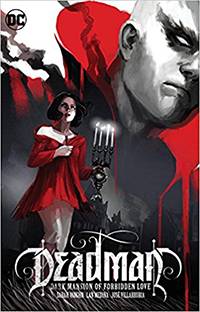 Deadman: Dark Mansion of Forbidden Love by Sarah Vaughn, Lan Medina, José Villarrubia, and Janice Chiang 
Deadman: Dark Mansion of Forbidden Love is the queer gothic romance we've been waiting for. Inspired by gothic horror comics of the '70s, D:DMOFL is a timeless tale of a woman, Berenice, who finds herself living in a creepy, old haunted mansion while her fiancé finishes writing his novel. With the help of Deadman, the ghost of a circus aerialist sent back to help the living, Berenice must solve a murder that happened over a century before. It's a truly stellar read, with absolutely stunning art by Medina and Villarrubia. But the real standout might be the book's truly effortless portrayal of Sam, Berenice's non-binary love interest. "They're non-binary. Not a woman or a man. Just awesome." Highly recommended for all fans of gothic fiction. — Charles Paul Hoffman
Nightlights by Lorena Alvarez
Nightlights is visually fantastical, stunning and vibrant. It's about a little girl named Sandy with a talent for drawing, but she meets a new girl at school who is a bit obsessed with her art. Lorena is a great storyteller and you immediately fall in love with the characters who come alive on the page. It's a book that's great for both kids and adults which will make storytime a lot of fun. I highly recommend it because long after you're done reading it, you'll want to revisit the artwork. — Ardo Omer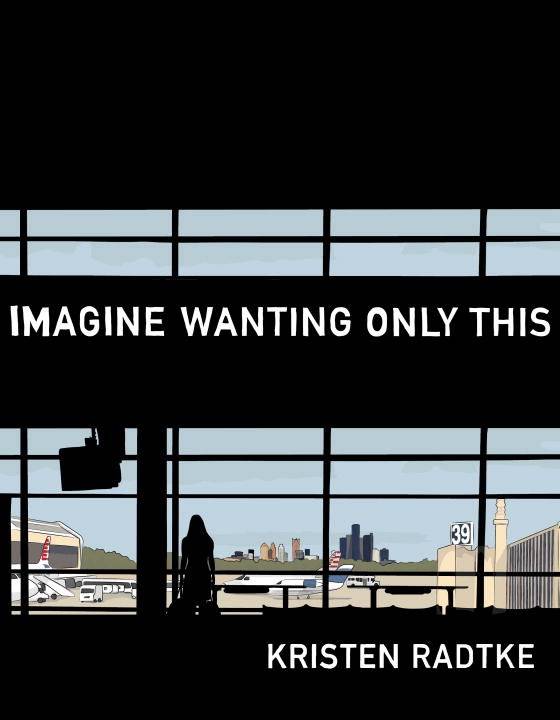 Imagine Wanting Only This by Kristen Radtke
This is a melancholy and meditative graphic memoir that feels like it was written for me. Radtke's book chronicles the ways that a genetic cardiac condition shaped her family and ties that to her interest in exploring urban decay. It's a brilliant juxtaposition that allows Radtke to ask big questions about existence, its inevitable end, and the ruins (physical and emotional) left behind. Radtke's art is spare. She blends medical iconography with simple drawings of ruined buildings around the world. Radtke makes use of this imagery to depict specific moments– alternately intimate and isolating– between family members, lovers, and friends. I read this book in one sitting on a rainy day and it was darn near perfect. — Ashley Bowen-Murphy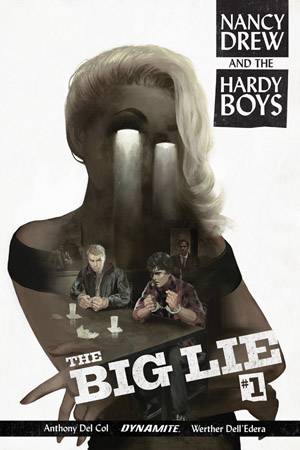 Nancy Drew and The Hardy Boys: The Big Lie #1 by Anthony Del Col and Werther Dell'edera, Dynamite 
Most will agree that the Hardy Boys are the purest snowflakes of them all. But in The Big Lie, brothers Frank and Joe are accused of murdering their father, Fenton Hardy, and their only hope for solving the crime and clearing their names is a mysterious figure from their childhoods: none other than the indomitable Nancy Drew. The first issue of The Big Lie throws readers into the interrogation room mere hours after the Hardy brothers have been arrested for Fenton's murder, and (spoiler!) we don't see Nancy until the last page. But this is exactly the kind of adventurous crime story fans of the classic characters will love, and issue #1 is the perfect kick-off to what has already proven to be a noir reboot worthy of the legacy of the originals. I have carried Nancy Drew close to my heart since I was seven years old and this thoroughly modern reimagination of her squeaky-clean world—an environment now tinged with patricide and secrets—fills my heart with joy. — Katie McGuire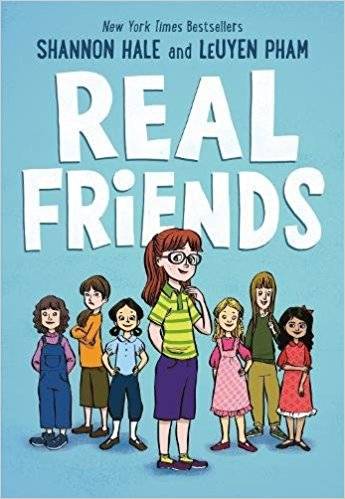 Real Friends by Shannon Hale, illustrated LeUyen Pham
In Real Friends, author Shannon Hale shares from her own life experience the struggles of maintaining friendships while she was growing up. From friends that move, trying to fit in at school, and dealing with cliques, Shannon's experiences will likely be shared with girls going through the same situations today. Pham's charming illustrations are filled with energy, color, and brilliance.  — Karina Glaser
Golden Kamuy Volume 1 by Satoru Noda
Saichi Sugimoto should be dead many times over. He emerged from the Russo-Japanese War covered with scars and burdened by memories of the comrades who didn't make it out alive. In the wilds of Hokkaido, the northernmost of Japan's main islands, Saichi hears a tall tale about a hidden cache of gold… and then discovers that it may not be so tall after all. Saichi is enjoyable as an antihero who is still more moral than the convicts, ex-soldiers, and corrupt government officials around him, but the true hook comes in the form of Asirpa, a preteen Ainu girl who teams up with Saichi to find the gold. The Ainu are an ethnic and cultural minority in Japan, and it's rare to find stories that explore their culture with respect. Couple that with the detailed artwork of turn-of-the-century Hokkaido – both its cities and its wilderness – and you may feel a chill down your spine.   — Megan Cavitt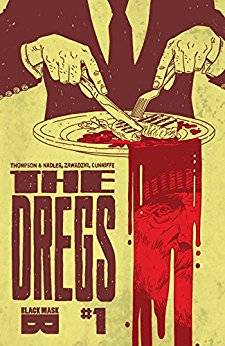 The Dregs by Lonnie Nadler, Zac Thompson, Eric Zawadzki, and Dee Cunniffe
One of the sharpest crafted comics of the year, courtesy of a deftly tight story structure and Zawadzki's breathtaking layouts, The Dregs revels in pure concentrated noir while cleverly incorporating socio-economic commentary. Taking place in the all-too-real setting of Vancouver's streets, gentrification begins to literally cannibalize its homeless denizens, and one Raymond Chandler obsessed/drug addicted would-be detective starts down a winding path of figuring out the larger mystery at the heart of it all. It's never exploitative and serves instead as a stark yet creative reminder that those faces we pretend not to see as we walk past aren't merely inconveniences, they're real people despite whatever lies we tell ourselves. Smart, meticulous, and humbling, The Dregs is far more than just a great example of its genre, it's comic book craft at its finest.  — Alex Mansfield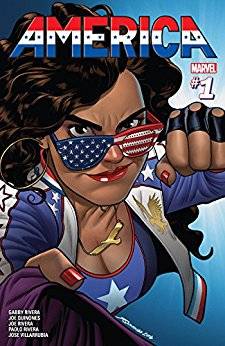 America #1 by Gabby Rivera, Joe Quinones, Ming Doyle, José Villarrubia 
America is a spectacular superhero comic book which manages to explore superheroing in thoughtful and inventive ways while also being a total blast. The language in America is beautiful, particularly America's superhero monologues, poetic explorations of the internal work of being a superhero/human being. The world of America is so fully fleshed out, particularly the space of Sotomayor University. I love a superhero school, and this one in particular is incredibly imaginative and hopeful. The full spread map of the campus, with a Department of Radical Women & Intergalactic Indigenous Peoples Building and a Magic/Mutant Power Test Zones establishes the particular vision the creative team has of what a superhero school could and should look like. America pursues its theme of self-discovery and self-improvement in a dazzlingly varied set of adventures, from a Hitler-punch to a lecture by Lunella Lafayette on the ways systems can limit people (particularly, the books suggests, women of color) from their potential. "What do you need in this moment to be the best you?" Lunella asks, encapsulating the question at the heart of this amazing comic book. –Asher Guthertz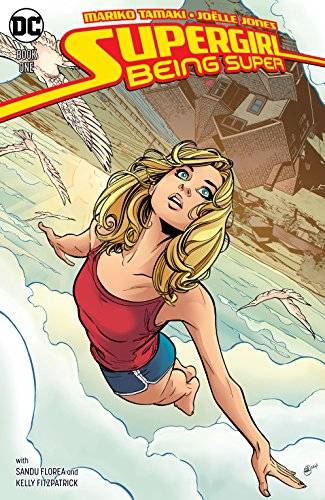 Supergirl: Being Super by Mariko Tamaki, Joelle Jones, and Sandu Florea, DC Comics 
This is the first Supergirl comic in decades – if not ever – to truly feel like it's aimed at teenage girls. Tamaki and Jones give us a Kara who is prickly and vulnerable, awkward and coltish and visibly teen. Though "alienated-teen-as-actual-alien" is hardly a new concept, they don't go cartoonish with it; their Kara has a definite place in her community and with her loved ones but is still confused, lonely, and questioning – a feeling most teens can probably relate to. The setting and pacing are moody and sparse and just a bit eerie, bolstering Kara's feelings of discomfort and, well, alienation. It took us sixty years to get here, but we've finally got a Supergirl comic that Kara herself would love to read. –Jess Plummer
By signing up you agree to our Terms of Service
Enter to win
$250 to spend at Barnes and Noble!