Creating a Roald Dahl nursery
Our guest room right now is fairly inoffensive: pale blue walls, double bed, built-in wardrobe, two small dressers, bedside table, light. Eventually, this will become the baby's room, and I've started to think about how this might be decorated.
We could simply replace the double bed with a cot and maybe upgrade the dressers. We could go all out and create an epic nursery, like the incredible Harry Potter one  that made the rounds on the internet about a year ago. But to be honest, we probably won't be doing that. I've been looking for ways to decorate that involve less commitment (in terms of both time and money) but would still make the room a tad more exciting than 'inoffensive guest room that happens to contain a few bits of baby furniture'.
I do like the idea of a literary or bookish theme (of course), and so I'm turning to one of my favourite children's authors of all time: Roald Dahl. His books were full of wonderful characters, great food descriptions, and timeless quotes that would be perfect on the walls of the baby's room (or my room, if I'm being honest).

Wall decal with my favourite wall quote of all time: "And above all, watch with glittering eyes the whole world around you because the greatest secrets are always hidden in the most unlikely places. Those who don't believe in magic will never find it."
For just the second part of that quote, there's this gorgeous print with some great colours.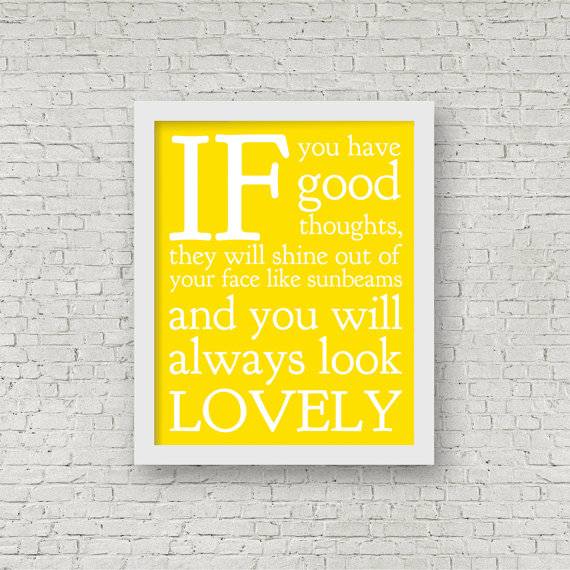 Another great quote, this one from The Twits: 'If you have good thoughts, they will shine out of your face like sunbeams and you will always look lovely'. A print on a very happy sunshine yellow.

A Matilda lampshade! With the Quentin Blake illustrations! My goodness I need this (I'm starting to think that this baby is going to end up with a whole lot of things I secretly want for myself) 
British home improvement store B&Q have some great Roald Dahl cushions and other soft furnishings, like this Golden Ticket cushion.

Etsy has some pretty cool cushions too, like this one that even has a pocket for a book.