30 of Your Favorite Books About What Parenting is REALLY Like
This giveaway is sponsored by Confessions Of A Domestic Failure by Bunmi Laditan.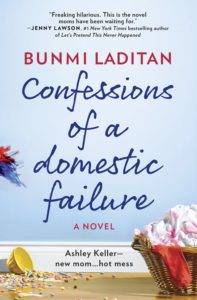 From the creator of The Honest Toddler comes a fiction debut sure to be a must-read for moms everywhere.
There are good moms and bad moms—and then there are hot-mess moms. Introducing Ashley Keller, career girl turned stay-at-home mom who's trying to navigate the world of Pinterest-perfect, Facebook-fantastic and Instagram-impressive mommies but failing miserably.With her razor-sharp wit and knack for finding the funny in everything, Bunmi Laditan creates a character as flawed and lovable as Bridget Jones or Becky Bloomwood while hilariously lambasting the societal pressures placed upon every new mother.
---
Some parents seem to have it all together with their spotless white shirts and their tidy bundles of joy, but are they for real? I want the BTS–the tantrums, the irrational paranoia, the dishes that have been sitting in the sink for a month.
We asked you to tell us your favorite books about what parenting is really like and you responded. Here are 30 of your favorites!
Life Among the Savages by Shirley Jackson
House Rules by Jodi Picoult
Goodnight Nobody by Jennifer Weiner
Babies and other Hazards of Sex by Dave Barry
Sh*tty Mom: The Parenting Guide for the Rest of Us by Mary Ann Zoellner, Laurie Kilmartin, Karen Moline, Alicia Ybarbo
Baby Laughs by Jenny McCarthy
Please Don't Eat the Daisies by Jean Kerr
How to be a Woman by Caitlin Moran
The Tenth Circle by Jodi Picoult
Sisterhood by Curtis Sittenfeld
How Not to Hate Your Husband After Kids by Jancee Dunn
Fun Home: A Family Tragicomic by Alison Bechdel
Sippy Cups Are Not for Chardonnay: And Other Things I Had to Learn as a New Mom by Stefanie Wilder-Taylor
Go the Fuck to Sleep by Adam Mansbach and Ricardo Cortés
The Storied Life of A.J. Fikry by Gabrielle Zevin
I Don't Know How She Does It: The Life of Kate Reddy, Working Mother by Allison Pearson
Operating Instructions by Anne Lamott
Toddlers Are A**holes: It's Not Your Fault by Bunmi Laditan
Like a Queen by Constance Hall
Sh*t My Dad Says by Justin Halpern
Motherhood: The Second Oldest Profession by Erma Bombeck
8 Simple Rules for Dating My Teenage Daughter: And other tips from a beleaguered father [not that any of them work] by W. Bruce Cameron
All I Can Handle: I'm No Mother Teresa: A Life Raising Three Daughters with Autism by Kim Stagliano
Melanie Travis series by Laurien Berenson
You're Doing a Great Job: 100 Ways You're Winning at Parenting by Biz Ellis and Theresa Thorne
Babyhood by Paul Reiser
Parenting: Illustrated with Crappy Pictures by Amber Dusick
Where'd You Go, Bernadette by Maria Semple
Bad Mother: A Chronicle of Maternal Crimes, Minor Calamities, and Occasional Moments of Grace by Ayelet Waldman
Dad is Fat by Jim Gaffigan
Save
Save
Save
Save
We have 5 copies of
The Library Book by Susan Orlean
to give away!
Go here to enter for a chance to win
, or just click the image below. Good luck!