8 Literary Shower Curtains to Make Your Bathroom Look Like a Library
I have, in my head, a dream bathroom.
There's a giant tub in it, lots of fluffy towels, good lighting (but not so good that I can see every single one of my pores), waterproof shelves near the tub so I can read in the bath, speakers for my iPhone so I can listen to audiobooks, and… that's where my vision stops short, because I want bookshelves in this dream bathroom, but I know keeping books in a bathroom is a terrible idea.
But what if you could keep your books in an appropriately dry room while seeming to have a library in your bathroom?
The Internet has the answer: shower curtains.
Bookshelves, piles of books, close-ups of spines; there are so many options to make your bathroom bookish without endangering your actual books. (Or your health, because mold is no joke.)
A word of caution: Some of these curtains are decorative and require liners! I will do my best to warn you, but do your research before you buy any of them.
At $20, this is one of the least expensive shower curtains, but it's also the one that looks just like a bookshelf. If you've got a half-bath, this is a great way to hide it, and bonus, if you use it that way, it means you have a false bookshelf in your home, and that brings you one step closer to being Batman.
Or maybe you don't want a realistic bookshelf and are really into cats. If so, this adorable shower curtain is awesome. (Also, it's pretty inexpensive at $17.)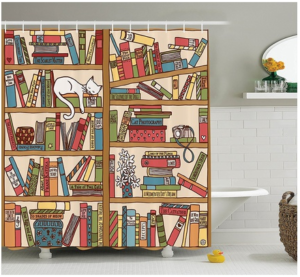 Or maybe you're not a shelf person, and you're more of a pile of books person. That's cool. There's a shower curtain for that. (But be warned: it's one of those fancy ones that requires you to purchase a liner separately.)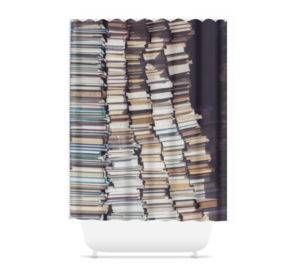 Or maybe you like your books stacked, but neatly. (Also requires a liner.)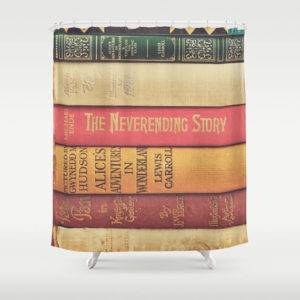 Perhaps you'd like your vintage book spines to be as tall as a person. Etsy's got you covered, because of course it does. (This one requires a liner, too.)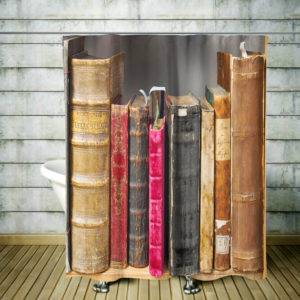 (image source)
And here's another big-spine shower curtain with slightly more modern books. The shop, MayaRedPhotography, allows you to choose one of their book photographs for this curtain. (Also requires a liner.)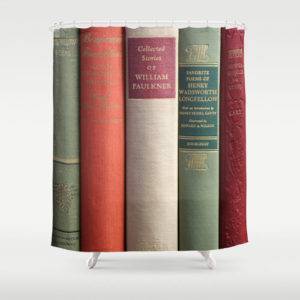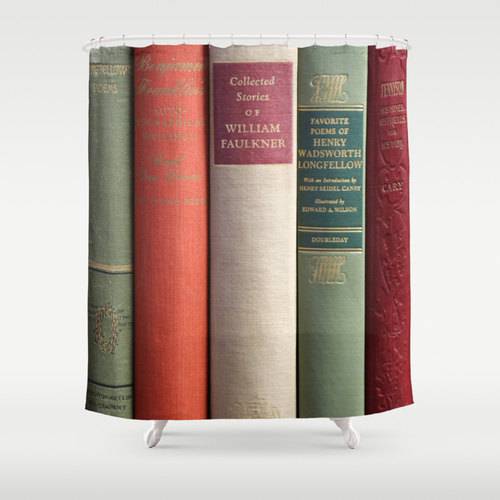 (image source)
Etsy store ApplesandSpindles has a lot of book spine shower curtains, including some showcasing specific genres and authors, but as a person who once organized her bookshelves by color (I know, I'm a heathen) this mint curtain appeals to me most. (This one requires a liner.)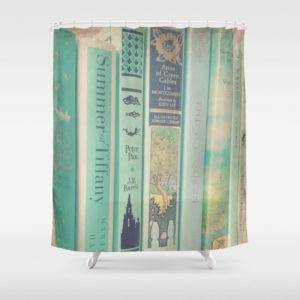 (image source)
Steampunk fan? Check this shower curtain out. (This one requires a liner.)