More Bookish Board Games
We've already talked about a couple of options for bookish board games over here at Book Riot, but I thought I would throw out a couple more options for the people who just can't get enough of nerding out with friends. You've played all the ones suggested, and you just want MORE. Well, my fellow board-game aficionado, I am here for you. Never fear.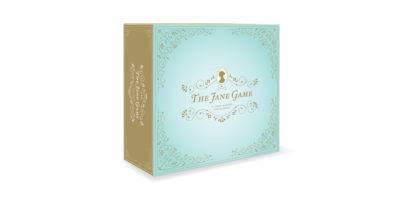 If you are the type of person who really, really loves Jane Austen, then look no further my friend. This one is for you. This is a mix of Trivial Pursuit and LIFE, where the goal is to get the right tokens by answering trivia questions, so you can go on and marry your one true love based on the Jane heroine you have chosen.  If you don't get it right the first time, you can always settle for your second-best true love, and hope you still have enough points through other tokens to destroy the competition.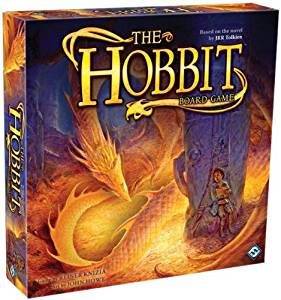 This is one of many, many LOTR board games.  I own…five? personally. I know, it's a real problem and I may write something about that issue some time. BUT the fun thing about this game is that it is semi-cooperative. Everyone has to band together to defeat Smaug in the end, and while the dwarf with the most treasure at the end wins, no one can win if you all get murdered by the dragon. Its relatively simple, and full of fun references to the book, and definitely something the whole family can play.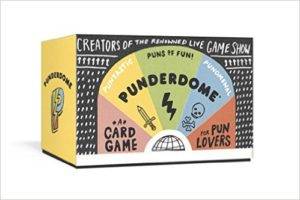 Punderdrome: the card game for Pun Lovers
Okay, so I know this one is more book-adjacent, but I think bookish people freaking love puns.  If I know anything about the Book Riot staff and contributors, its their penchant for punny jokes and the inevitable pun-ishment that follows. (See what I did there? That was a pun.) In this game, someone grabs two cards and everyone comes up with puns around those two ideas. The judge decides who is punstoppable, and that person wins and gets to be the judge next time. Think Cards Against Humanity, but with way more….punchlines. I'm out of control. I must stop.
Hey-yo, comics people, I haven't forgotten you. Grab a couple of your friends and some time (yeah, this one takes a while), and enjoy this deck-building game where you pick some heroes and fight against an archenemy. This is another one where everyone wins or everyone loses, so it's really fun to play a game where you can all band together. I mean, in the end, you do count up the points for dead villains and the player with the most DOES win, but the real fun is planning with your friends how to crush the enemy.  The instructions DO look a bit alarming, but once you settle in, it's pretty easy to figure out, especially as you throw Captain America against Hydra enemies (the way it should be, MARVEL).
Have you ever thought Risk was too easy or you just love your family and friends too much and want to instigate some hours-long tension? Man guys, Walking Dead Risk is here for you. To its credit, I will say this game adds zombies and thus makes the game shorter (a real boon if, like me, you play this once a year with your husband and friends for his birthday request). If you're super into Risk and also into zombies and comics, then LOOK! this is perfect and your loved ones can quickly be put out of their misery. I don't know if you caught this, but I may not be the biggest Risk fan. But this is the most fun version I've ever played, so you know. Take that as you will.
I have so many more games I want to talk about, but I'll let you get a head start on these my friends. Have fun nerding out with friends and family, and think of me when you're pundertaking the Punderdrome.
By signing up you agree to our Terms of Service
We have 5 copies of
The Library Book by Susan Orlean
to give away!
Go here to enter for a chance to win
, or just click the image below. Good luck!