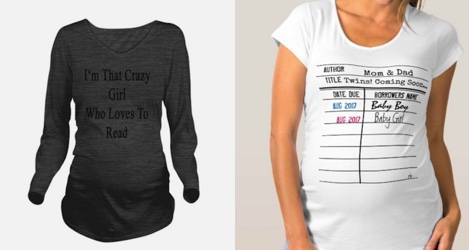 I'm at the stage now where my clothes are beginning to feel a bit tight and my favourite jeans no longer button up. I'm still not at the stage where I need to invest in maternity clothing, but it's never too early to start thinking about additional wardrobe pieces. A lot of my shirts now have book or library related designs, and I wanted to see if I could find any bookish maternity clothes. Here are some of my favourites: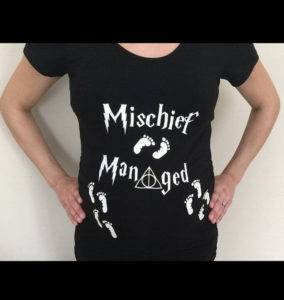 Mischief managed shirt
My husband and I have already had the conversation about whether we'd allow our child to attend Hogwarts if they received a letter on their eleventh birthday. He says no, because it's too dangerous. I say yes, because hardly any students died. Besides, it's *Hogwarts*. You *can't* say no.

Reading books. Simple. I like it.
I'm that crazy girl who loves to read. 
A long sleeve top for when it gets a bit chilly. Though I don't see what's so crazy about enjoying reading.
I love this shirt. I want this shirt. If you've seen my posts about my library wedding, it probably comes as no surprise that my life has a little bit of a library theme.
Gotta love a man (or woman) who knows the difference between an em-dash and an en-dash.