Giveaway: What Are Your Favorite Books About Changing Your Life?
This giveaway is sponsored by HarperOne, an imprint of HarperCollins Publishers and publisher of Driving Miss Norma by Tim Bauerschmidt and Ramie Liddle.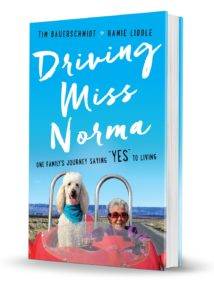 At the age of 90, in the same hospital where her husband of 67 years passed away just days earlier, Miss Norma received the news that she had cancer. Declining traditional cancer treatment, Miss Norma opted instead to live the remainder of her life to the fullest, traveling the country in an RV with her son Tim, his wife Ramie, and their poodle, Ringo. As Miss Norma put it to her oncologist: "I'm 90 years old. I'm hitting the road". Come along for the ride of this unforgettable journey, and let Miss Norma inspire you to say YES to living.
---
Life is as much about the detours as the details. Share your favorite books about changing your life, and be entered to win a copy of Driving Miss Norma by Tim Bauerschmidt and Ramie Liddle!
Just complete the form below to enter. Entries are limited to the United States and will be accepted until 11:59pm, Tuesday, May 16th. Winners will be randomly selected.
Oops! We could not locate your form.
By signing up you agree to our Terms of Service
Follow Book Riot on Instagram
for books. Obviously.