20 Of Your Favorite Books About Figuring Your Life Out
This Riot Recommendation is sponsored by HarperOne, an imprint of HarperCollins Publishers, publisher of How To Be Everything by Emilie Wapnick.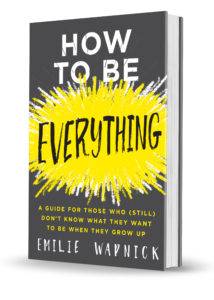 What do you want to be when you grow up? It's a familiar question we're all asked as kids. While seemingly harmless, the question has unintended consequences. It can make you feel like you need to choose one job, one passion, one thing to be about. Guess what? You don't.
Not fitting neatly into a box can be a beautiful thing. How to Be Everything teaches you how to design a life, at any age and stage of your career, that allows you to be fully you, and find the kind of work you'll love.
---
Life. It ain't easy. But at least books exist to help us navigate those tricky corners and comfort us with the knowledge that we aren't suffering these growing pains in a vacuum.
We asked you to share your favorite books about figuring your life out, and you responded. Here are 20 of your favorites!
The Power of Habit by Laura Vanderkam
Quirkyalone by Sasha Cagen
The New Single Woman by E. Kay Trimberger
Adulting: How to Become a Grown-up in 468 Easy(ish) Steps by Kelly Williams Brown
The Alchemist by Paolo Coelho
Trip Through Your Wires by Sarah Layden
Last Call in the City of Bridges by Salvatore Pane
An Unnecessary Woman by Rabih Alameddine
My Family and Other Animals by Gerald Durrell
Codependent No More by Melody Beatty
Zen and the Art of Motorcycle Maintenance by Robert Pirsig
The Art of Asking by Amanda Palmer
Year of Yes by Shonda Rhimes
Full Catastrophe Living by Jon Kabat-Zinn
Feel the Fear and Do It Anyway by Susan Jeffers
The Wisdom of No Escape by Pema Chodron
Love Is A Choice by Paul Meier
Man's Search for Meaning by Viktor Frankl
Getting Things Done by David Allen
The Four Agreements by Don Miguel Ruiz
We have a $100 e-gift card to the country's only romance-only bookstore, The Ripped Bodice!
Go here to enter for a chance to win
, or just click the image below. Good luck!