The Best Bookstores in All 50 States + DC
Like every reader, we Book Rioters love a good bookstore. (I even planned my cross-country move last fall around the bookstores I wanted to visit.) And we LOVE a good bookstore list. Best bookstores in small towns! Best bookstores with a cafe! Best bookstore cats and/or dogs! Best bookstores in terrible towns! The bookstore lists are endless. And the mother of all bookstore lists is the inevitable "best bookstore in every state" list, which every book/travel adjacent site has produced. But these lists tend to rely on algorithms using Yelp ratings or TripAdvisor reviews, which can be a total crapshoot and really tell you nothing about the experience of visiting the store yourself.
How knowledgeable are the booksellers? What's the selection like? Are there great events? Is the bookstore part of the community? These are the things that matter to indie bookstore shoppers, and algorithms just miss some of that nuance. And really, there is no "best" bookstore, a quantitative term for a subjective feeling.
I asked Rioters from across the country to tell me their favorite bookstores in every state (plus Washington, DC!) and why they love it so much. I limited it to three bookstores in each state, except for California, which got four, and New York, which got an extra spot for a non-NYC shop, and Illinois, which got an extra non-Chicago shop. Where there isn't Rioter's name listed, I did a little crowdsourcing from my bookish community. I know you'll have opinions on what made the list and what didn't, so tell us in the comments which book stores are your favorites.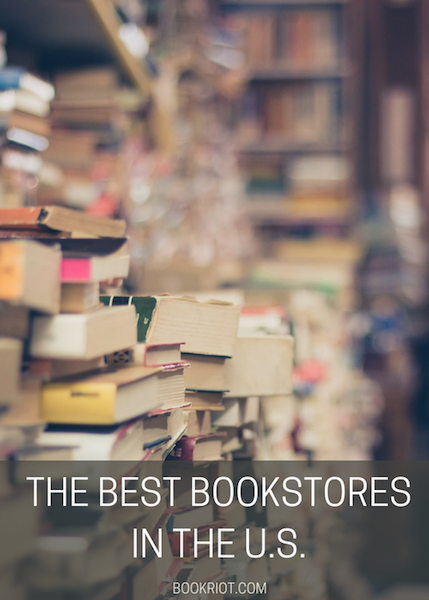 Alabama Bookstores
Alaska Bookstores
Arizona Bookstores
Arkansas Bookstores
California Bookstores
Colorado Bookstores
Connecticut Bookstores
Delaware Bookstores
District of Columbia Bookstores
Florida Bookstores
Georgia Bookstores
Hawaii Bookstores
Idaho Bookstores
Illinois Bookstores
Indiana Bookstores
Iowa Bookstores
Kansas Bookstores
Kentucky Bookstores
Louisiana Bookstores
Maine Bookstores
Maryland Bookstores
Massachusetts Bookstores
Michigan Bookstores
Minnesota Bookstores
Mississippi Bookstores
Missouri Bookstores
Montana Bookstores
Nebraska Bookstores
Nevada Bookstores
New Hampshire Bookstores
New Jersey Bookstores
New Mexico Bookstores
New York Bookstores
North Carolina Bookstores
North Dakota Bookstores
Ohio Bookstores
Oklahoma Bookstores
Oregon Bookstores
Pennsylvania Bookstores
Rhode Island Bookstores
South Carolina Bookstores
South Dakota Bookstores
Tennessee Bookstores
Texas Bookstores
Utah Bookstores
Vermont
Virginia Bookstores
Washington Bookstores
West Virginia Bookstores
Wisconsin Bookstores
Wyoming Bookstores
What do you think are the best bookstores in your state? Ogle even more beautiful book stores here.
By signing up you agree to our Terms of Service
The best all-around ereader is now even better. Better because it is waterproof. Read in the bath. On the beach. In the shower. And we have one to give away! Go
here to enter for a chance to wi
n
, or just click on the image below. Good luck!