Can You Pass a High School Vocabulary Test?: In This Evening's Critical Linking
Before we get to tonight's links, we are giving away a few copies of Marlena by Julie Buntin. Go here to enter for a chance to win, or just click the image below!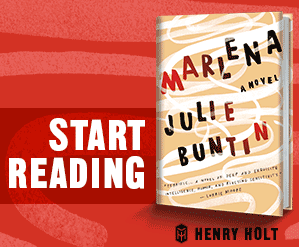 ---
A few literary links for your Wednesday evening…..
1. See if you can pass a high school vocabulary test
It might seem hackneyed to scrutinize your vocabulary, but are you sure your reading comprehension is up to scratch?
2. Listen to this short NPR piece on misattributed literary quotations.
My favorite part is that Anne Rice misattributed something she herself wrote to Kafka.
3. Explore these 50 fictional days from literature. 
April 4. June 16. June 27. Those are the ones I knew, but there are a whole bunch of fictional events that we can place on a specific date.
By signing up you agree to our Terms of Service
Have a listen to our new literary fiction podcast,
Novel Gazing!