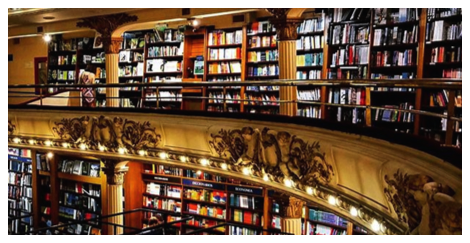 The 12 Biggest Bookstores In The World: Critical Linking, March 5, 2017
Critical Linking is sponsored today by Caraval by Stephanie Garber:

---
If you've never been bitten by the travel bug before, this might be the moment everything changes for you. Maybe Instagrams of tropical beaches or snowy mountaintops didn't make you jealous — but reading about the biggest bookshops around the world is sure to get you itching for a trip. These 12 bookstores are big, beautiful, and magnificent; within their walls you can lose yourself in books for hours at a time. Just don't blame me when you spend all your rent money on books, OK?
 ____________________
Finding an anonymous text, if you don't know which one, exactly, you're looking for, can be difficult, if not impossible. When Emily Kopley, a scholar of British and American literature, was first researching anonymous texts, she would try searching in library catalogs for a variety of terms: "by anonymous"… "no author"… "by a lady."
But in the period she was researching, the early 20th century, signing a book "by a lady" was old-fashioned. Few people signed "by anonymous." Anonymous books wouldn't necessarily be catalogued as "no author," either—there's no agreed-upon system, among libraries, about how to list anonymous or pseudonymous books.
I worked in libraries for many years and literally never  thought about the challenge of cataloging and finding books by "anonymous."
____________________
Finally, consider this: The world wide web burst onto the scene in the early nineties (technically 1990, but really 1993. See: Mosaic browser) and has now been around for almost a quarter-of-a-century. Contrary to the common sense view, during that time library use has actually gone way up! Between 1990 and 2013, library visits have gone up by a whopping 66%.
#TrueFacts about libraries and how they're thriving and how reading culture is alive and well.
____________________
Beneath Prague's ethereal architecture, steadily flowing taps and crystalline splendor lies a taste of the surreal unearthed by Franz Kafka, master of the nightmare and champion of 20th-century literature. Kafka spent most of his tragically short life in Prague, and while it may not be overt, the impact it left on his work is undeniable.
Kafka's existence corresponded with an era of prosperity for Prague's artists, intellectuals and Jewish community, slipping away before the next few decades brought havoc to his country and people. However, Kafka plagued himself with the same anxiety he used to warp the human psyche through the medium of words, using the anonymous city to channel his subterranean horrors. Explore Prague's eerie undertones at these spots that impacted or honored one of its most famous residents.
A literary tour of Prague, as inspired by Kafka.