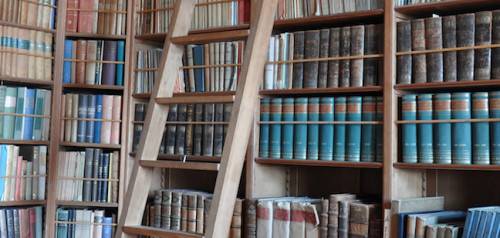 Take Steps to Turn Your Bookshelf into a Library
It's safe to say that if you are here on Bookriot.com, spending extra reading time reading about the books you're planning to read, you have spent at least a little time imagining that you are Belle in her bookshop, gliding past the shelves looking for far off places, daring sword fights, a prince in disguise.
What makes the scene, of course, is that library ladder. Without it, Belle's just standing in a bookshop singing to skinny Maurice.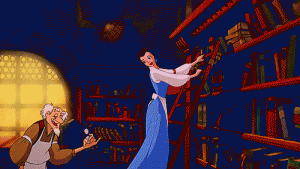 And then there's the other book collection in the movie: Beast's library. 
Now, there is a lot that is grand about this library: the gold moulding, the skylights, the six-foot-tall globe, the lion statues, but I would argue again that one of the most impressive parts of that library is the stairs. Yes, the sheer number of books is remarkable. But the stairs really bring home the idea that there are so many books in this room that they had to bring in entirely new kinds of architecture just so you can reach them. 
All of this to say, when I bought some new bookshelves, I started to do some research to see what I could do bring those shelves up to library status. (Although I am no stranger to combining stairs and books.)
Of course, the dream is the sliding ladder like the one in Belle's bookshop, but I rent, so that's not a good option for me. (There are tons of DIY versions of those, if you're interested.) I started looking for more portable options.
I will be honest: when I started, I wanted to include a range of prices, but there just aren't many library ladders that are interesting and also inexpensive. These are mostly aspirational Beauty and the Beast stairs, but I've included some more budget-minded ones at the bottom of the post.
This one is listed as "Regency Metamophic Stool" which is the fanciest name for "stool that becomes another stool" that there is. It will set you back about $6000, but it's beautiful.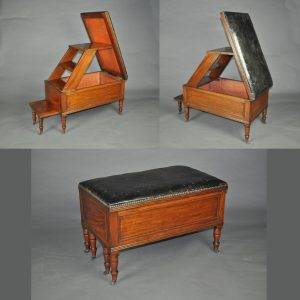 This one is similar, but the lid actually becomes the stairs. It's like a hidden passageway, but in an ottoman.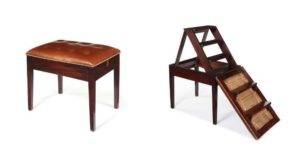 Spiral staircases are most definitely the best kind of staircases, and these mahogany steps even have a central post to help you keep your balance for only $1829.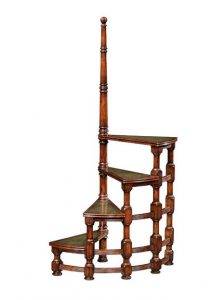 Aww, these are like Jack-and-Jill steps! You and your loved ones will never have to fight over the library steps when it has two sides! Bonus: you can do a very fast version of the Beauty and the Beast staircase descend.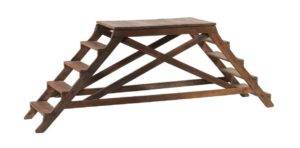 There are a lot of metamorphic chair ladders in the world, but this one is the danged fanciest. I know we've been talking about Beast's library, but this would be perfect for Eric and Ariel's castle library. I'm really feeling the mahogany seashell look for them.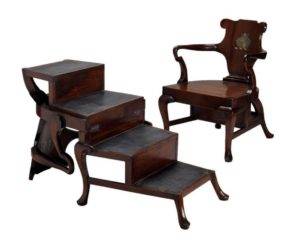 This one looks like the Seven Dwarves decided to ditch the squirrel carving for their library stair wedding present for Snow White. I don't know when this turned into an inspiration board for Disney princess libraries, but I'm not sorry.
Merida could use these to reach the top shelf AND ALSO shoot arrows from the top!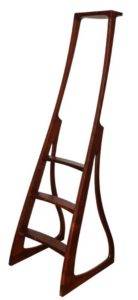 These are bed steps that could also be used in a library, so probably Sleeping Beauty. Now I'm starting to be sorry.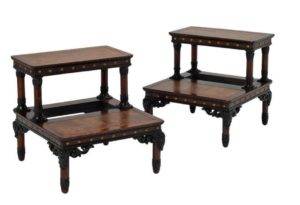 One more and then I will be reasonable: wouldn't these be fun for playing Rapunzel? She can let down her golden hair over the railing. Plus, she probably had to read aloud to her prince while he was blind. That may or may not be in Tangled. Also, this is a set of two, and they are said to come from Napoleon III's library. That family needed extra help reaching stuff, I guess.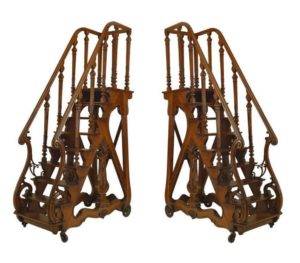 Now some
more realistic options! Get your own metamorphic library chair for under $200 here! Sit and/or step at will!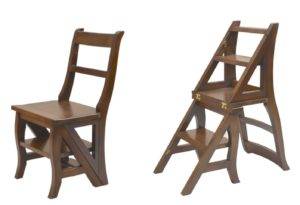 "But Jesse," you may say, "this is just a step ladder!" I know, my friend, but aren't these all just step ladders that we give a greater meaning to by calling them library ladders? Also, this is mahogany, which is the same thing Ariel's chair is made from. You are fancy, too, and for only $65!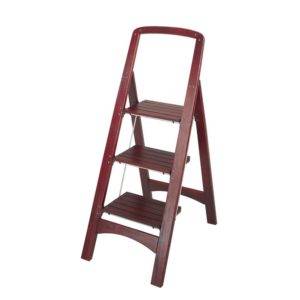 Tired of all these over-the-top, hand-carved, too-much stairs? Want your home library to feel more like your public library (Or Borders, RIP Borders)? Try a Kik-Step stool, and have the same sturdy, clanking stool of every school library in the land. I, for one, will probably just keep putting the books I don't want to re-read out-of-reach on the top shelf.