20 of Your Favorite Thrillers from Around the World
This Riot Recommendation is sponsored by Hades by Candice Fox.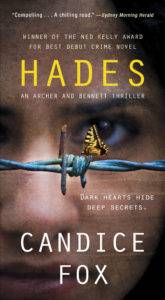 On a dark night in a junkyard on the outskirts of Sydney, Australia, Hades Archer disposes of things other people either don't want, or cannot face. Old machinery and dead bodies are dismembered with equally cool precision, until two children are delivered for disposal, still alive. Hades nurses them back to health and raises them as his own. They are twins, a boy and a girl, whom he names Eric and Eden.
Flash forward: the twins, now adults, are detectives in the Sydney Metro Police homicide squad, when a series of bodies turn up with vital organs missing. A serial killer is stealing organs from healthy people and selling them to the desperately ill. Eric and Eden team up with Frank Bennett, a tarnished detective fighting his own demons, as they track down a madman who lives for the kill…
---
A good thriller quickens the pulse, compelling readers to turn the page to find out what happens next, and thrillers featuring distant settings can be transportive, inviting you to peek around the darkened corners of exciting new landscapes.
We asked you to share your favorite thrillers from around the world, and you responded. Here are 20 of your favorites!
The Voices by F.R. Tallis
Smilla's Sense of Snow by Peter Høeg, translated by Tiina Nunnally
The Shadow of the Wind by Carlos Ruiz Zafón

Red Dragon by Thomas Harris
The Wicker Man by Anthony Shaffer and Robin Hardy

The Harry Hole series by Jo Nesbø, translated by Don Bartlett

The Stand by Stephen King
The Kurt Wallander series by Henning Mankell

The Girl with the Dragon Tattoo series by Stieg Larsson

Spares by Michael Marshall Smith
JaJar City: A Reykjavik Thriller by Arnaldur Indridason, translated by Bernard Scudder

Sacred Games by Vikram Chandra
The Dinner by Herman Koch, translated by Sam Garrett

The Alex Morrow series by Denise Mina
Dark Matter: A Ghost Story by  Michele Paver
Border Angels by Anthony Quinn

Alex by Pierre Lemaitre, translated by Frank Wynne
The Treasure Hunt by Andrea Camilleri, translated by Stephen Sartarelli
The Father by Anton Svensson, translated by Elizabeth Clark Wessel
Playing For Thrills by Wang Shuo, translated by Howard Goldblatt
Get the tasks for 2020's
Read Harder Challenge!