Buy, Borrow, Bypass: Fat Girls Have Stories, Too
I've written at length about fat representation and how most books, especially in the YA world, don't do it well. It's so easy for stereotyping to come into the storyline and so easy for it to go unchecked because the ideas we have surrounding the fat body in our culture are deeply ingrained.
I don't believe all books with fat characters or real, live fat people need to be 100% positive 100% of the time. That's false. Rather, those moments when fatness become the central issue, it's explored in authentic, meaningful, and purposeful ways that don't demean or belittle the human experience.
Since fat representation is a thing I think about any time I find a book featuring or written by a fat person — and let me be specific in saying it's fat, female-identifying women — I pick it up and read it, hoping to find something great.
And in this round-up of recent reads, we have an embarrassment of riches. These books are fiction and non-fiction, with a nice array of fat female experiences.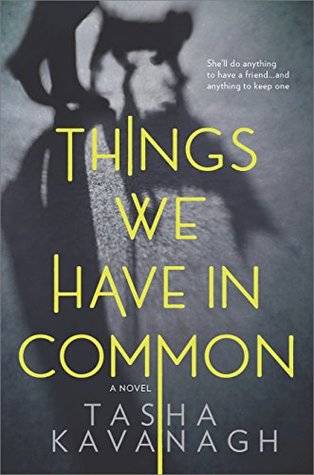 Things We Have In Common by Tasha Kavanagh
Yasmin is a half-Turkish girl who is wholly-outcast in her school. It's never stated why, exactly, but as readers, we kind of figure out right away she's strange. The book, told through a perspective that sounds like second-person, is an address to a man she sees wandering around the school and whom Yasmin is convinced is going to kidnap the prettiest girl in her class. Yasmin believes that this will allow her to be a hero, when she's able to say that she knows where the pretty girl has gone and who was responsible for taking her.
When the girl goes missing and Yasmin is suddenly thrust into the position of sharing what may or may not be true, she forges an odd, uncomfortable friendship with the man she believes is the criminal. Both of them are outcasts. Will Yasmin tell on her new companion? Will her new companion put his foot down and tell her enough is enough?
The book is a wild ride, and at times, it's uncomfortable, but Yasmin's voice is perfect. She's a fat girl, and her parents are on her case constantly about her diet and exercise — to the point she sees a doctor whose advice she twists and uses in ways that aren't about her dieting or exercising. Yasmin doesn't care she's fat and it's evident from the beginning that her fatness isn't why she's an outcast. Kavanagh builds a fabulous look at the perceptions of fatness through showing how it's far more about how others see a fat person than it is how a fat person sees themselves.
Buy this one if you love books like Lucy Christopher's Stolen or Bryn Greenwood's All The Ugly and Wonderful Things. Though it was published through an adult imprint in the US, it was published for teens in the UK; it's a perfect crossover read.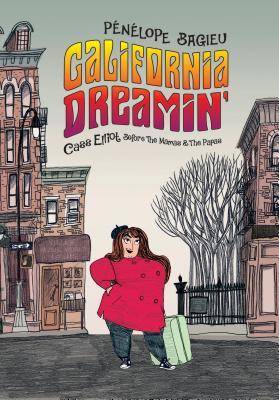 California Dreamin': Cass Elliot Before The Mamas & The Papas by Pénélope Bagieu (March 7)
This graphic biography explores the life of Cass Elliot before she became the legendary Mama Cass of The Mamas & The Papas. Bagieu tells her history from her young age, as the oldest of three children, up through her mid-twenties, when the band's first mega hit jolted them into the spotlight.
Cass's life wasn't a straight-line to success. It began humbly in Baltimore, following a series of failures of trying to make it in the big city of New York. Her voice was earning her a reputation, but the moment she and potential bandmates had an agent who offered to get them work, he informed her, as well as the rest of them, that in order for him to make them succeed, she needed to lose weight.
And to that, Cass said hell no. You take me as I am.
Her outright refusal to look a part is a theme throughout the book, and it's what made this read far more than a biography of a legendary singer. It's the story of any and every fat girl who has had a dream and who has been told that if she'd just look a little nicer, if she'd just lose a little weight, she'd be able to succeed. As if the shape of one's body determines the size of her inherent, unquestionable talent.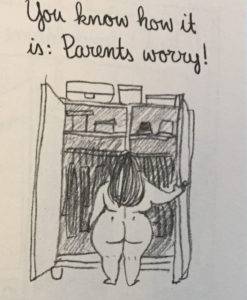 Bagieu doesn't shy away from rendering Cass's fat body on the page, and she's not afraid to pose Cass naked on the page, either. You will see a fat butt, fat rolls, and all of the things that are so often brushed over or ignored right on the page, without any shame or fear — just like Cass would have loved being presented.
Buy this one if you love The Mamas & The Papas, biographies of famous musicians, or want to give someone who never sees herself in the media an opportunity to see her whole, fat, proud self. Also one worth buying if you love graphic novels in translation (it's so good on that angle, too!). Borrow this one if you don't fit those categories, as it should be a staple in library collections, for sure. Note that there is a lot of drug use here, but it's nothing that anyone who knows about the band or the time period would be shocked to see…and it certainly doesn't advocate for drug use as a means of, well, anything.
Every Body Yoga by Jessamyn Stanley (April 4)
I say without hyperbole that Stanley's Instagram feed was what helped inspire me to try yoga and more, what kept me going and going. knowing that bigger bodies were not only welcome in the world of yoga, but they were needed.
Out in April (I know!), Stanley's book is beginner-and-advanced guide to yoga basics; there are incredible photos of each asana featuring bodies of all shapes and colors, along with notes on how to safely find comfort in each of them. But like yoga itself, this isn't a book about how to make shapes or find a way to make your body twist in impressive ways.
It's about the "why."
This book is half about why one would ever want to try yoga, how one could ever find a beginning, and it's half about why it is Jessamyn took up the practice herself. It's an intimate look at life's challenges and how letting go of your own damn ego is the first step in finding fulfillment and success in whatever it is you set your mind to doing. Stanley is open and honest about her mental health, including addictions she struggled with and some of the lowest, most painful, parts of her life. She mixes those stories in with FAQs from new yogis, along with short sequences that can help people find mental, physical, and spiritual wellness.
Even for those who don't practice yoga or have never had an interest, this book would be an excellent one to borrow because of how it turns perceptions of the yoga life upside down and digs deep into some of the stereotypes or beliefs about it and how it's been rendered in Western culture/pop culture. For those who practice yoga, want to practice yoga, or want to support brave, fat babes who know how to talk to you to keep your attention wrapt, this book is a buy. It sound absolutely, positively be a buy for any yoga teacher or yoga studio, as it's the kind of book that would help teachers who haven't themselves been struggling with body size, fatness, or the stigmas surrounding fat bodies making shapes find ways to encourage and welcome all bodies into their studio.