Book Riot's Deal of the Day for January 30th, 2017
Book Riot Deals today is sponsored by Worth Books.
---
Today's Featured Deal:
Kindred by Octavia Butler for $2.99. Get it here or just click the cover image below: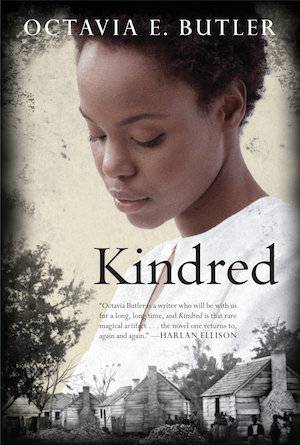 Previous daily deals that are still active (as of this writing at least). Get 'em while they're hot.
Reign of Shadows by Sophie Jordan for $1.99
Moriarty by Anthony Horowitz for $2.99
The Inheritance Trilogy by N.K. Jemisin for $9.99
The Invisible Thread by Schroff and Tresniowski for $1.99
The Romanov Sisters by Helen Rappaport for $2.9
The Mirror Empire by Kameron Hurley for $2.99
Passing Strange by Ellen Klages for $2.99
Doc by Mary Doria Russell for $1.99
The Sorcerer of the Wildeeps by Kai Ashante Wilson for $2.99
Holes by Louis Sachar for $1.99
When You Reach Me by Rebecca Stead for $1.99
The Night Watch by Sergei Lukvanenki for $1.99.
Red Mars by Kim Stanley Robinson for $4.99
Foucault's Pendulum by Umberto Eco for $2.99
Catherine the Great by Robert K. Massie for $1.99.
Listen to Me by Hannah Pittard for $2.99
Dietland by Sarai Walker for $1.99
The Country of Ice Cream Star by Sandra Newman for $1.99
The Price of Salt by Patricia Highsmith for $0.99
The Memory of Light by Francisco X. Stork for $2.99
Be Frank With Me by Julia Claiborne Johnson for $1.99
The Penderwicks by Jeanne Birdsall for $1.99
The Swimmer by Joakim Zander for $1.99
Speak by Louisa Hall for $1.99
Canada by Richard Ford for $1.99
Ahab's Wife by Sene Jeter Naslund $0.99
The Killing Forest by Sara Blaedel for $3.99
The Bees by Laline Paul for $1.99
The Fortunes by Peter Ho Davies for $2.99
Queen Sugar by Natalie Baszile for $1.99
Notes from a Small Island by Bill Bryson for $1.99
Trigger Warning by Neil Gaiman for $1.99
Heat & Light by Jennifer Haigh for $1.99
I Am the Messenger by Markus Zusak for $1.99
Mr. Splitfoot by Samantha Hunt for $2.99
Tell Me Again How a Crush Should Feel by Sara Farizan for $1.99
We Should All Be Feminists by Chimamanda Ngozi Adichie for $2.99
By signing up you agree to our Terms of Service