Buy Borrow Bypass: YA Anthologies
As a short fiction fan and lover of all things YA, I am a compulsive reader of every YA anthology that I can get my hands on. I really enjoy reading explorations and interpretations of the different themes that these collections present, and the books usually offer a fun cross-section of writers who I might not read otherwise—more than once I've read a short story and followed up with the author's longer works. Plus, anthologies are fun to read when you just have a little window of time in which to read (perfect lunch or study breaks!), but that same characteristic means they're also really easy to binge-read. So don't say you weren't warned!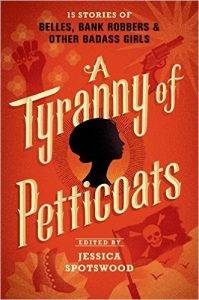 A Tyranny of Petticoats: 15 Stories of Belles, Bank Robbers, and Other Badass Girls, edited by Jessica Spotswood
Jessica Spotswood's anthology focuses on stories of teen girls in North America throughout history. The stories are arranged chronologically, which offers a fun trip through history from 1710 to 1968 and covers the Caribbean to the far reaches of the Alaskan territory. This is one of the most diverse YA anthologies available, in race and sexual orientation and class, which is really refreshing considering how YA anthologies overwhelmingly tend to skew white and cishet. Tyranny offers some variation in genre—we've got a few supernatural and magical realism elements—but for the most part the stories are grounded in the real world and in real moments throughout history. Most but not all have a romantic element, including a few queer storylines!
Verdict: Buy! And keep an eye out for Spotswood's follow up, The Radical Element, out in 2018 and even more diverse!
Things I'll Never Say: Stories About Our Secret Selves edited by Ann Angel
If you love fiction about secrets, then this is an anthology for you. These stories about secrets range from quiet to life changing, and the characters grapple with discovering, keeping, or revealing these secrets. I really enjoyed the range and nuance in this anthology, from hidden identities to eating disorders to secret relationships, but the most interesting aspect of this anthology is how the writers explore the consequences of these secrets, and how their characters' actions affect them and those around them. It's truly a delicious sampler of all that these authors have to offer, with some exciting lesser-known names rubbing elbows with the titans of YA.
Verdict: Buy if you're into anthologies, and definitely at least borrow if you're looking for an entre into the form.
Summer Days and Summer Nights: Twelve Love Stories edited by Stephanie Perkins
A fun, summer-y anthology of romance stories by some of the biggest names in YA is definitely cause for excitement, and I went into this anthology with high hopes. There are definitely some winners here, don't get me wrong. I love everything Nina LaCour writes, and I was excited to read Brandy Colbert's work for the first time. However, this anthology falls short in racial diversity, and I was really disappointed that for an anthology of twelve romance stories, only two of them featured LGBTQ+ protagonists. (But hey, that's up from the one LGBTQ+ romance in Perkins' first anthology, My True Love Gave to Me: Twelve Holiday Stories. That one had one more AOC than this one, though.) Still, if you're looking for something light and very seasonal, this anthology will probably satisfy.
Verdict: Borrow.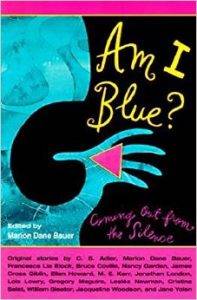 Am I Blue? Coming Out from the Silence edited by Marion Dane Bauer
Very few anthologies published before 2000 are still in print today. This one hit shelves in 1994, and I could easily see it being a lifeline for so many teens now in 2017 as I am sure it has been for many teens (and even adults) for the past 23 years. Some of the stories do show their age; the Internet has changed the way that many teens can connect, even anonymously. But I found that I didn't mind this, and that might make this landmark anthology even more important. The effect of the AIDS crisis is present throughout this anthology, manifesting sometimes in the stories themselves, or in the dedications. This sense of history is important to the LGBTQ+ community and should not be forgotten (now more than ever, since our Vice President enacted legislation that led directly to an HIV outbreak only a few years ago). There is also a surprising amount of racial diversity within these stories, although the number of #ownvoices is a little on the low side. But the quality of the stories is wonderful—how can you say no to an anthology with stories by luminaries such as Nancy Garden, Lois Lowry, Jaqueline Woodson, and Gregory Maguire? On a personal note, I've always been a fan of Gregory Maguire's work, but his short story "The Honorary Shepherds" was a revelation, and has officially turned me into a fangirl for its fearless confrontation of faith, identity, and the stories that shape us.
Verdict: Buy this classic.