It's the Great Reading Spreadsheet, Charlie Brown!
At the end of last year, I wrote a post about how I hadn't been tracking my reading in 2016 at all and wanted to start again in 2017. But when I published that post, I hadn't quite figured out what that tracking would look like. Would I be utilizing Goodreads again? Litsy? What stats would I care about? What wouldn't I care about?
The 2017 Read Harder Challenge lit a fire under my butt and seeing the overwhelming enthusiasm for the annual project (even though this year's is admittedly more difficult that past year's challenges) motivated me to figure out how I'd be keeping track of my reading this year.
Enter: Google Sheets. Using Amanda's log (and a log that Swapna shared though I can't figure out where) as a guideline, I created the ultimate reading spreadsheet (ETA: click on that link for the template and in the file menu, click Make a Copy and save to your own Google Drive to keep your own version and make changes).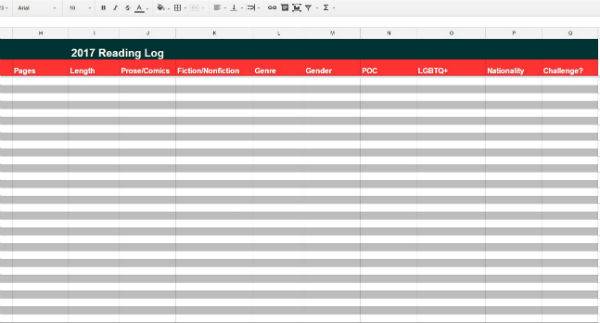 I've set up the first tab to include all the pertinent info for your standard reading log. The standard headers – title, author, page count, publication date, and genre – are accompanied by more specific tracking categories: publisher, gender of the author, POC, LGBTQ+, format, nationality, prose/comics, fiction/nonfiction, and challenge tracking.
These are all well and good for keeping diversity of race, gender, nationality, format, etc. in mind; if you have to write them down, you're more like to be aware of the fact that you've got another white American male author on your list.
But the power of the spreadsheet isn't in the log. It's in the Results tab.
This is where all of that data you've been entering on the main tracking tab goes to work. Thanks to some handy dandy formulas, you can track not only the number of books you read but page count; hours listened (for audiobooks); the number of new books vs. the number of backlist (non-2017) books; the number of male- and female-identifying authors; the number of POC authors, artists, and main characters; the number of queer-identifying authors and main characters; the number of books you read in each format; the number of prose vs. comics and fiction vs. nonfiction books; and the nationalities of the authors of books you read. Plus of course the number of books you read for a challenge.
In order to make these fields work, here's what to do:
To track publication date: Enter date in either "mm/dd/yyyy" or "Month Day, Year" format.
To track prose vs. comics: Enter "prose" or "comics."
To track fiction vs. nonfiction: Enter "fiction" or "nonfiction."
To track format: Enter "audio," "digital," or "print."
To track audiobook length: Enter the length of the book (i.e. 9 hours, 8 mins) in the hh:mm:ss format (in this case, 09:08:00).
To track author gender: Enter M or F. If you have a male/female author/artist team or male/female co-writers, enter "M, F" (separated by commas) and one each will be marked.*
To track authors/artists/main characters of color: Enter "artist," "author," or "MC." When there are multiples (i.e. the author and the main character are both POC), enter their respective roles separated by commas (i.e. "author, MC").
To track LGBTQ+ authors/artists/main characters: The same rules apply as for POC. Enter "artist," "author," or "MC." When there are multiples, enter their respective roles separated by commas.
To track nationality: Because I'm concerned about reading more non-US/UK authors, I split this into US/UK vs. Others. Enter "US," "UK," and/or whatever nationality the author is.**
To track reading challenge books: Enter whatever shorthand you want for each challenge. I'm tracking the 2017 Read Harder Challenge and the Litsy AtoZ Challenge, so I'm using "RH" and "AtoZ" as my shorthand. The formula will mark any entry in this field as one book, no matter how many challenges it fulfills. Leave it blank and it won't be counted.
For any field where the category doesn't apply (for example, page count on an audiobook), leave it blank. If there are columns you don't want to include, you can just delete them, and the formulas will readjust appropriately.
See? The data possibilities (and the eventual pie charts) are amazing!
Now for the Challenge tabs, which is just a little extra bonus fun. There's nothing special happening with the Litsy AtoZ challenge tab, but the Read Harder Challenge tab has some fun features.
For books that I've read that fulfill a particular challenge, I've entered the book title, which causes the cell to fill in with gray. But for tasks where I've entered a potential title – particularly helpful for planning ahead – I've put the title in brackets, which causes the cell to fill in with a lovely blue shade.
If you're feeling really handy, you could probably configure these cells to pull over the title from your main Tracking tab but that's a little more complicated than I wanted to get.
So that's it! I'm super excited about this spreadsheet (which, weird, I know), but whatever helps break me out of a reading slump, I'm all for. I will probably create some coordinating Goodreads shelves to go with this, but who knows? Right now, this little baby is turbo charged and fully amped. (Yes, I'm talking about a spreadsheet. Shut up.)
How are you tracking your 2017 reading?
*Note: I used a binary gender categorization because that's what works for me and because I don't tend to read many authors that identify outside of the male/female gender binary. However, if you want to track non-binary authors, the formula is fairly easy to tweak. (If you need help tweaking it, leave a comment and I'll do my best to help you alter it.)
**The formula will track anything labeled US or UK in one field, and anything not US or UK in the Other field. You'll notice that I marked Roxane Gay as US and Haitian because she is Haitian American. However this does throw off the number of authors, making it appear as though there are two authors vs. one with multiple nationalities. You can mark authors as either US/UK or other or both depending on what works for you.
You could win a six-month subscription to an amazing Romance box!
Go here to enter for a chance to win
, or just click the image below: