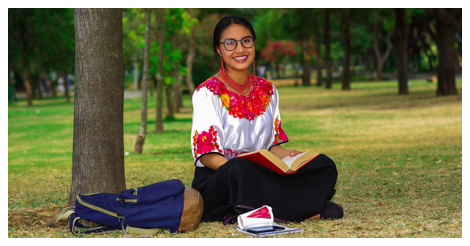 Sponsored
3 On A YA Theme: 2017 Debut Novels You May Have Missed
This content contains affiliate links. When you buy through these links, we may earn an affiliate commission.
Sponsored by Girls Made of Snow and Glass by Melissa Bashardoust
Entwining the stories of step-mother Mina and step-daughter Lynet, both in the past and present, Girls Made of Snow and Glass traces the relationship of two young women doomed to be rivals from the start. It's Frozen meets The Bloody Chamber in this feminist fantasy reimagining of Snow White.
---
"Dumpster Fire" might be too kind a description for what this year has been like so far. We've seen terrible politics, we've seen devastating natural disasters, and the lingering possibility of nuclear war. And that's just the tip of the iceberg.
One of the things that this sort of all-encompassing sense of dread and sadness and fear has impacted is hearing about the new, exciting books hitting shelves, and more specifically, it's made hearing about books by brand new authors challenging.
This week's edition of "3 On A YA Theme"—in keeping with the tradition of rarely ever being just 3 titles—is a round-up of debut YA novels that have hit shelves between January and early September that you should pick up and put onto your TBR list. This isn't comprehensive but instead, offers up a cross section of various genres and stories, all from first-time authors.
Inspiration for this post came from a tweet, which resulted in this round-up of debut novels more broadly that you may have missed. So if you're itching for great 2017 debut reads beyond YA, you'll find even more there.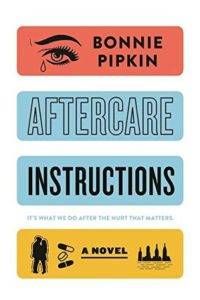 Aftercare Instructions by Bonnie Pipkin
"Troubled." That's seventeen-year-old Genesis according to her small New Jersey town. She finds refuge and stability in her relationship with her boyfriend, Peter—until he abandons her at a Planned Parenthood clinic during their appointment to terminate an unwanted pregnancy. The betrayal causes Gen to question everything.
As Gen pushes herself forward to find her new identity without Peter, she must also confront her most painful memories. Through the lens of an ongoing four act play within the novel, the fantasy of their undying love unravels line by line, scene by scene. Digging deeper into her past while exploring the underground theater world of New York City, she rediscovers a long-forgotten dream. But it's when Gen lets go of her history, the one she thinks she knows, that she's finally able to embrace the complicated, chaotic true story of her life, and take center stage.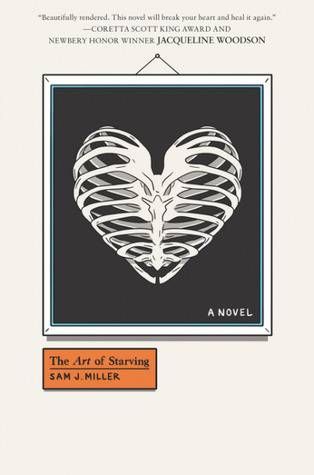 The Art of Starving by Sam J. Miller
Matt hasn't eaten in days.
His stomach stabs and twists inside, pleading for a meal. But Matt won't give in. The hunger clears his mind, keeps him sharp—and he needs to be as sharp as possible if he's going to find out just how Tariq and his band of high school bullies drove his sister, Maya, away.
Matt's hardworking mom keeps the kitchen crammed with food, but Matt can resist the siren call of casseroles and cookies because he has discovered something: the less he eats the more he seems to have…powers. The ability to see things he shouldn't be able to see. The knack of tuning in to thoughts right out of people's heads. Maybe even the authority to bend time and space.
So what is lunch, really, compared to the secrets of the universe?
Matt decides to infiltrate Tariq's life, then use his powers to uncover what happened to Maya. All he needs to do is keep the hunger and longing at bay. No problem. But Matt doesn't realize there are many kinds of hunger…and he isn't in control of all of them.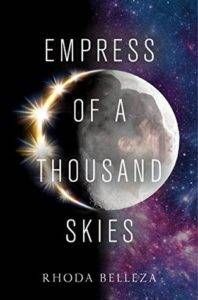 Empress Of A Thousand Skies by Rhoda Belleza
The only surviving heir to an ancient Kalusian dynasty, RHEE has spent her life training to destroy the people who killed her family. Now, on the eve of her coronation, the time has finally come for Rhee to claim her throne—and her revenge.
ALYOSHA is a Wraetan who has risen above his war refugee origins to find fame as the dashing star of a DroneVision show. Despite his popularity, Aly struggles with anti-Wraetan prejudices and the pressure of being perfect in the public eye.
Their paths collide with one brutal act of violence: Rhee is attacked, barely escaping with her life. Aly is blamed for her presumed murder.
The princess and her accused killer are forced to go into hiding—even as a war between planets is waged in Rhee's name. But soon, Rhee and Aly discover that the assassination attempt is just one part of a sinister plot. Bound together by an evil that only they can stop, the two fugitives must join forces to save the galaxy.
In this exhilarating debut for fans of Marissa Meyer's Lunar Chronicles and Pierce Brown's Red Rising trilogy, RHODA BELLEZA crafts a powerful saga of vengeance, warfare, and the true meaning of legacy.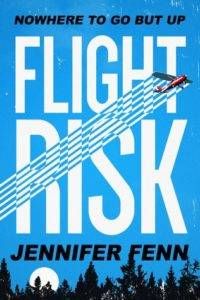 Flight Risk by Jennifer Fenn
Who is Robert Jackson Kelly? Is he a juvenile delinquent? A criminal mastermind? A folk hero? One thing is clear: Robert always defies what people think of him. And now, the kid who failed at school, relationships, and almost everything in life, is determined to successfully steal and land a plane.
Told as an investigation into Robert's psyche, the narrative includes multiple points of view as well as documentary elements like emails, official records, and interviews with people who knew Robert. Ultimately, Flight Risk is a thrilling story about one teenager who is determined to find a moment of transcendence after everyone else has written him off as lost.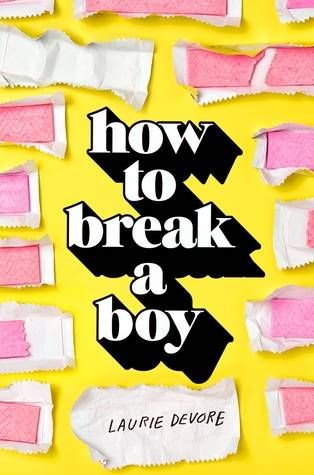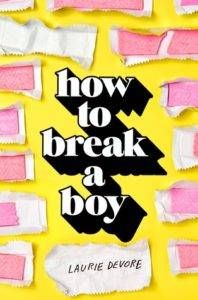 How To Break A Boy by Laurie Devore
Keep your enemies close, but your friends closer.
Olivia Clayton has mastered the art of tearing others down to stay on top. She and her best friend, Adrienne, rule their small southern town like all good mean girls do—through intimidation and manipulation.
After Olivia suffers a family tragedy and catches Adrienne sleeping with her boyfriend, Olivia is over it. She decides to make a change—but it's impossible to resist taking Adrienne down one last time. Up to her old tricks, Olivia convinces golden boy Whit DuRant to be her SAT tutor and her fake boyfriend. But when it starts to feel real, Whit gets caught up in Olivia and Adrienne's war.
Olivia may ruin everything she touches, but this time she won't go down without a fight—not if it means losing Whit.
And definitely not if it means losing what's left of herself.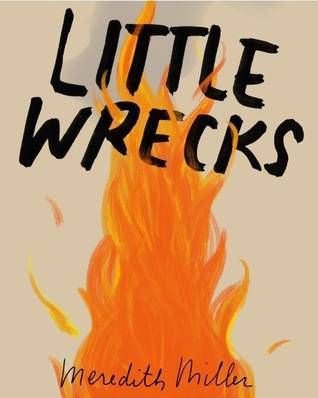 Little Wrecks by Meredith Miller
Ruth, Magda, and Isabel are different from everyone else. They can see beneath the seemingly perfect, cookie-cutter exterior of their small town of Highbone, Long Island. They know that below the surface, each house is filled with secrets, indifference, and violence.
These girls refuse to become willing participants of these fake lives. Instead, they are determined to fight every condescending comment, every unwelcome touch, and every lie they've been told.
When the opportunity to commit the perfect crime appears, the girls finally start to see their way out of Highbone. But for the first time, Ruth, Magda, and Isabel are keeping secrets from each other. As they drift apart, the weight of reality starts to set in. These girls can't save each other. They might not even be able to save themselves.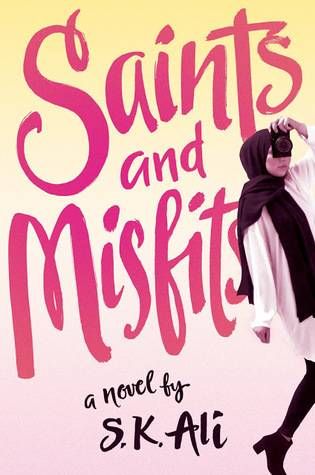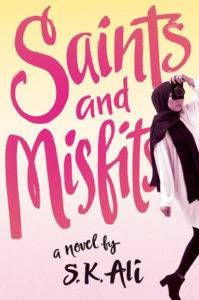 Saints and Misfits by S. K. Ali
How much can you tell about a person just by looking at them?
Janna Yusuf knows a lot of people can't figure out what to make of her…an Arab Indian-American hijabi teenager who is a Flannery O'Connor obsessed book nerd, aspiring photographer, and sometime graphic novelist is not exactly easy to put into a box.
And Janna suddenly finds herself caring what people think. Or at least what a certain boy named Jeremy thinks. Not that she would ever date him—Muslim girls don't date. Or they shouldn't date. Or won't? Janna is still working all this out.
While her heart might be leading her in one direction, her mind is spinning in others. She is trying to decide what kind of person she wants to be, and what it means to be a saint, a misfit, or a monster. Except she knows a monster…one who happens to be parading around as a saint…Will she be the one to call him out on it? What will people in her tight-knit Muslim community think of her then?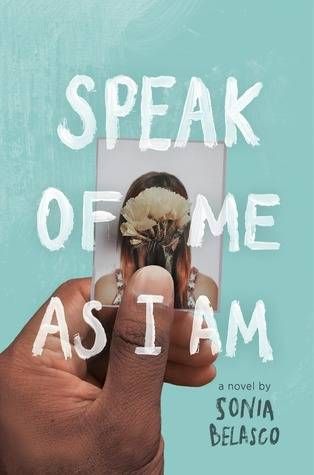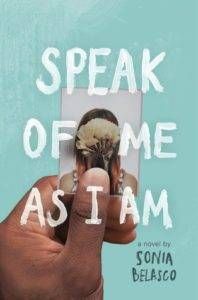 Speak Of Me As I Am by Sonia Belasco
Melanie and Damon are both living in the shadow of loss. For Melanie, it's the loss of her larger-than-life artist mother, taken by cancer well before her time. For Damon, it's the loss of his best friend, Carlos, who took his own life.
As they struggle to fill the empty spaces their loved ones left behind, fate conspires to bring them together. Damon takes pictures with Carlos's camera to try to understand his choices, and Melanie begins painting as a way of feeling closer to her mother. But when the two join their school's production of Othello, the play they both hoped would be a distraction becomes a test of who they truly are, both together and on their own. And more than anything else, they discover that it just might be possible to live their lives without completely letting go of their sadness.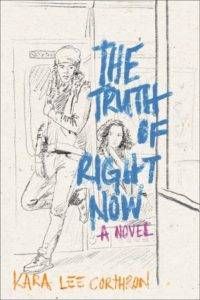 The Truth of Right Now by Kara Lee Corthron
Lily is returning to her privileged Manhattan high school after a harrowing end to her sophomore year and it's not pretty. She hates chemistry and her spiteful lab partner, her friends are either not speaking to her or suffocating her with concerned glances, and nothing seems to give her joy anymore. Worst of all, she can't escape her own thoughts about what drove her away from everyone in the first place.
Enter Dari (short for Dariomauritius), the artistic and mysterious transfer student, adept at cutting class. Not that he'd rather be at home with his domineering Trinidadian father. Dari is everything that Lily needs: bright, creative, honest, and unpredictable. And in a school where no one really stands out, Dari finds Lily's sensitivity and openness magnetic. Their attraction ignites immediately, and for the first time in what feels like forever, Lily and Dari find happiness in each other.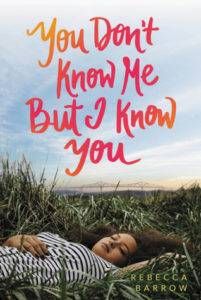 You Don't Know Me But I Know You by Rebecca Barrow
There's a box in the back of Audrey's closet that she rarely thinks about.
Inside is a letter, seventeen years old, from a mother she's never met, handed to her by the woman she's called Mom her whole life. Being adopted, though, is just one piece in the puzzle of Audrey's life—the picture painstakingly put together by Audrey herself, full of all the people and pursuits that make her who she is.
But when Audrey realizes that she's pregnant, she feels something—a tightly sealed box in the closet corners of her heart—crack open, spilling her dormant fears and unanswered questions all over the life she loves.
Almost two decades ago, a girl in Audrey's situation made a choice, one that started Audrey's entire story. Now Audrey is paralyzed by her own what-ifs and terrified by the distance she feels growing between her and her best friend Rose. Down every possible path is a different unfamiliar version of her life, and as she weighs the options in her mind, she starts to wonder—what does it even mean to be Audrey Spencer?
Want more "3 On A YA Theme" posts? Gotcha covered.