Manga Hype: Ladies Loving Ladies Edition
Oh, the weather outside is frightful (at least in my part of the world), but winter 2017 will warm our hearts with a smorgasbord of F/F manga romances.
Kiss and White Lily for My Dearest Girl by Canno (Yen Press)
This is the manga that inspired me to write this column: I read the publisher's summary and yelled, "BUT WILL THEY FALL IN LOVE?" Official press doesn't explicitly call this is a lesbian romance, though several manga merchandisers categorize it as such. Are they afraid of a backlash (for a lot of gross reasons, manga is particularly susceptible to "adult content" complaints)? Are they avoiding spoilers (even though the title basically gives it away)? Weirdness in marketing aside, Yen Press has been releasing beautiful hardcover editions of A Bride's Story by Kaoru Mori, one of my favorite lady-centric stories, so I have hope that they'll do this series justice. (Release date: February 21, 2017)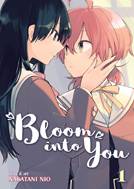 Bloom Into You by Nakatani Nio (Seven Seas Entertainment)
Yuu has always dreamed of a fairy-tale romance, so she's surprised by the total lack of fireworks when a boy finally confesses his love for her. Her new friend, the sophisticated student council president Nanami, becomes her tutor in the art of gentle rejection. But Nanami might be so skilled at rejecting boys because she's not interested in them at all… and I'm sure you, wily reader, can see where this is going. (Release Date: January 3, 2017)
Hana & Hina After School by Milk Morinaga (Seven Seas Entertainment)
Hana and Hina meet at their part-time job, where they swear to keep each other's employment a secret from their strict school. (It's common practice in Japan to forbid students from taking after-school jobs, and perhaps an even more common practice to exploit this as a plot device in manga.) Will the secret-keeping extend to their budding relationship? Seven Seas is also releasing a translation of Morinaga's F/F oneshot Secret of the Princess on February 14, which makes this a great time to dive into her work. (Release date for Hana & Hina: March 14, 2017)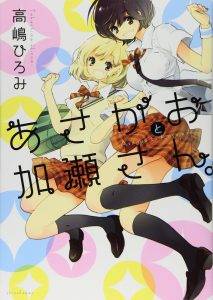 Kase-san and Morning Glories by Hiromi Takashima (Seven Seas Entertainment)
Takashima's Kase-san series traces the evolving relationship between sweet high school student Yamada and her crush, the track and field star she calls Kase-san. Each book builds on the previous but can also be read as a stand-alone. I like the low-commitment nature of this series (comics is an expensive hobby). If you're looking for an entry point into F/F manga, this might be just what you need. (Release date: February 28, 2017)
Kindred Spirits on the Roof by Hachi Ito and Aya Fumio (Seven Seas Entertainment)
Childhood friends Mako and Shiori have been avoiding each other ever since Mako told Shiori her true feelings. Shiori just wants their old friendship back, but her attempts to reconcile may lead her down an unexpected path. This looks like a sweet treat with several background romances between women as well. (Release date: January 31, 2017)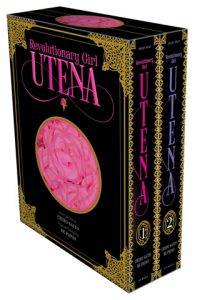 Revolutionary Girl Utena Deluxe Box Set by Chiho Saito (VIZ)
To English-speaking fans, this is the queen bee of genderbending lady-love stories. After being rescued by a prince as a child, Utena Tenjou decides to become a prince herself, which necessitates learning how to duel at the prestigious Ohtori Academy. She also gains a princess to rescue in the form of Anthy Himemiya, who is given as a "bride" to the school's champion duelist. I'm more familiar with the anime adaptation, which explicitly develops Utena and Anthy's relationship into a romance; the manga, to my understanding, works more on subtext, and therefore your mileage may vary. Though this story has the trappings of a fairy tale, be prepared for a darker critique of swashbuckling romances that asks whether women need or desire masculine protection. (Release date: February 28, 2017)
By signing up you agree to our Terms of Service
We've got new perks over at Book Riot Insiders, including the Epic Group Read! Sign up for your free trial today!