Buy, Borrow, Bypass: A Year with Nature
It's December, the time of year when many of us start making resolutions for the upcoming year. There are the usual resolutions, eat better, exercise more, and (for bookish folks) read more. But resolutions can take other forms, like getting to know our world a little better.
The authors of these books decided to take on a project that brought them close to nature, and now we get to learn from their experience—and maybe get inspired to make nature-oriented resolutions of our own.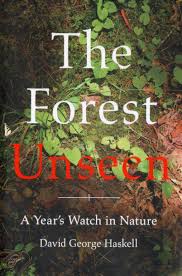 The Forest Unseen: A Year's Watch in Nature by David G. Haskell.
Haskell spent a year closely observing a small portion of a Tennessee forest, noting the weather, the plants, and the animal life in that space. In this book, he uses his observations as a launching point into short essays about the life he sees and what science teaches us about that life. Although his subject is just one square meter across, he's able to link that small area to life all over the world. The book is filled with fascinating facts, and the writing is gorgeous. What more could you want?
Verdict: Buy. This would be a great book to have around all year.
Birds, Art, Life: A Year of Observation by Kyo Maclear
Feeling unsettled by caring for her ailing father, writer Kyo Maclear decided to learn bird watching, with the help of a musician friend. This collection of essays, one for almost every month of the year, chronicles the birds she spotted and the thoughts that grew out of her observations. As a nature book, it doesn't offer much material of note, but her writing about life and art is thoughtful and thought-provoking. (This book is publishing in January.)
Verdict: Bypass if you're looking for in-depth nature writing. Borrow if you enjoy essays about life and art.
H Is for Hawk by Helen Macdonald
Unlike the other books featured here, Macdonald's memoir isn't constructed as a year-long diary, but it does present a long-term project in nature and blends nature writing with personal observations. Macdonald, an experienced falconer grieving the death of her father, decides to take on the challenge of training a goshawk, one of the most difficult birds to manager. In the memoir, she chronicles her journey with her hawk, Mabel, as she submerges into an intense project as a way to heal and find her way out into the world again. She also considers the work of T.H. White, who wrote of his own attempt at training a hawk in The Goshawk. Although I thought some of the sections on White were too long, this is a beautifully written book and well worth reading, even if you're not particularly interested in falconry.
Verdict: Borrow. This is a great book to read, but not one I'd feel a need to keep.
We have 10 copies of
A Gentleman in Moscow
by Amor Towles to give away to Book Riot readers!
Go here to enter for a chance to win
, or just click the image below. Good luck!