A Comics Gift Guide for #OwnVoices
Gift giving is hard. You want it to mean something to the recipient or add to their life which feels like a lot of pressure for some people. Have no fear! I have compiled a list of comics by, and about underrepresented folks. #OwnVoices is a hashtag meant to highlight and signal boost these stories. Grab a warm drink, peruse and if you have additional suggestions, sound off in the comments!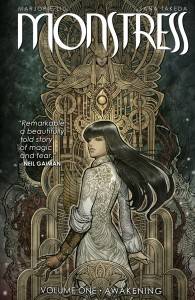 Monstress (Image) by Marjorie Liu & Sana Takeda
Set in an alternate matriarchal 1900's Asia, in a richly imagined world of art deco-inflected steam punk, Monstress tells the story of a teenage girl who is struggling to survive the trauma of war, and who shares a mysterious psychic link with a monster of tremendous power, a connection that will transform them both, and make them the target of both human, and otherworldly powers.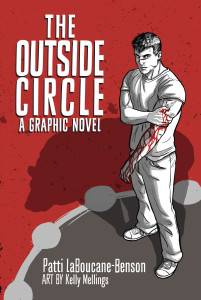 The Outside Circle by Patti Laboucane-Benson, and Kelly Mellings
In this important graphic novel, two Aboriginal brothers — both gang members — surrounded by poverty, and drug abuse, try to overcome centuries of historic trauma in very different ways to bring about positive change in their lives. Pete, a young Aboriginal man wrapped up in gang violence, lives with his younger brother, Joey, and his mother who is a heroin addict. After returning home one evening, Pete, and his mother's boyfriend, Dennis, get into a violent struggle, which sends Dennis to the morgue, and Pete to jail. Initially maintaining his gang ties, a jail brawl forces Pete to realize the negative influence he has become on Joey, and encourages him to begin a process of rehabilitation through a traditional Native healing circle.
I wrote about The Outside Circle before, and given the lack of aboriginal stories in comics especially by aboriginal creators, we need to grab them when we see them. The art is also gorgeous.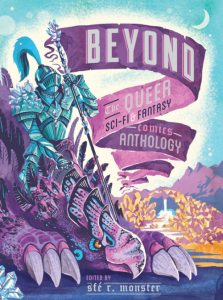 Beyond: The Queer Sci-Fi and Fantasy Comic Anthology edited by Sfé R. Monster
Beyond is a black-and-white comic anthology with 18 original science fiction, and fantasy comics by, and about queer people.
I haven't had the chance to read this anthology but queer representation in comics has been a conversation we've been having for years, and sometimes, it means looking at what indie creators, and publishers are doing. They're doing some great things.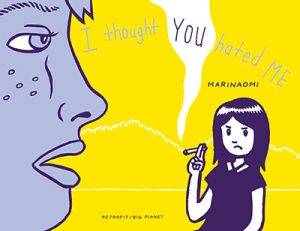 I Thought You Hated Me by MariNaomi
When MariNaomi first meets Mirabai in grade school, Mirabai seems to be more of a bully than a friend. But over the course of time, their relationship shifts from tense to friendly, to drifting apart, to reconnecting and finding something much deeper.
I Thought You Hated Me is a comics memoir about female friendship, a story that doesn't involve stale tropes like acrimonious competition or fighting over boys. It explores the complexity, and depth of this particular friendship through snapshot-vignettes of relevant moments over thirty years, painting a portrait of something unique but relatable, common but extraordinary.
I loved reading I Thought You Hated Me, and if you're looking for more MariNaomi, check out Turning Japanese.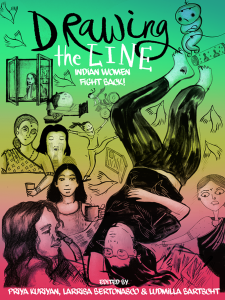 Drawing The Line: Indian Women Fight Back! Anthology
Drawing the Line: Indian Women Fight Back! is a comics anthology by 14 women of their day-to-day experiences in India. Produced out of a week-long workshop with Indian women artists, both amateur, and professional, Drawing the Line is part of a larger national conversation in India around sexual discrimination that emerged in the aftermath of the brutal gang-rape, and murder of a young medical student in 2012.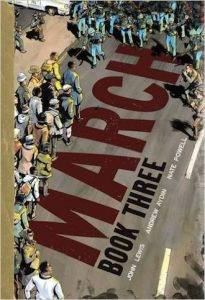 March: Book One by John Lewis, Andrew Aydin, and Nate Powell
Congressman John Lewis (GA-5) is an American icon, one of the key figures of the civil rights movement. His commitment to justice, and nonviolence has taken him from an Alabama sharecropper's farm to the halls of Congress, from a segregated schoolroom to the 1963 March on Washington, and from receiving beatings from state troopers to receiving the Medal of Freedom from the first African-American president.
March is a vivid first-hand account of John Lewis' lifelong struggle for civil, and human rights, meditating in the modern age on the distance traveled since the days of Jim Crow, and segregation. Rooted in Lewis' personal story, it also reflects on the highs, and lows of the broader civil rights movement.
There are three books! March: Book Two, and March: Book Three. Get 'em all!
Sunday In The Park With Boys by Jane Mai
Jane Mai will give you advice if you ask for it. With Sunday in the Park with Boys she has given us a poetic account of self-discovery and self-loathing. In this comic as emotional cartography, persona and person collide as Mai contends with loneliness, heartache and herself.
Tackling anxieties in her twenties, I read this while dealing with some anxiety of my own in my twenties. I'm a Mai fan and if you want more Mai, check out See You Next Tuesday.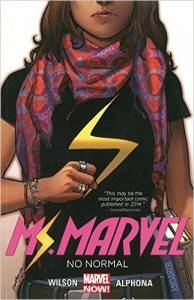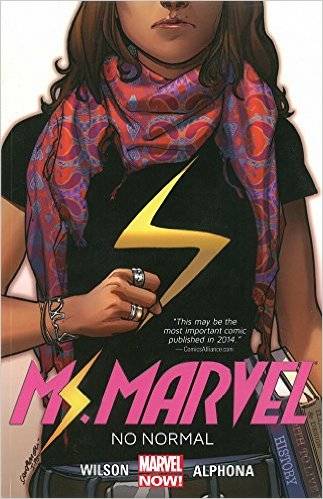 Ms. Marvel: No Normal by G Willow Wilson Adrian Alphona
Marvel Comics presents the all-new Ms. Marvel, the groundbreaking heroine that has become an international sensation! Kamala Khan is an ordinary girl from Jersey City – until she is suddenly empowered with extraordinary gifts. But who truly is the all-new Ms. Marvel? Teenager? Muslim? Inhuman? Find out as she takes the Marvel Universe by storm! As Kamala discovers the dangers of her newfound powers, she unlocks a secret behind them as well. Is Kamala ready to wield these immense new gifts? Or will the weight of the legacy before her be too much to handle? Kamala has no idea either. But she's comin' for you, New York!
I'm a massive Kamala Khan fan and it's refreshing to have muslim women editing and writing a book about a muslim girl.
Can't We Talk about Something More Pleasant? by Roz Chast
When it came to her elderly mother and father, Roz held to the practices of denial, avoidance, and distraction. But when Elizabeth Chast climbed a ladder to locate an old souvenir from the "crazy closet"―with predictable results―the tools that had served Roz well through her parents' seventies, eighties, and into their early nineties could no longer be deployed.
While the particulars are Chast-ian in their idiosyncrasies―an anxious father who had relied heavily on his wife for stability as he slipped into dementia and a former assistant principal mother whose overbearing personality had sidelined Roz for decades―the themes are universal: adult children accepting a parental role; aging and unstable parents leaving a family home for an institution; dealing with uncomfortable physical intimacies; managing logistics; and hiring strangers to provide the most personal care.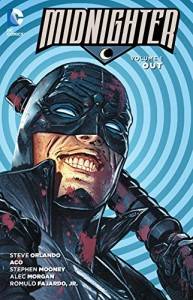 Midnighter Vol. 1: Out by Steve Orlando, ACO, Stephen Mooney, and Alec Morgan
Between the supercomputer wired into his brain and the enhancements saturating his body, the living weapon known as Midnighter doesn't face a lot of real challenges to his uncanny combat skills. Lucky for him, he enjoys beating the tar out of low-level bad guys as much as the high-end ones—and since his recent breakup with his first love (and fellow superhuman) Apollo, he's had plenty of chances to engage in his unique brand of physical therapy.
Now, insanely dangerous weapons are beginning to pop up all over the globe, wreaking havoc on society and complicating Midnighter's professional and personal life. As the outbreaks pile up, tracking them back to the original thief becomes an overriding imperative.
I've written about the first volume and if Midnighter sounds like your type of hero, gift his story to a loved one.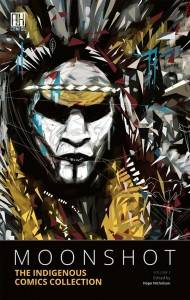 Moonshot: The Indigenous Comics Collection edited by Hope Nicholson
Moonshot: The Indigenous Comics Collection brings together 28 writers, and artists from North America to contribute comic book stories showcasing the rich heritage, and identity of indigenous storytelling. From traditional stories to exciting new visions of the future, this collection presents some of the finest comic book, and graphic novel work on the continent. MOONSHOT is an incredible collection that will amaze, intrigue, and entertain!
I had the pleasure of backing the Kickstarter for volume one, AND two. The art in this collection is stunning. I highly recommend picking this up.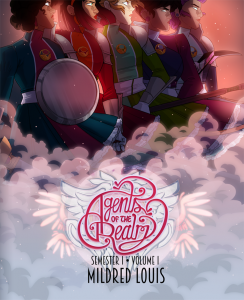 Agents of the Realm: Semester 1 (Vol 1) by Mildred Louis
Shortly after starting their first year at Silvermount University, five young women discover they've each been chosen to protect our world and its newly discovered sister dimension. Volume 1 begins at the start of their first year of college as they learn about this new responsibility and try to find out exactly what's going on.
Join Norah, Adele, Kendall, Paige, and Jordan as they navigate the complexities of college, and discover that they have more strength than they've ever imagine.
I'm a fan of magical girl stories, and Louis' Agents of the Realm is my favourite!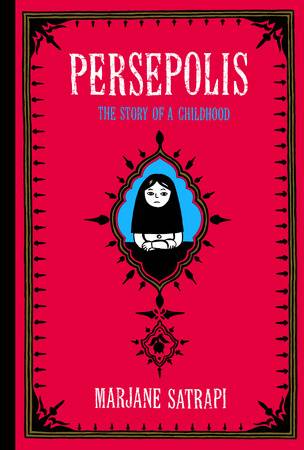 Persepolis: The Story of a Childhood by Marjane Satrapi
Wise, funny, and heartbreaking, Persepolis is Marjane Satrapi's memoir of growing up in Iran during the Islamic Revolution. In powerful black-and-white comic strip images, Satrapi tells the story of her life in Tehran from ages six to fourteen, years that saw the overthrow of the Shah's regime, the triumph of the Islamic Revolution, and the devastating effects of war with Iraq. The intelligent and outspoken only child of committed Marxists and the great-granddaughter of one of Iran's last emperors, Marjane bears witness to a childhood uniquely entwined with the history of her country.
Toward a Hot Jew by Miriam Libicki
In her first collection of graphic essays, Miriam Libicki investigates what it means globally and culturally to be Jewish, dating from her time in the Israeli military to her tenure as an art professor. Toward a Hot Jew is a new high watermark in autobiographical comics and shows Miriam Libicki as a powerful witness to history in the tradition of Martjane Satrapi and Joe Sacco.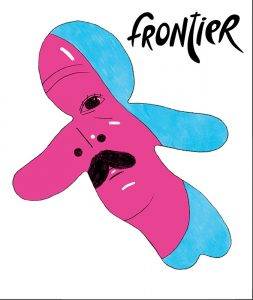 Frontier #13: "Fatherson" by Richie Pope
Frontier #13: Richie Pope features a brand new comic titled, "Fatherson" – a touching and surreal narrative of fatherhood.
It's a great comic that's short, visually stimulating, and packs a lot of punch. The Frontier series is really great overall.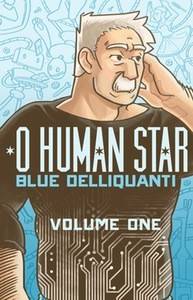 O Human Star (Vol 1) by Blue Delliquanti
Alastair Sterling was the inventor who sparked the robot revolution. And because of his sudden death, he didn't see any of it.
That is, until he wakes up 16 years later in a robot body that matches his old one exactly. Until he steps outside and finds a world utterly unlike the one he left behind – a world where robots live alongside their human neighbors and coexist in their cities. A world he helped create.
Now Al must track down his old partner Brendan to find out who is responsible for Al's unexpected resurrection, but their reunion raises even more questions.
Like who the robot living with Brendan is. And why she looks like Al. And how much of the past should stay in the past…
Black Panther: A Nation Under Our Feet (Vol 1) Ta-Nehisi Coates, and Brian Stelfreeze
T'Challa confronts a dramatic upheaval in Wakanda that will make leading the African nation tougher than ever before. When a superhuman terrorist group that calls itself The People sparks a violent uprising, the land famed for its incredible technology and proud warrior traditions will be thrown into turmoil. If Wakanda is to survive, it must adapt–but can its monarch, one in a long line of Black Panthers, survive the necessary change? Heavy lies the head that wears the cowl!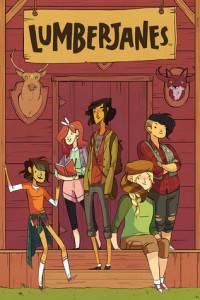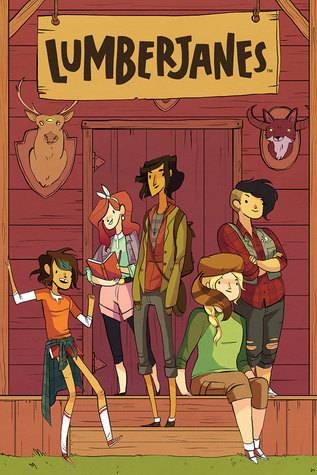 Lumberjanes: Beware The Kitten Holy (Vol. 1) by Noelle Stevenson, Shannon Watters, and Brooke A. Allen
Five best friends spending the summer at Lumberjane scout camp…defeating yetis, three-eyed wolves, and giant falcons…what's not to love?!
Friendship to the max! Jo, April, Mal, Molly, and Ripley are five best pals determined to have an awesome summer together…and they're not gonna let any insane quest or an array of supernatural critters get in their way! Not only is it the second title launching in our new BOOM! Box imprint but LUMBERJANES is one of those punk rock, love-everything-about-it stories that appeals to fans of basically all excellent things. It's Buffy the Vampire Slayer meets Gravity Falls, and features five butt-kicking, rad teenage girls wailing on monsters. and solving a mystery with the whole world at stake.
By signing up you agree to our Terms of Service
Enter to win a
new Kindle Paperwhite!