Bookish Board Games: Gifts for the Friend Who Already Has All the Books
Buying gifts for avid readers can be difficult. You want, of course, to buy them a book, but how do you know they don't have it already? Do you know them well enough to know the book's in their wheelhouse? And what if there's some esoteric reason why they prefer the paperback over the hardback, a used copy over a new copy?
This book nerd still appreciates the book tokens we have in the UK (gift certificates that can be spent on books in virtually any shop). And I still love it when someone gets a book for me exactly right, as my flatmate did for my birthday when she bought me the most pristine edition of The Little Paris Bookshop she could find and carried it home ever so carefully so it wouldn't get even slightly dented. But I also love book-adjacent gifts, and I'd be delighted to find one of these games in my stocking this year.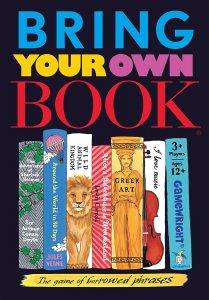 This one was the inspiration for this post — I convinced/peer pressured my flatmate to buy it  a while back at Labyrinth Games and Puzzles on Capitol Hill and I can't wait to play it.
The idea behind it is fairly simple. As the name indicates, everyone brings a book – a novel, a cookbook, a travel guide, anything. The game consists of completing prompts using phrases from the book you've brought.
For example –
the meaning of life is…
a line from a teenager's diary
the name of a popular new indie band
The person who's read the prompt gets to choose which one wins that point. Then every couple of rounds, everyone swaps books. How cool is that?
The box itself is compact and cute, and the inside even has a dedicated space to list books that have been used to play the game.
I played this game with is inventor at the Hay Literary Festival in 2011, and really enjoyed nerding out over it. The aim of the game is, Trivial Pursuit style, to fill up your miniature bookcase with a book of each colour, corresponding to categories like Travel Adventure or Crime and Thrillers. You do this by landing on squares like The Book Shop and The Library and answering multiple-choice trivia questions. There's also an element of chance introduced with Awards and Sentences cards.
You might have to go hunting for this one a little, but at the time of writing this post it was available on eBay and in New and Used at Amazon. I'd be doubly grateful if someone dug this out for me. (What, hint? Me?)
I actually gasped when I saw this on a Bustle list of literary board games. I grew up playing Monopoly (often by myself — such is the fate of an only child) and it has such pleasingly nostalgic connotations for me. In this version, what you buy are books, and you collect your periodic $200 on the "Read" square. When you pick up Knowledge and Explore cards you might collect money from fellow players if they fail to reply correctly to a literary trivia question, or you might get elected President of a Book Club and receive money as congratulations.
According to one Amazon reviewer, though, a warning: this game wreaks havoc on a book nerd's emotions. C. Nimmo says "You just have to be aware that as a book lover you will find yourself wanting to buy every book you land on, which is poor strategy for Monopoly, but you can't help it. You also find yourself being irrational in not wanting to sell or mortgage your favorite books even when it means winning or losing the game."
Still, if I ever get the chance to, I think I'll risk my emotions. Seems worth it.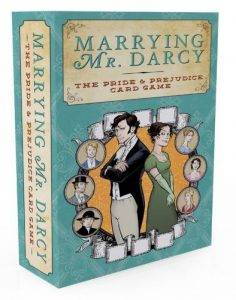 And then, as well as the more general bookish games, there are those specific to certain literary fandoms. Ms Austen has, of course, inspired her fair share. There is, for example, the Pride and Prejudice Trivia game, not to be confused with the Pride and Prejudice game. Marrying Mr Darcy — which now also has an Emma expansion — is a strategy card game in which players seek to become accomplished enough for various Suitors. It goes without saying that this one's probably not for you if gender stereotypes irk you. You win the game by marrying well, as the heroines do in Austen's novels. (It's not the only way to win at life, though, but you already knew that.)
On the completely opposite end of the decorum spectrum, and for another twist on a now-classic, try the game that the Washington Post has called "the smutty Shakespeare game you need for your next smarty-pants party". Like Bring Your Own Book — and like Cards Against Humanity, which Bards Against Profanity  parodies — this game involves completing prompts. Here, you do so by choosing from a variety of options lifted straight from Shakespeare's plays. Shakespeare loved his innuendo, and this game seems like a fun way to spread that love.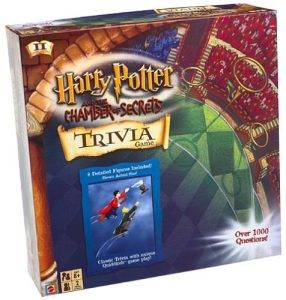 Harry Potter and the Chamber of Secrets Trivia Game
There are, as you'd imagine, countless games inspired by the Harry Potter phenomenon, including Mystery at Hogwarts (which is basically Clue/Cluedo), a special edition of Trivial Pursuit, and Scene It!, based on the movies. This trivia game, though, gets extra points for being Quidditch-themed. The opposing Gryffindor and Slytherin teams answer questions of various difficulties, and the Golden Snitch wins them 150 points and ends the game. "It's a fun game with nice features, but it's definitely geared toward hardcore Harry fans," says one Amazon review, like that's a bad thing.
By signing up you agree to our Terms of Service