Buy, Borrow, Bypass: Books About Wine
Wine. In terms of glamour, it's probably one of the most interesting and enticing foodstuffs out there. The following books, of both the fiction and non-fiction variety, cash in on this interest. But are they worth reading? Let's find out!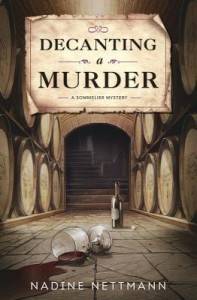 Decanting a Murder by Nadine Nettmann
When sommelier-in-training Katie Stillwell goes to a winery party in Napa, the last thing she expects to find is murrrrrrderrrrr. Using her deductive reasoning skills, acquired from numerous blind wine tastings, and the advanced detection techniques of sneaking around and eavesdropping, Katie must discover who the real murderer is, or she may be next!
This book was pretty silly. I'll say one thing for it: it was a quick read. But then what else can one expect from a book whose plot and character development make Nancy Drew novels seem sophisticated? If there weren't adults running around and drinking all the time it could have been written for middle schoolers.
There are two examples illustrative of this book's various problems: one, Katie's relationship with Tessa. Tessa is an extremely annoying character, and the author clearly sees her as a slut. With a more skilled writer, this could have been a great way to add depth to Katie's character and interest to the book. How on earth did these two polar opposites become BFFs? It's a mystery. Seriously. But instead of giving Tessa's character dimension, Nettmann just turns her into a plot device.
Then there are the wines listed at the beginning of every chapter, which I assume are meant to be pairings? But Nettmann never actually pairs the wines with the chapter, she just tells us what they are. I.e., "Viognier, a white wine with bold peach and apricot flavors meant to be consumed young." Okaaaaaaaaaay. But what does that have to do with this chapter? It just made no sense and became a massive irritant.
Verdict: Bypass. Decanting a Murder needed a lot more time in the bottle (by which I mean thought).
Judgment of Paris: California Vs. France and the Historic 1976 Paris Tasting That Revolutionized Wine by George M. Taber
Once upon a time, France was the only word in wine. Then wine sellers Steven Spurrier and Patricia Gallagher hosted a blind tasting of the best French and Napa Valley wines, in honor of the 200th anniversary of the American Revolution. Surprise! Napa crushed it, shattering the myth that nothing from nowhere could ever beat French wine. The only journalist to attend the "Judgment of Paris," George M. Taber gives his account of events and shares the history of the wineries involved in the tasting.
I learned quite a bit from this book, but at the same time it's an extremely problematic history. Taber gives us lots of information about Napa Valley and how the wineries partnered with researchers at UC Davis to create innovative vinification (read: winemaking) techniques, but he doesn't place it in the context of other US wine regions, where very similar things were happening.
That's a minor issue, however, compared to the way Taber systematically erases women from the history of the Napa Valley. I couldn't help but notice that the wives of all these [white] [male] winemakers were hardly ever mentioned, even though Taber states many of the wineries were started by "couples," so presumably the female halves of this equation had something to do with the business of winemaking. Instead, it's always the men doing things: Winiarski drove to California, Grgich checked the temperature of the liquid, Stewart racked the wine. Even when the women are mentioned, they're paired with the men as if following the latter's direction: Winiarski racked the wines with his daughter, etc. The book does improve in this respect in the second half, when several women are featured by themselves (probably because they're not married), but the attention Taber gives to them when compared to their male counterparts is kinda insulting. This is how women get written out of history, people.
Verdict: Borrow if you have a burning interest in either the 1976 Judgment of Paris wine tasting or Napa Valley wines; otherwise, bypass.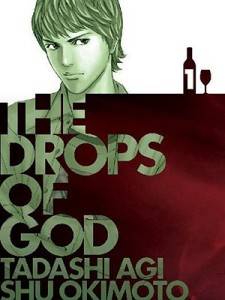 The Drops of God by Tadashi Agi
Shizuku Kanzaki has some daddy issues. Basically, his father was a famous wine critic, and tortured the poor child by making him eat dirt and smell leaves in order to train his palate. In rebellion, Shizuku went to work for a beer company and has never even tasted a glass of wine in his life. Then his dad dies, and Shizuku discovers that while he was away, his father adopted another son, a handsome up-and-coming wine critic named Issei Tomine. To add insult to injury, his dad is making Shizuku battle against Tomine in order to inherit his father's estate. The challenge? Find Yutaka Kanzaki's "Twelve Apostles" of wine and a thirteenth wine called the Drops of God. But how can someone like Shizuku ever hope to win such a contest against a wine expert like Tomine?
You how some books grab hold of your imagination and make you want to go to the places the characters go, or do the things they do? Well, The Drops of God is one of those books. It's no wonder this series has been called the most influential book about wine to be published in the last 20 years: the experience of drinking these wines is so beautifully expressed, through art and language, that you can't help but want to run out and try them yourself. And I promise you, you WILL run out and buy a wine decanter after you finish the first volume.
In terms of story and character, too, this is one of the best mangas I've ever read, if not THE best manga. I love Shizuku and Miyabi, the sommelier-in-training he befriends. The characters are all layered and interesting, even the antagonist Tomine, and the plot at times feels like a roller coaster. Yes, sometimes the coincidences are a little TOO convenient, but actually this series does a good job of making everything seem plausible, as if the events flow naturally from the actions of the characters and not contrived plot devices.
Verdict: Buy buy buy. If you only ever read one book about wine, it should be this manga.
Get the New Release Index, our curated calendar of upcoming new books, with
Book Riot Insiders
: