The List List #229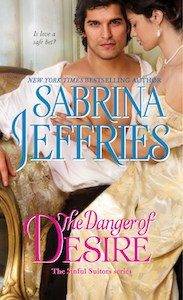 This week's List List is sponsored by The Danger of Desire by Sabrina Jeffries.
The Danger of Desire, the third heart-pounding novel in Sabrina Jeffries's sexy Sinful Suitors Regency series, shows why the NYT bestseller is such a beloved historical romance writer.

To expose the card cheat responsible for her brother's death, Delia Trevor spends her evenings dancing through society balls, and her late nights disguised as a young man gambling in London's gaming hells. Then one night, Warren Corry, the Marquess of Knightford, recognizes her. When he threatens to reveal her secret, she's determined to keep him from ruining her plans, even if it means playing a cat-and- mouse game with the enigmatic rakehell.
---
at Tor, 5 Slavic SFF Novels You Should Have on Your Shelves
at Brightly, 7 Picture Books to Teach Children About Giving to Others
at GQ, The Best Books of 2016
at Forbes, The Best Beer Books of 2016
at the San Francisco Chronicle, 2016 Holiday Books Gift Guide
at Bustle, 10 Books to Give Your Sister This Holiday Season
at Harper's Bazaar, 6 New Books to Read in December
at BuzzFeed, 35 Things to Buy Your Favorite Slytherin