Buy, Borrow, Bypass: Comics about Witches
Today is Halloween, which makes it the ideal time to curl up with some horror comics. With vampires out and zombies on the decline (sorry, The Walking Dead), we're instead going to focus on a group currently enjoying a true renaissance in comics: witches. So for today's extra-spooky edition of Buy, Borrow, Bypass, we explore four terrifying tales of witchcraft.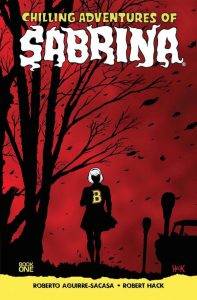 Chilling Adventures of Sabrina by Roberto Aguirre-Sacasa, Robert Hack, and Jack Morelli.
On her 16th birthday, Sabrina Spellman must make a terrifying choice: swear fealty to Satan and become a witch or remain a mortal and eventually die (assuming she isn't immediately killed for betraying family tradition). Complicating things is Sabrina's boyfriend Harvey Kinkle, who makes the fateful decision to follow her into the woods…
You might remember Sabrina from the Archie Comics of your youth (or recent issues of Jughead) or the 1990s TV series starring Melissa Joan Hart. Well, this Sabrina is a bit different. Inspired by the success of Afterlife with Archie, Chilling Adventures of Sabrina is absolutely terrifying. It's a period piece set in the 1960s that feels more influenced by vintage horror movies than by the old Teenage Witch comics. The characters might all seem familiar, but they act in radically unexpected ways while still feeling true to themselves. Plus, Robert Hack's expressionist art style is perfectly suited for the book's sense of dread. The result is one of the best comics currently being published, period.
Verdict: BUY. Just don't expect a Book Two anytime soon; the comic has suffered from chronic delays.
Toil and Trouble by Mairghread Scott, Kelly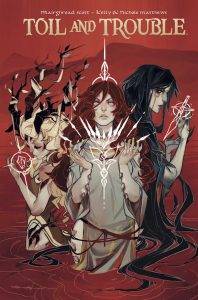 Matthews, Nichole Matthews, and Warren Montgomery.
With its palace intrigues and gruesome murders, Macbeth is definitely one of Shakespeare's more exciting plays, but let's face it: the best characters aren't Macbeth himself, but the trio of witches who tell him he will be king. What, we ask, are those witches up to while all that murdering is going on? Toil and Trouble gives us an answer.
What makes Toil and Trouble amazing, though, is that it extends Macbeth's political themes to the witches themselves, as the question of who will rule Scotland intermingles with that of who will rule this coven. A word of warning, though: you might want to have a copy of Macbeth handy to read after you're done.
Verdict: The $30 list price is a little steep for six issues, so I would say BORROW, unless you love Macbeth, Witches, or books about Scottish history, in which case this is an obvious BUY. (Buying the individual issues on ComiXology is also a good option for the frugal.)
Jim Henson's The Storyteller: Witches by S.M. Vidaurri, Kyla Vanderklugt, Matthew Dow Smith, Jeff Stokely, and Sonny Liew.
One of Jim Henson's lesser known creations, The Storyteller was a late-1980s anthology TV series hosted by an unnamed Storyteller (played initially by John Hurt) who would narrate fairy tales and legends. The series built up a cult following, and over the past few years Archaia (an imprint of BOOM! Studios) has been putting out a stellar line of Storyteller comics.
This volume, focused on witch stories, is a particular standout. It is beautiful book, with each story illustrated in a distinct style. (Kyla Vanderklugt's "Snow Witch" (based on a Japanese folktale), told in a landscape format, is particularly gorgeous.)
My favorite thing about the Storyteller line, though? All these books are kid-friendly without being dumbed down. Plus, the narration makes them a nice bridge between picture books and comics.
Verdict: BUY if you have a kid in your life who likes comics and/or witches. If not, it's at least worth a BORROW.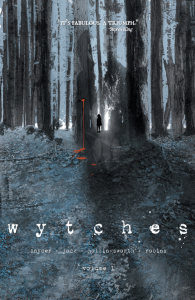 Wytches by Scott Snyder and Jock.
"All that sounds great," you say, "but this is Halloween! I want something truly scary!"
Okay, but don't say I didn't warn you….
If you're looking for something genuinely terrifying, check out Wytches by Scott Snyder and Jock. (You might remember the two from their also-terrifying run on Detective Comics, collected as Batman: Black Mirror.) Snyder and Jock's witches are horrific monsters living in the woods, served by human worshippers who bring them "pledges". Jock's art adds to the sense of dread and foreboding. You probably don't want to read this before bed, especially if you're anywhere near the woods.
Verdict: It's from Image, so the first (and thus far only) volume is a steal at $9.99, making it a definite BUY. Unless what I've written above sounds like a terrifying reading experience, in which case you might want to BYPASS the nightmare fuel.