Quick Pick: September 30, 2016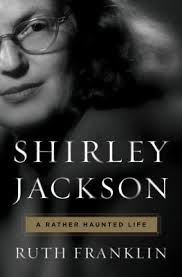 Shirley Jackson: A Rather Haunted Life by Ruth Franklin
So many of the authors you read and love credit Jackson as an influence – but do you know anything about her beyond The Lottery (which you were probably made to read in school)? If the answer is no, this book will solve that! (If the answer is yes, you probably love her, so you should read it as well.) Jackson was a fascinating author, and Franklin does a wonderful job bringing Jackson's brilliant mind and her short, complex life to the page. Jackson not only pursued a career in a time when it was unusual for wives and mothers to work, but was successful at it. She took the American gothic style of writing and brought her own unique, frightening vision to it, penning such amazing novels as We Have Always Lived in the Castle and The Haunting of Hill House. This is an outstanding look at a genius.
Backlist bump: We Have Always Lived in the Castle by Shirley Jackson
We have 10 copies of
A Gentleman in Moscow
by Amor Towles to give away to Book Riot readers!
Go here to enter for a chance to win
, or just click the image below. Good luck!