The List List #216
This week's List List is sponsored by Book Riot Live, our two-day convention celebrating of books and the reading life! Get your tickets before August 31 and you'll get both VIP perks and $20 off using code BOOKNERD.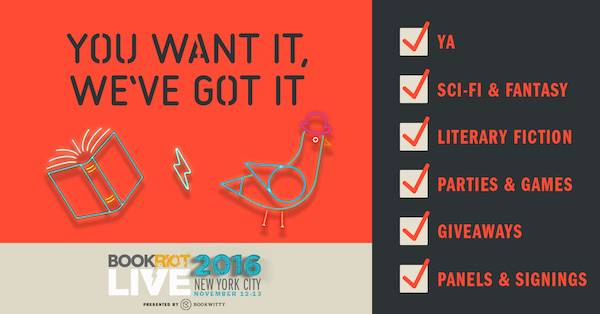 ---
at Off the Shelf, 12 Super Sleuthy Books For Grown-Up Nancy Drew Fans
at CBC, 10 Great Poetry Collections By Musicians
at the New York Times, 9 Great New Books for August
at Inverse, Your Essential Sci-Fi Reading List for the Rest of 2016
at The Huffington Post, 5 Dating Lessons From Dorothy Parker
at BuzzFeed Books, 21 Incredible Books You Need To Read This Fall
at GalleyCat, Amazon's Big Fall Books of the Year
at Lee & Low, 10 Reasons To Celebrate Bilingual Books
at Suvudu, 4 Best Sci-Fi Novels Featuring Lethal Olympic-Level Games
at BuzzFeed, 33 Celebrity Books That Are Actually Pretty Good
We have a 12-month subscription to Audible to give away! Go
here to enter for a chance to win
, or just click the image below!