Buy Borrow Bypass: Fandoms and Con Love
Fewer than ten years ago, admitting you were part of a fandom was tantamount to social suicide. But in the most recent years, the transformation of geek culture into popular culture (thanks to everyone realizing it's awesome) has made fandom a mark of honor.  I found myself discovering or rediscovering multiple books with some semblance of fan-ness recently, particularly involving fans going to cons. Some were delightful, and some…well, they could have been better.
All The Feels by Danika Stone
Liv is a college student who spends a little too much time vidding for her favorite fandom. When the hero of said film franchise is killed off at the end of the most recent movie, she takes drastic measures, with the help of her best friend, a steampunk everyday-cosplayer named Xander. Everything explodes from there, and comes to a head at Dragon*Con, where the stars of the series will be making an appearance. While there were some fun and delightful parts of this book, there were also some that had me doing some hard side-eye. Mostly, I was expecting more of some of the events and revelations at D*Con and the expected level of character growth didn't happen. But ymmv.
Verdict: Borrow.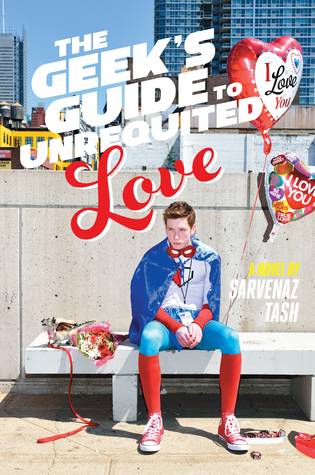 The Geek's Guide to Unrequited Love by Sarvenaz Tash
Graham and Roxy have been BFFs since they were eight. Now it's senior year of high school, and Graham has found the perfect way to declare his love for her: right after he gives her the perfect experience at New York Comic Con. It all starts to go wrong when their goals to get wristbands of the biggest panel of the con goes horribly awry. From there, things just continue to go wrong for Graham's plan. At least they've got a chance to take their original comic for a writing critique. And they're making new friends.
This book is all kinds of wonderful. Tash pulls together a diverse, eclectic group of friends and gives everyone—even the reader—the Nerd Utopia Con Experience. From costumes to inside jokes, even though the central fandom isn't part of real fan canon, it might as well be.
Verdict: Buy. Immediately.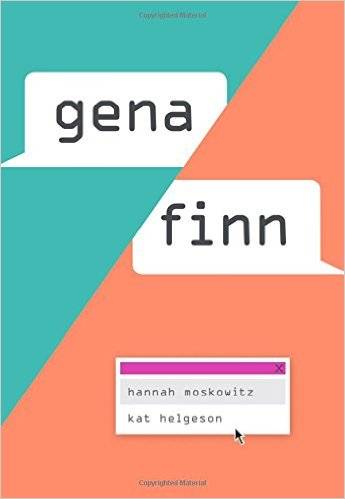 Gena/Finn by Hannah Moskowitz and Kat Helgeson
This book. THIS BOOK. I'm still all twisted inside from this book. Told in an alternative format, we never actually *meet* Gena and Finn. We have online journals and fanfiction, and DMs and emails. All things that happen, even when action is happening, is told through some written format by one of the two, or some other person they are communicating with. This kind of format not only makes it a quick read, but also feels even more personal than if you were just reading from the outside. I dunno. It's gorgeous and heartbreaking and takes a very different approach to friendship and relationships, and what love means in the midst of who you know. Oh, and they also go to a con for their fandom, which is where they meet in person for the first time. Things happen that change the course of the story. Their time there is brief but meaningful.
Verdict: Buy.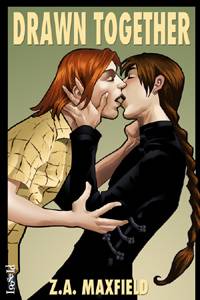 Drawn Together by Z.A. Maxfield
I had been curious about this book for quite some time, after coming across it when researching romance featuring bisexual/queer-for-you characters. Here, we have cajun redhead Rory, who has believed that the artist Ran Yamane is meant for him. He drives all the way from Louisiana to San Diego to attend Anime Expo and meet her. Of course, he discovers when he arrives at her signing that she is a he…but you know, whatever right? The two end up having to flee Anime Expo after an enlightening evening together, as Yamane's oldest fan and scariest stalker has been released. Now that Rory is involved, he won't let her harm Yamane—even though he's not really sure what's going on between them either.
The concept is intriguing, and the story is cute, but the execution leaves much to be desired. I didn't hate reading it, but I could probably have gone without doing so as well. We won't even discuss the way mental illness is approached—meaning not really at all. Part of it could be the datedness of the story (how weird is it that something written in 2009 could already be dated?!), but also there's just something off kilter about the book as a whole, even when you don't include some of the ridiculous plot points.
Verdict: Bypass.
More than Comics by Elizabeth Briggs
Tara and Hector have been friends for years, but they have never met in person. Their first chance to do so is at San Diego Comic Con (see, we're covering the board of all the big cons!) where they are promoting the comic they created together over years of proofs, emails, and video chats. They have a strong friendship, and neither wants to ruin that when they realize their physical attraction immediately upon meeting. Angst and miscommunication abound, and between we get intriguing conversations about women in comics and some serious sexytimes. Oh, and cosplay. Can't forget the cosplay.
Note: This is the second book in a series, so you will get spoiled for the first, if you care.
Verdict: Buy.
I've only scraped the surface of books about fandoms and cons and lovely dorky goodness. What are your favorites?
We have 5 copies of
My Sister, the Serial Killer
by Oyinkan Braithwaite to give away to Book Riot readers!
Go here
to enter for a chance to win, or just click the image below. Good luck!