29 Popular Songs That Reference Classic Books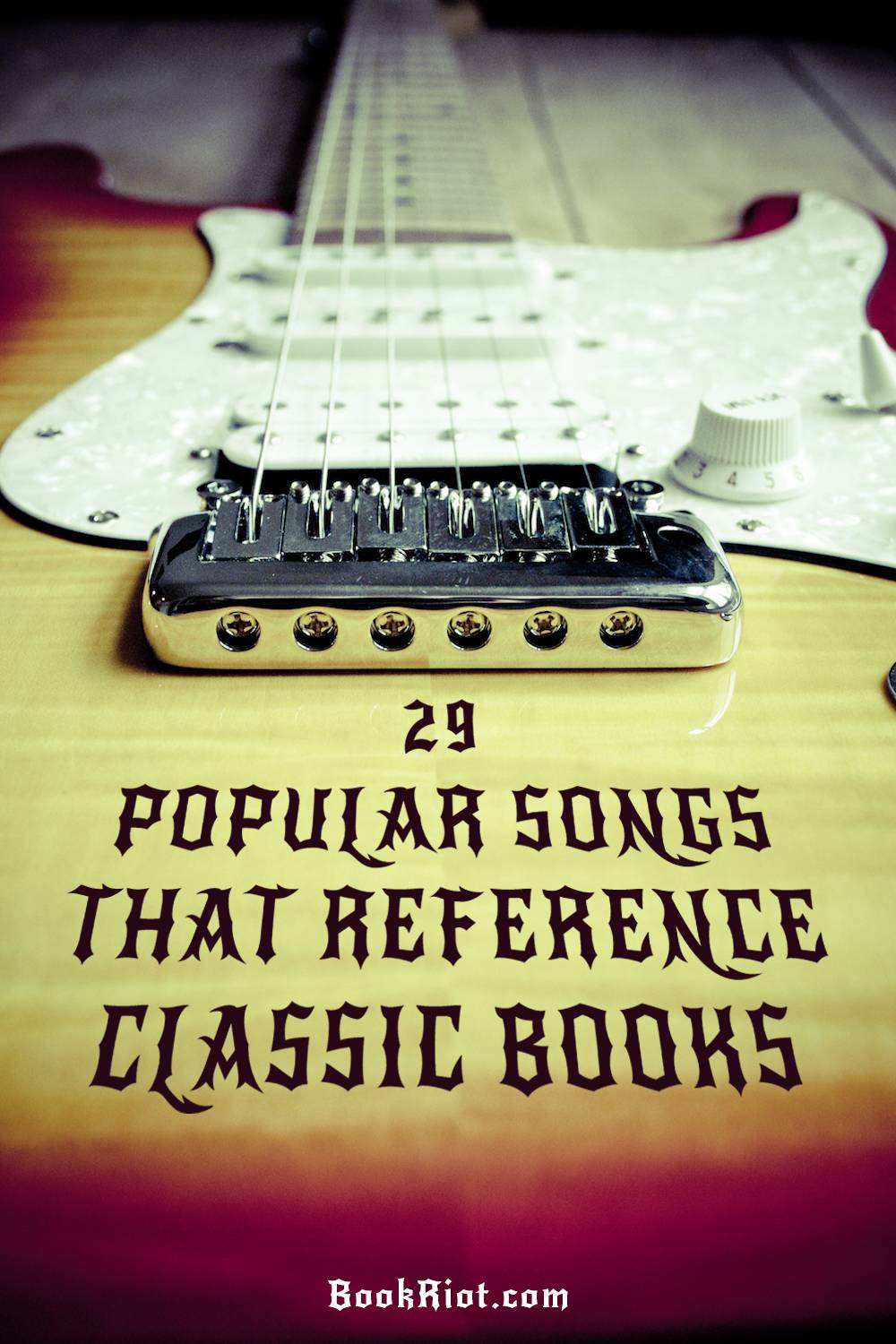 There's a lot of crossover in the arts. From book illustration to film adaptation, artists of different mediums frequently inspire each other. Here are 29 songs whose writers found inspiration in 10 of the world's greatest classic novels.
1984 by George Orwell
1. "1984" – David Bowie
Someday they won't let you, but now you must agree/The times they are a-telling, and the changing isn't free/You've read it in the tea leaves, the tracks are on TV/Beware the savage jaw of 1984
2. "Boot Stamping on a Human Face Forever" – Bad Religion
With good books and looks on their side/And hearts burstin' with national pride/They sang songs and went along for the ride/And the other side complied
3. "Welcome to 1984" – Anti-Flag
Hell yeah I'm confused for sure what I thought was the New Millennium is 1984/Mr. Orwell from the grave, adding fresh ink to the page/As the unpresident declares an endless war/Welcome to 1984!
4. "White Rabbit" – Jefferson Airplane
And if you go chasing rabbits, and you know you're going to fall/Tell 'em a hookah-smoking caterpillar has given you the call/And call Alice, when she was just small
5. "I am the Walrus" – The Beatles
Man, you should have seen them kicking Edgar Allan Poe/I am the eggman, we are the eggmen, I am the walrus/Goo g'joob
6. "Lucy in the Sky with Diamonds" – The Beatles
Picture yourself in a boat on a river/With tangerine trees and marmalade skies/Somebody calls you, you answer quite slowly/A girl with kaleidoscope eyes
7. "Brave New World" – Iron Maiden
Dragon kings dying queens, where is salvation now/Lost my life lost my dreams, rip the bones from my flesh/Silent screams laughing here, dying to tell you the truth/You are planned and you are damned in this brave new world
8. "Soma" – Deadmau5
Soma is a hallucinatory drug used in the novel.
9. "Soma" – The Strokes
Soma is what they would take when hard times opened their eyes/Saw pain in a new way, high stakes for a few names/Racing against sun beams, losing against their dreams/In your eyes
10. "Soma" – Smashing Pumpkins
Close your eyes and sleep/Don't wait up for me/Hush now don't you speak to me
11. "Catcher in the Rye" – Guns N' Roses
The Catcher in the Rye again/Won't let ya get away from him/It's just another day like today
12. "Who Wrote Holden Caulfield?" – Green Day
There's a boy who fogs his world and now he's getting lazy/There's no motivation and frustration makes him crazy/He makes a plan to take a stand but always ends up sitting./Someone help him up or he's gonna end up quitting
13. "Frankenstein" – Lenny Kravitz
But I need love/Sister, I need love/You say that I'm your baby/But I feel like Frankenstein/I need love
14. "Walk This Way" – Aerosmith
"Walk This Way" was more directly inspired by the movie Young Frankenstein.
See-saw swingin' with the boys in the school/With your feet flyin' up in the air/Singin' hey diddle-diddle with the kitty in the middle/You be swingin' like you just didn't care
15. "Feed My Frankenstein" – Alice Cooper
Feed my Frankenstein/Meet my libido/"He's a psycho"/Feed my Frankenstein/Hungry for love, and it's feeding time
Lolita by Vladimir Nabokov
16. "Lolita" – Lana del Rey
Quite a few of Lana del Rey's are at least partly inspired by Lolita.
Hey Lolita, hey/Hey Lolita, hey/I know what the boys want, I'm not gonna play/Hey Lolita, hey/Hey Lolita, hey/Whistle all you want but I'm not gonna say
17. "Lolita" – The Veronicas
I'm your lolita, La Femme Nikita/When we're together you'll love me forever/You're my possession, I'm your obsession/Don't tell me never, you'll love me forever
18. "Gothic Lolita" – Emilie Autumn
I'm Gothic Lolita/And you are a criminal/I'm not even legal
I'm just a dead little girl/But ruffles and laces/And candy sweet faces/Directed your furtive hand/I perfectly understand/So it's my fault?/No, Gothic Lolita
19. "Don't Stand So Close to Me" – The Police
It's no use, he sees her/He starts to shake and cough/Just like the old man in/That book by Nabokov
20. "Lord of the Flies" – Iron Maiden
Saints and sinners /Something within us /We are lord of flies
21. "Shadows and Tall Trees" – U2
"Shadows and Tall Trees" is named for a chapter title in Lord of the Flies.
Back to the cold restless streets at night/I talk to myself about tomorrow night/Walls of white protest/A gravestone in name
22. "The Battle of Evermore" – Led Zeppelin
Oh, dance in the dark of night/Sing to the morning light/The dark Lord rides in force tonight/And time will tell us all
23. "Ramble On" – Led Zeppelin
Mine's a tale that can't be told/My freedom I hold dear/How years ago in days of old/When magic filled the air/This was in the darkest depths of Mordor/I met a girl so fair/But Gollum, and the evil one crept up/And slipped away with her
24. "Rivendell" – Rush
Elfin songs and endless nights/Sweet wine and soft relaxing lights/Time will never touch you/Here in this enchanted place
25. "Nimrodel – The Procession – The White Rider" – Camel
When he rides, my fears subside/For darkness turns once more to light/Through the skies, his white horse flies/To find a land beyond the night
26. "Act Won (Things Fall Apart)" – The Roots
It makes no sense, it incenses me that our own people/Don't realize our own heritage, our own culture/This is our music
27. "8 Minutes to Sunrise" – Jill Scott feat. Common
It was once said by Black Thought that "Things fall apart"/Knew I shouldn't have been messin' with dude's girl from start/But I pimp from the heart; the art of it made it interesting'/Plus me and sister blend before we got intimate
28. "H.W.C." – Liz Phair
Face it, one of these days/Without you I'm just another Dorian Gray/It's the fountain of youth, it's the meaning of life/So hot, so sweet, so whet my appetite
29. "The Ocean" – U2
A picture in grey/Dorian Gray/Just me by the sea
For more book/music crossovers, check out "20 Amazing Songs & Soundtracks from Movies Based on Books" + "10 More Soundtracks & Scores from Movies Based on Books."
By signing up you agree to our Terms of Service
We're giving away the
10 best mystery/thrillers of 2019
so far!
Go here to enter.