Quick Pick: July 15, 2016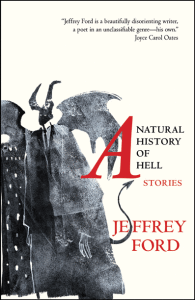 A Natural History of Hell: Stories by Jeffrey Ford
A twisted and delightful mix of stories combining horror, history, science fiction and folklore – there's a little something for everyone! There's the story of children and the local wise woman; an invitation to the neighbor's exorcism; an unusual carriage ride with Emily Dickinson; a pulp sci-fi tale; and of course, witches and ghosts. These thirteen meticulously crafted tales will shock and amuse you. You don't need Halloween for scary stories – treat yourself now! Now if you'll excuse me, I am going to go back and read everything else Ford has ever written.
Backlist bump: After the People Lights Have Gone Off by Stephen Graham Jones
Enter to win
$250 to spend at Barnes and Noble!