A Wedding by the Book: Details to Make the Perfect Literary Celebration
Over the last few years, we've talked about how to make your wedding day just a tad more bookish. We've tackled awesome bookish proposals, bookish wedding invites, great bookish readings, bookish wedding gifts for any budget, getting married in a library, how to throw a Great Gatsby wedding, comic book themed wedding ideas, and bookish wedding cakes, among other things.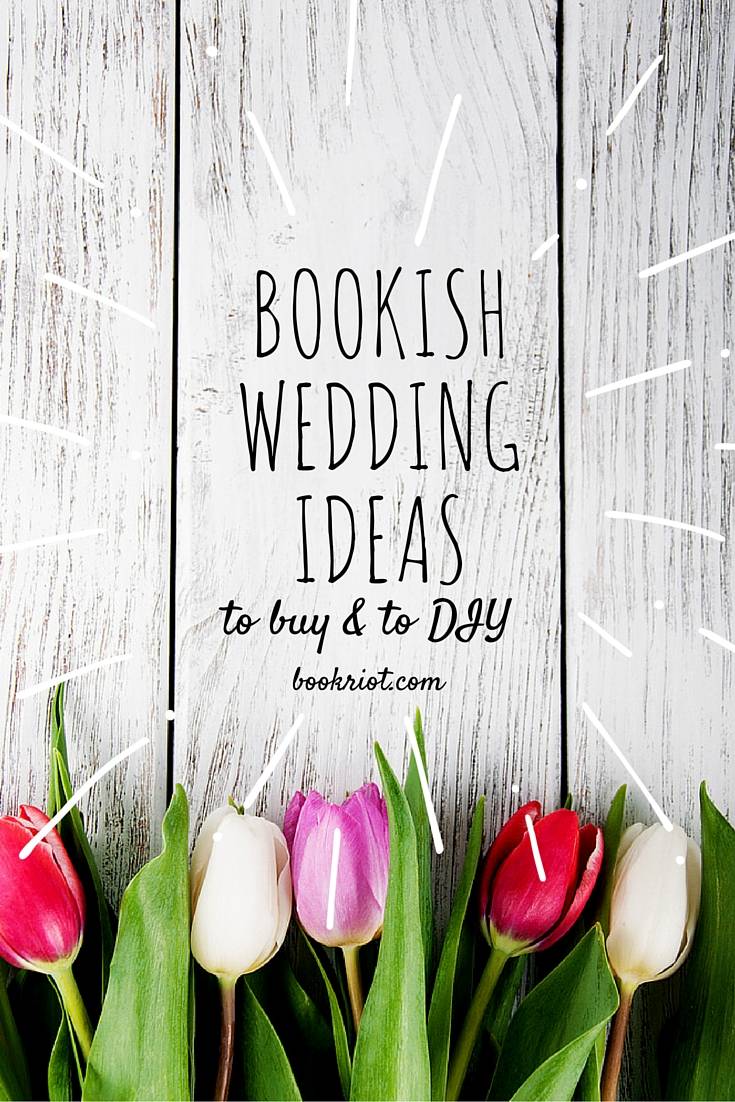 But what about those finer wedding details that could add just a touch more bookish love to that special day? Here's a round-up of pieces, props, and ideas that can take your wedding day to a whole new literary level. Some of these are DIY and some of them are for-buy, but in all cases, they should inspire thinking even bigger and broader about how you can make books part of your big day of love.
The Wedding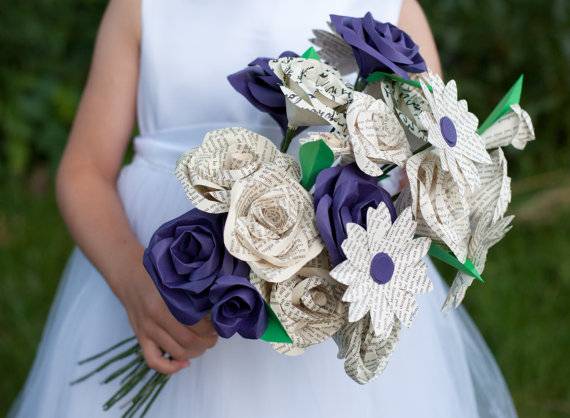 If you don't want to carry a real bouquet of flowers or you want to add just another bookish touch to your ceremony, Etsy has you absolutely covered on bouquets made from paper flowers. You can customize them in any way you wish. What's nice, besides the decorative aspect, is the sustainability factor, as well as the fact you could keep these forever and ever.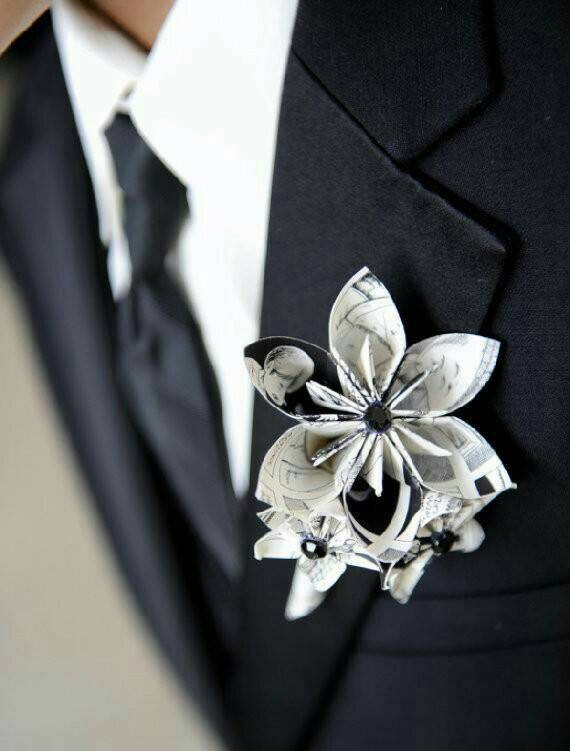 Those who want to don a boutonniere have their work cut out for them, too, when it comes to a bookish touch. Etsy has dozens and dozens to choose from. The image above is a comic book fashioned like a flower, and it rings in for under $20. How great would a whole party wearing those look?
Dress wearers might not realize how little people are looking at their shoes during a wedding, unless they're wearing a short skirt. But it would be challenging not to show off these "something blue" heels that feature decoupaged book pages on the toe.
These cufflinks don't just feature a cute "X" and "O" image. They're styled from a vintage/Steampunk typewriter.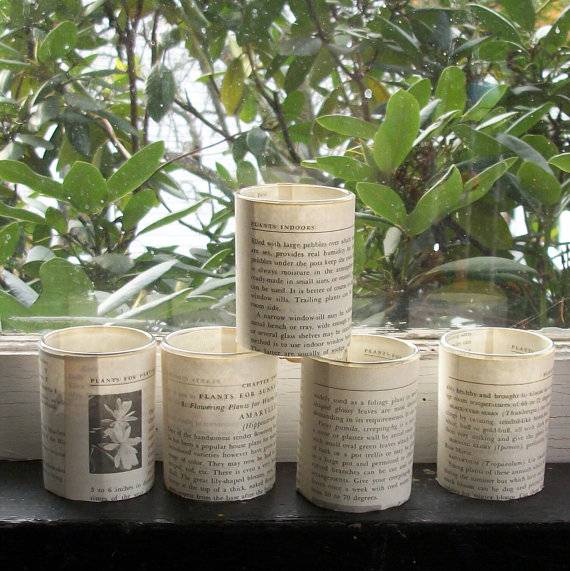 A lot of what you can do at your wedding depends on the venue and their rules or the constraints of the space. For those with flexibility and perhaps a wide aisle or a lovely table sitting at the altar, these bookish votive holders would add a touch of literary romance.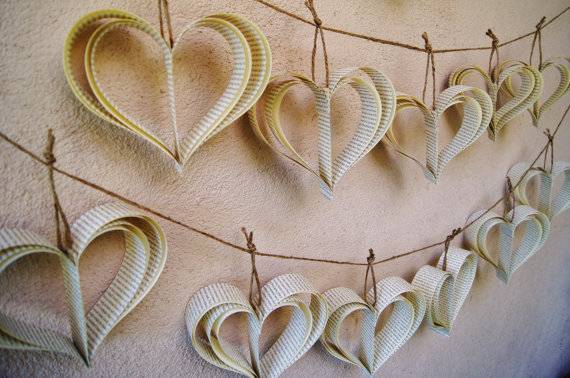 Again, depending upon the setup of your wedding venue, these bookish paper hearts could be a beautiful addition to any spaces at the altar or along the rows of chairs/pews in a venue.
Your ring bearer can march down the aisle holding the symbolic pieces of unity with this bookish box, rather than a more traditional pillow. This one has a Parisian theme to it, but you could likely ask for something custom or, those who are crafty, could style something themselves.
The Afterparty / Reception
Depending on the theme of your wedding, you can make these great bookish "Mrs. & Mr." signs for the chairs at your reception (of course, you can change them to "Mr & Mr" or "Mrs & Mrs"). Totally a DIY, inspired by this ethereal wedding. For more modern looks, pick different books, use different handwriting techniques, and use ribbon or scarves to change the feel. Snagging inexpensive books for this is as easy as going to your local thrift store or library book sale.
Want a more personal touch? Perhaps you can order copies of you and your significant other's favorite books.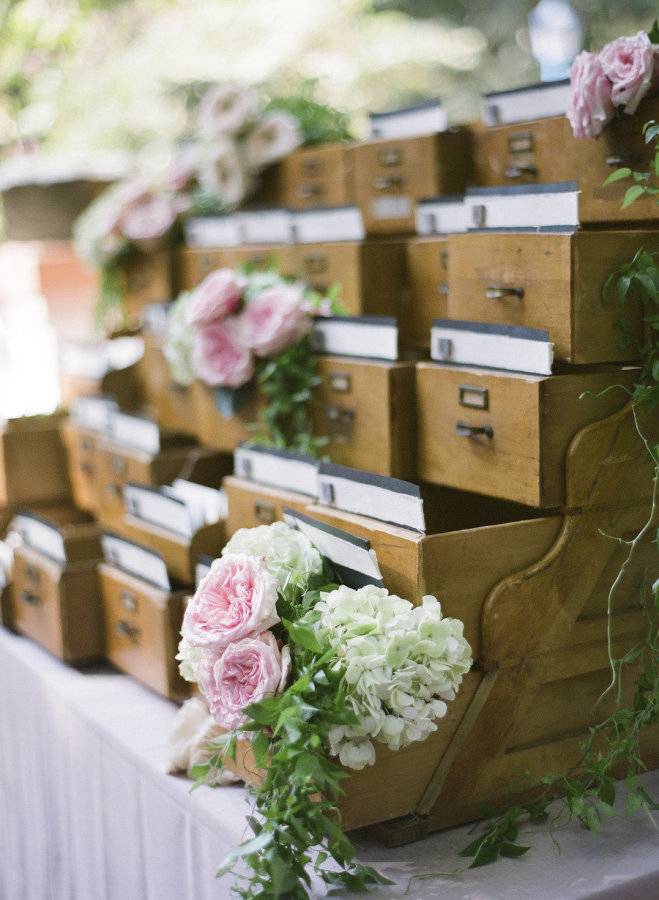 Use old library catalog drawers as a purposeful decoration — in the example above, the couple used them to store seating arrangement cards. But you could use them as centerpieces, as flower holders, or any other number of creative ways.
Rather than plunk down big bucks for a card catalog drawer set, see if you can snag any off Craigslist or if a local library may have some in their storage. Asking around might score you a good deal.
Worse case, buy a few of these $20 card catalog notecard sets and use both the cardboard box *and* the cool cards inside for decoration.
If you want to just have some old-school library check out cards for your seat assignments or any other purpose, you can get them pretty inexpensively here. Perhaps in lieu of a guest book, you could have guests fill out library cards with their name and good wishes, then you can pick up a scrapbook or use a library card catalog drawer to keep them (and imagine how a card catalog drawer might then double as a nice bookend or bookshelf decoration post-wedding).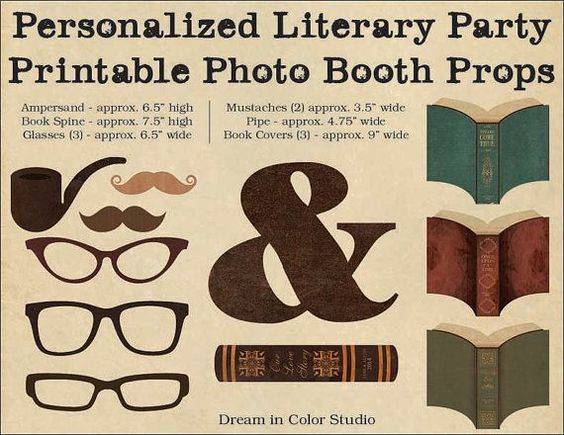 Having a photo booth at your reception? You can make it just as bookish as the rest of your festivities with props that feature books, great punctuation, nerdy images, and more. While the image above from this shop is currently sold out, you could DIY this or, of course, see if the creator is open to doing it for your wedding. This particular shop has a Game of Thrones party set, too, if you're going for a red wedding sort of event (…that was terrible, I know).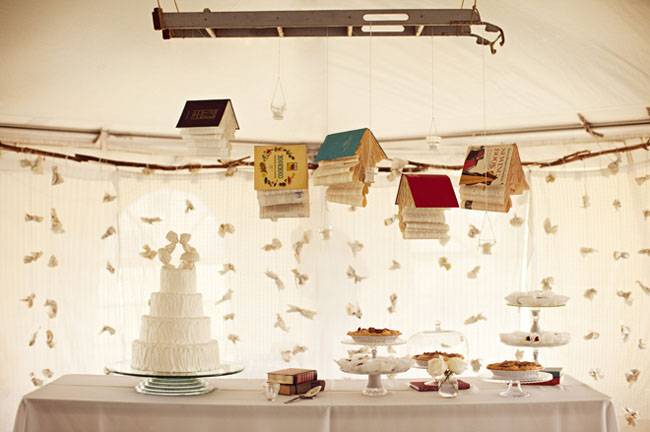 Using this as inspiration, why not create a beautiful book art display above your cake or present table? Again, old books from thrift stores or library sales are really easy and inexpensive, and finding tutorials — ones you pay for and ones you don't — is really not difficult.
Depending on the space you have available, you could do these over each of the guest tables, too, or in a big piece over the bridal/groom's table.
Speaking of cake, you can snag or make your own great cake toppers. This one is from Etsy and sells for $12. It's cute, creative, and bookish. I'm a big fan of cake toppers that aren't people, but you can find or DIY your own topper featuring the married couple combination of your choice with books.
From the same wedding above, these simple and fun centerpieces for guest tables combine beautiful books with succulents.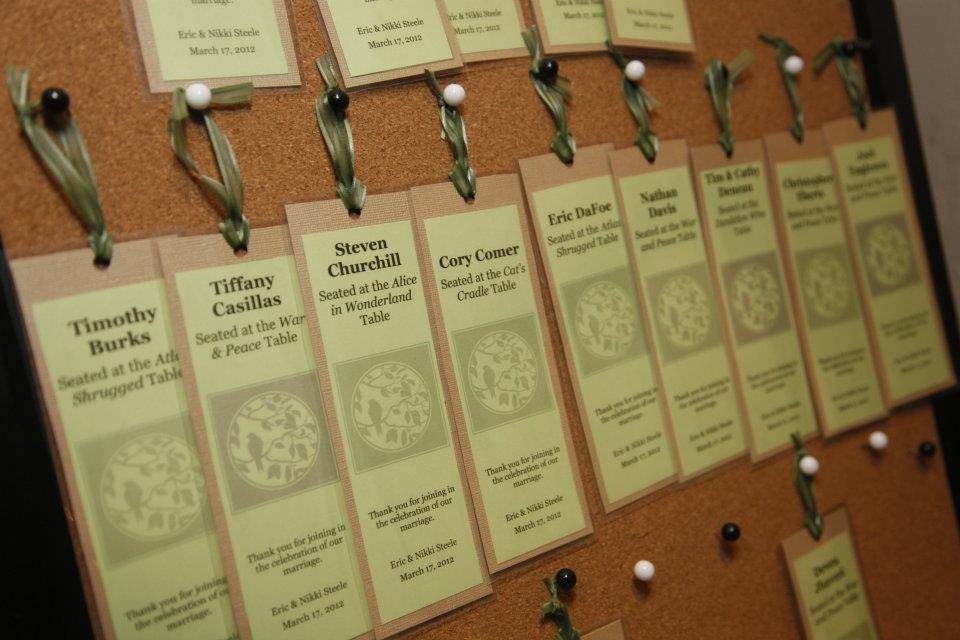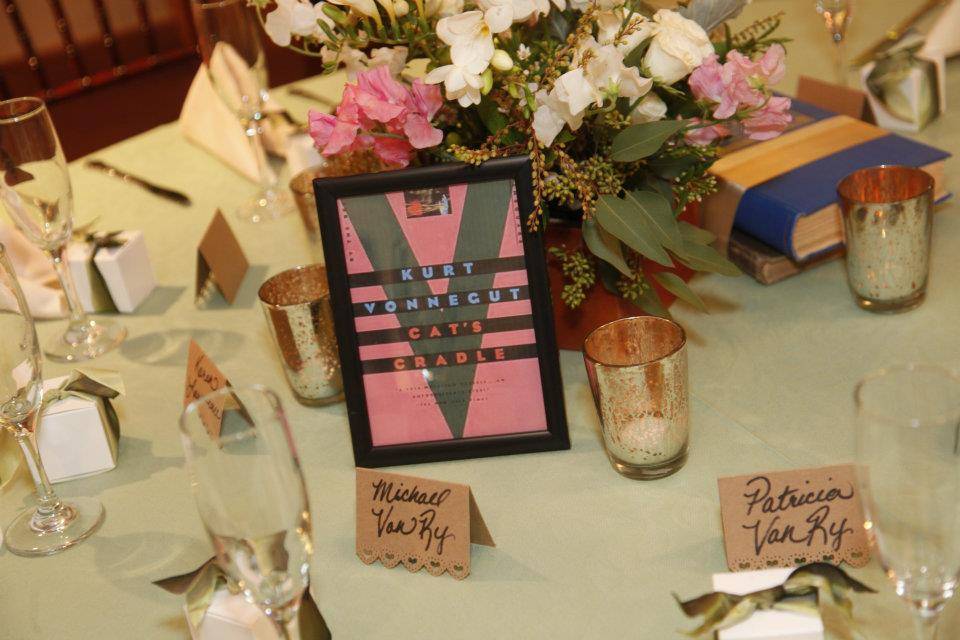 Book Riot's own Nikki Steele had a literary wedding a few years ago, and this idea is too cute and easy not to share. Each table was assigned a book — and marked with a framed image of that book's cover — and each guest got a bookmark that told them their assigned table.
Bonus to this being, of course, your party favors fit the bookish theme, since guests can keep those bookmarks as a memory from the event.
By signing up you agree to our Terms of Service
Get the tasks for 2020's
Read Harder Challenge!