The Week's Most Popular Posts: April 11 – 15, 2016
Let's take a look back at the week that was, here on Book Riot:
Seriously, though, I love weird books. So whether there's something just a little different about the story, or the book is full-on bizarre, here are 100 wonderful books I have read and highly recommend.
Some of them are funny. Some of them are disturbing. Some of them are both of those things. And they are all amazing!
from I Got Your Weird Right Here: 100 Must-Read Strange and Unusual Novels by Liberty Hardy
____________________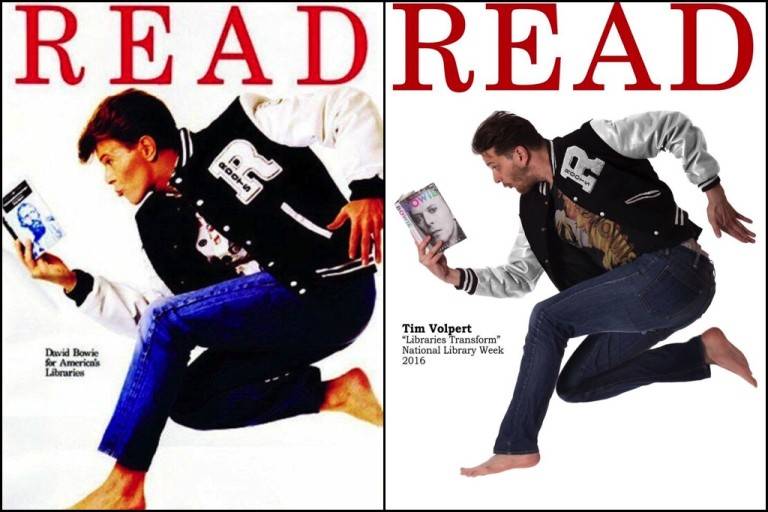 Remember those vintage celebrity READ posters from the '80s, '90s, and '00s? A public library in Topeka, Kansas, has transformed 18 of their staff members into exact replicas of these posters to celebrate National Library Week! (See: why we love libraries, reason #1,112.)
from This Library Remade Vintage READ Posters and They Are Amazing by Rachel Smalter Hall
____________________
Being that it's National Library Week—"a time to celebrate the contributions of our nation's libraries and librarians and to promote library use and support. All types of libraries – school, public, academic and special – participate."—I decided to round-up some awesome library displays. I already created a list of librarians to follow on Twitter (to once and for all dispel that silly stereotype of the old-lady-shushing librarian), and fictional characters driving bookmobiles (because bookmobiles!!!) but I apparently still had more I-love-libraries in me so here are 13 creative library displays.
from 13 Awesome Library Displays by Jamie Canaves
____________________
Every year, the American Library Association's Office for Intellectual Freedom compiles a list of the ten books that are most regularly challenged in libraries—in other words, the books that, for various reasons, have been the target of the most censorship efforts.
The 2015 list—released earlier this week—is as follows.
from The Most Challenged Books of 2015 by Leila Roy
____________________
Since it can be time consuming to find all of Reese Witherspoon's book recommendations amongst all her other Instagram/Twitter posts–and her book club hashtag #RWbookclub gets used a lot by enthusiastic followers–I decided to round-up her book recs from the last 9 months. So anytime you feel like reading like Reese (that should be a t-shirt) you can just glance at the list and select your next read.
from Reese Witherspoon's Book Recommendations by Jamie Canves
____________________
Now that I'm older and curious about the people behind the books, I can only just scrape the surface of Beverly Cleary's incredible influence on children and adults everywhere, her accomplishments as a writer, and her impressive life. What better way to celebrate Cleary's 100th birthday, than with a list of 100 awesome and just plain interesting things about this incredible human?
from 100 Awesome Things About Beverly Cleary On Her 100th Birthday by S. Zainab Williams
By signing up you agree to our Terms of Service
We're giving away the
10 best mystery/thrillers of 2019
so far!
Go here to enter.