Riot Round-Up: The Best Books We Read in February
We asked our contributors to share the best book they read this month. We've got fiction, nonfiction, YA, and much, much more- there are book recommendations for everyone here! Some are old, some are new, and some aren't even out yet. Enjoy and tell us about the highlight of your reading month in the comments.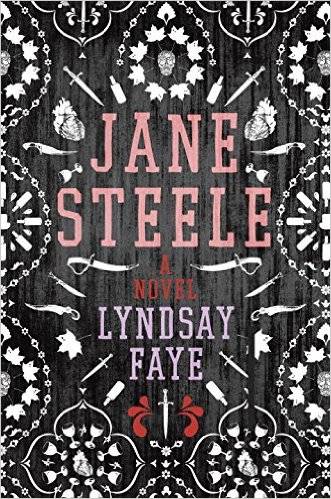 Jane Steele by Lyndsay Faye (March 22, Putnam)
This Victorian novel follows Jane Steele, an orphan whose life mirrors that of her favorite literary heroine, Jane Eyre. Their paths diverge at this one fine point, however: Jane Steele is a serial killer. She uses her wit, nerves, and slight sociopathy to off abusive men, all the while wondering what would Jane Eyre think? This book scratched all my favorite itches: Victoriana, feminist rage, and excellent, gut-punch sentences. You'll love this Jane just as much as you love the original. –Amanda Nelson
Alex As Well by Alyssa Brugman (US pub Square Fish, January 2016, originally published January 2013)
This quick, simple book is not the greatest work of literature that I've read this year, but it is important. I'm not sure if I know anyone who is intersex, but Alex and her counterpart are such authentic characters that I feel like I do now. Written from the point of view of a fourteen year old with ambiguous genitalia but raised as a boy, Alex as Well explores what could happen when said teenager stops taking their medication and begins to explore the possibilities of living as their genuine self. And yes, I did start reading this book a couple hours before I was supposed to meet people for drinks and spent a half hour outside the bar finishing it up.
— Jessica Pryde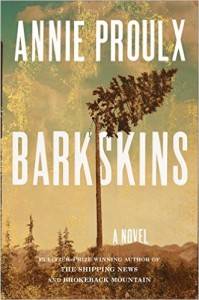 Barkskins by Annie Proulx (Scribner, June 14)
This is the first novel from Annie Proulx (The Shipping News, Brokeback Mountain) in fourteen years!!!! Spoiler: IT'S SO GOOD. It's a 736-page multigenerational family saga revolving around two Frenchmen and their descendants, that takes place over the span of three hundred years. René Sel and Charles Duquet sail to "New France" to work the land for a feudal lord in order to gain land for themselves. Under harsh conditions in hostile territory, they manage to survive, and go on to raise families that will themselves travel the world and also face adversity. Some of the situations in the novel are brutal, but Proulx has never been one to offer up an easy story. What she gives us is amazing writing and storytelling that will kick your heart around your ribcage like a soccer ball. We loves the precious.
— Liberty Hardy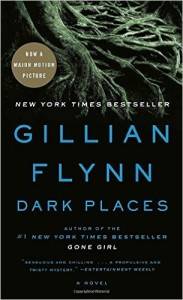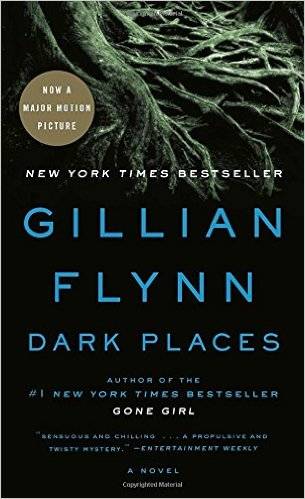 Dark Places by Gillian Flynn
I read this almost immediately after finishing Flynn's Sharp Objects. I rarely read books by the same author one after the other, but the authenticity of Flynn's stories and the unsavory subject matter is too enthralling. Dark Places, like Sharp Objects, felt like going behind the scenes for one of those gruesome stories you hear about in the news. And that's what this book is about–what actually happened to the people in the tabloids. It follows Libby Day, a woman who, in childhood, lost her family to a brutal, media-friendly murder, as she searches for answers and tries to solve the crime long after the case closes. Flynn is masterful at finding the monsters in the crowd and making them as fascinating as they are repulsive.
— S. Zainab Williams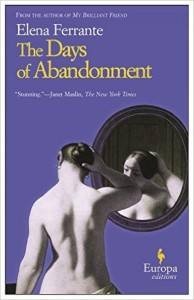 The Day of Abandonment by Elena Ferrante
If you finished Ferrante's masterful Neapolitan Quartet and wanted more, you may find yourself picking up this book. It is clear from the first page that this is the same Ferrante, and yet this book is more brutal, more raw, more honest, more unapologetic than the Neapolitan books and I suspect some readers will not be able to get through it. Olga's husband leaves her suddenly, and she makes her way through the months that follow sometimes in a fog, sometimes in a self-destructive spiral. It is a frustrating book, as you watch Olga flounder, but it is also bursting with Ferrante's distinctive prose and her wise insight into the human condition. –Jessica Woodbury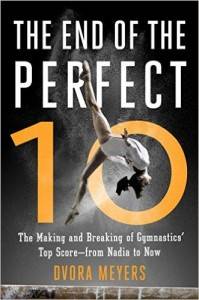 The End of the Perfect 10: The Making and Breaking of Gymnastics' Top Score – From Nadia to Now by Dvora Meyers (Touchstone, July 5, 2016)
As a former competitive gymnast myself, I found this book enlightening and transformative. I grew up in the era of the 9.9s and 10.0s, and this book unpacked the mysteries of the new scoring system and gave me renewed interest in watching gymnastics at Rio. I loved reading about where my favorite gymnasts have ended up as well learning the names of (and watching on YouTube) the newer crop of elite and college level gymnasts. A terrific read for anyone interested in this incredible sport.
— Karina Glaser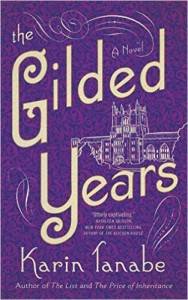 The Gilded Years by Karin Tanabe (Washington Square Press, June 7)
This charming, thoughtful, and affecting book tells the story of the first black woman to attend Vassar. That she attended as a white woman, passing and always at risk of exposure, drives the plot and allows Tanabe to tell a rich, complicated story about race, gender, education, love, and belonging in the Gilded Age. Give The Gilded Years a try if you're drawn to any of the following: historical fiction, Edith Wharton, the history of women's colleges, Nella Larsen, passing as a literary device and historical fact, or reading good books.
–Derek Attig
God in Pink by Hasan Namir (Arsenal Pulp Press)
I think I only read one book this month due to moving, so it's probably a good thing that I enjoyed the book. God in Pink was a sometimes brutal but also sometimes sweet (or bittersweet, given the topic at hand) account of a young, gay Iraqi man who wants nothing less than to get married off to a woman–unfortunately, that's what is slated to happen, since he can't be openly gay. Heartbreaking. — Susie Rodarme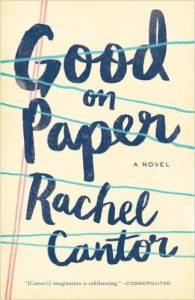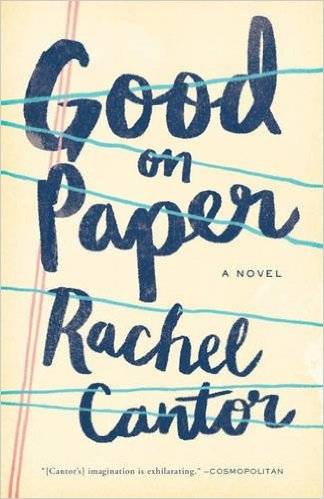 Good on Paper by Rachel Cantor
As soon as I heard about this book, I knew I had to read it. In a previous life, I was a Spanish and French tutor, and spent a lot of time thinking about relationships between languages. I've also dabbled in translation and still dream of translating books. So a book whose main character is a literary translator was always going to be a winner for me. I didn't expect to laugh as much as I did in the first third or so, though, and I certainly didn't foresee where the plot was going. Kudos to Rachel Cantor for weaving Dante and his literature as well as existential thoughts about language into a very believable character's psyche and into the storyline of a quirky, unexpected, enjoyable, thoughful, smart, educational novel. –Claire Handscombe
Homegoing by Yaa Gyasi (Knopf, June 7)
I don't know what higher compliment to give this book that to say that it was responsible for a very burnt curry one night. I was just going to read a couple of pages while the sauce simmered! There is no "couple of pages" with this tale of two half sisters in Ghana, Effia and Esi, and their descendants. Rich, evocative and emotional, I savoured every page. — Rachel Weber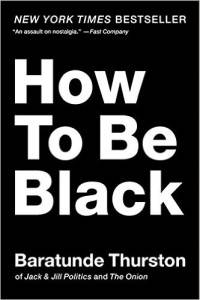 How to Be Black by Baratunde Thurston (HarperCollins, 2012)
This is one of the funniest autobio-type books I've ever read. Thurston takes a satirical approach to his "guide" based on his personal experiences, but the book is really more than that. There's some excellent (and educational!) commentary in there not just from the author, but from an actual panel of folks who come from various backgrounds, both culturally and professionally. It's broken up into short chunks based on various issues or stages of his life, and questions about when and how one begins to perceive themselves and identify as black (or white, or, or, or). Super smart, accessible, and flows wonderfully. –Kristina Pino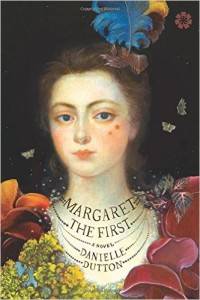 Margaret the First by Danielle Dutton (Catapult, March 15 2016)
A fabulous (and fabulist) re-imagining of the infamous Margaret Cavendish, a seventeenth-century duchess who wrote feminist philosophy and utopian science fiction in an era when being an eccentric (see: attending the theater in a topless ballgown) and writer was an unthinkable career path for a woman. Margaret the First isn't a historical novel, however; magnificently weird and linguistically dazzling, it's a book as much about how difficult and rewarding it is for an ambitious, independent, and gifted woman to build a life as an artist in any era as it is about Margaret herself. Incredibly smart, innovative, and refreshing, Margaret the First will resonate with anyone who's struggled with forging her own path in the world. –Sarah McCarry
Ravensbrück by Sarah Helm
This is a detailed historical account of life in Ravensbrück, the only German concentration camp designed solely for women. It covers the camp from its inception as a place to punish the unwanted in pre-war German society (i.e. communists, Jews, prostitutes, lesbians, etc.), it's evolution into a massive slave labor machine, and finally its conversion into a full blown extermination camp. Ravensbrück fell behind the Iron Curtain after the war and it seems that most societies didn't want to hear about the horrors experienced by the victims. As a result, much of its history has been obscured until now. Ravensbrück deeply examines the logistics of the camp operation and the personal stories of both the prisoners and guards, lending unique insight into the psychological atmosphere of the camp. This is one of the most important books I've ever read–and one of the most difficult.
–Kate Scott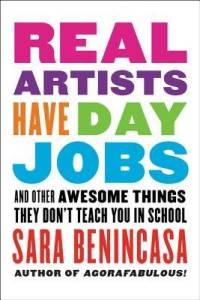 Real Artists Have Day Jobs: (And Other Awesome Things They Don't Teach You In School) by Sara Benincasa (William Marrow, April 26)
A total win from beginning to end. All 52 of these essays are a combination of funny, sad, hopeful, and heartbreaking for different reasons. Each is approachable, thought-provoking, and really relatable, especially for younger women. Benincasa balances serious stuff with the more fun, but even in those fun essays, there's a big old piece of wisdom to walk away with.
Some key takeaways: masturbate, enjoy rainbows, mental illness sucks, writer fan letters to people whose work you love, you're an artist if you think you're an artist, having kids or getting married doesn't make you an adult, tell people what you want and that you deserve it (outside the bedroom and inside it, too), make art like a little kid (just play because you want to play!), breath work is great, taking walks without a purpose except to move is excellent, ask people more questions, fire people from your life who don't deserve to be there, and you don't have to like everyone.
Probably perfect for those 20-somethings trying to feel their way into the world, as well as more mature readers who need some more love along the way (or want to feel like they get it because they're right there with Benincasa). — Kelly Jensen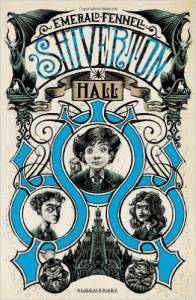 Shiverton Hall by Emerald Fennell
A middle grade book about a creepy academy in England, written by one of the stars of Call the Midwife. Who NOT FOR NOTHING studied English at Oxford.
— Alice Burton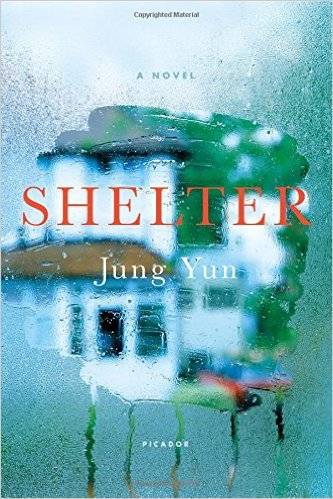 Shelter by Jung Yun (Picador, March 15th)
The Vegetarian left me craving for another dark read and I could not have selected better. Shelter repeatedly surprised me as Kyung, unfulfilled and struggling to make ends meet, suddenly finds himself having to take in his parents. Parents who he's never forgiven for his childhood. And while he was fine with ignoring things before, having never even told his wife, he can no longer pretend that the family facade is real. Profound and dark this story stayed with me as it confronted multigenerational family issues, racism, abuse, religion… while questioning if people ever change and when is it time to stop blaming your past for your present.
— Jamie Canaves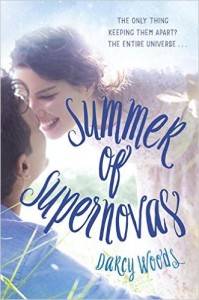 Summer of Supernovas by Darcy Woods (May 10th, Crown)
In the running for "sweetest read of 2016" Darcy Woods' debut novel Summer of Supernovas is a wonderfully swoon-filled, delightfully awkward romp through the haphazard romantic life of Wilamena "Wil" Carlisle, a teenager that's absolutely obsessed with astrology and the Zodiac. She's made up her mind that she needs to find her soulmate in a set amount of time, due to an incoming planetary alignment. The result is a lovely, quirky, and hysterical book about questioning fate and what you've been taught to believe. Keep an eye out for this one in May. — Eric Smith
These Vicious Masks by Tarun Shanker and Kelly Zekas
This frothy, Victorian-era adventure/paranormal romance hit just the right spot while I was traveling late in the month. Described as "Jane Austen meets X-Men," These Vicious Masks has a flinty and determined protagonist, Evelyn, who will not give up in her quest to find her missing sister, despite the rules that society wants her to follow. Evelyn is assisted and pursued by two dashing men, the charming Mr. Kent and the brooding, Byron-esque Mr. Braddock, both of whom have special powers and who want to help Evelyn understand her own unnatural abilities. The story is a ton of fun and the ending sets up a some excellent future adventures for Evelyn and her supernatural partners.
— Kim Ukura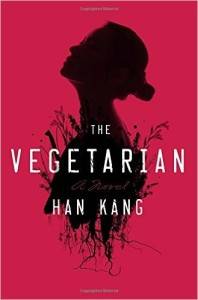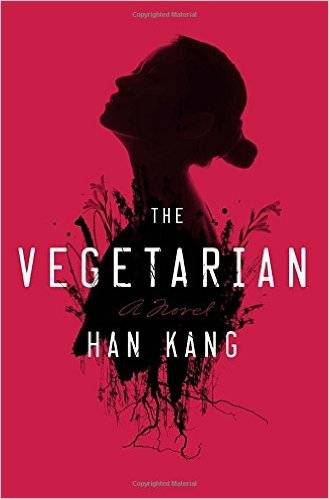 The Vegetarian by Han Kang
Han Kang's The Vegetarian is f-blanking weird and kind of amazing. Bizarre because it's about a woman who suddenly rejects eating meat after a series of bad dreams and whose life fully falls into the realm of the creepy for the rest of the book. Amazing because it's compelling enough that I read it in one sitting. –Andi Miller
When Women Were Birds by Terry Tempest Williams
This has been a stunning meditation on being a woman and the relationship between mothers and daughters.
–Nikki Steele
Gabi, A Girl In Pieces by Isabel Quintero
Early contender for my favorite book of 2016. I read this in a single gut punch of an afternoon and know I'll need to return to it for the poetry and body empowerment zine alone. I loved Gabi's voice, her certainty and confusion, her POETRY, her friends, her longing for her father, her complicated relationship with her mother, her kisses, her love of snack food, and the way that Quintero effortlessly brings us into her world. I want to buy a copy for every high school girl I know. –Ashlie Swicker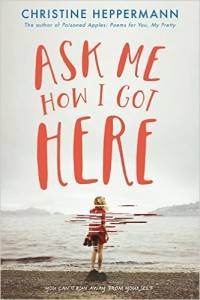 Ask Me How I Got Here by Christine Heppermann (Greenwillow Books, May 3)
Fellow Rioter Kelly's high praise of this verse novel piqued my interest, and I'm happy to confirm that it's truly a brilliant piece of literature. Addie is at once relatable and unique, and it's difficult not to feel for her as she considers the option of abortion. Heppermann leaves all judgment at the door, instead focusing on Addie as she deals with the strange path her life's taken. Understanding and compassion are central to the narrative, but there is a wittiness and gravity to Addie's thoughts that is so very empowering. She might be a teenage girl, but she's a teenage girl who owns herself and loves herself, and that makes this book a story that I wish I'd had growing up.
— Angel Cruz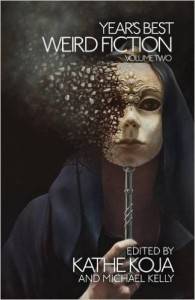 Year's Best Weird Fiction Volume 2 — Edited by Kathe Koja and Michael Kelly
This is simply an amazing collection of last year's best "weird" fiction. The stories are all somewhere in between urban fantasy and horror, written by talent such as Caitlín R Kiernan, Nathan Ballingrud, and Carmen Maria Machado, the last of which I had never heard of before but am now desperately scrambling to get my hands on everything she's written. I love discovering new writers in anthologies, it's part of what I love about them. Year's Best Weird Fiction V2 is gorgeous inside and out and clearly Michael Kelly and Kathe Koja have an keen eye for talent. Highlights for me include Carmen Maria Machado's The Husband Stitch, which is a bit, erm, racy, Caitlín Kiernan's Bus Fare and Rich Larson's The Air We Breathe is Stormy, Stormy.
— Johann Thorsson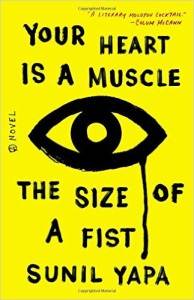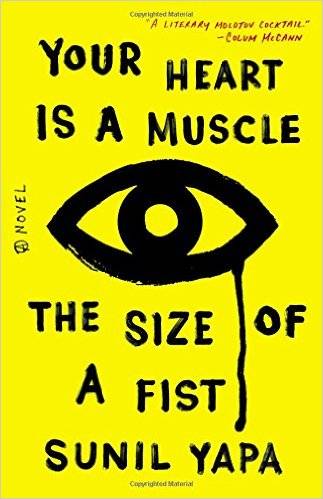 Your Heart is a Muscle the Size of a Fist by Sunil Yapa
This debut novel focuses on the events of one day during the 1999 WTO protests in Seattle. The narrative moves seamlessly between the demonstrators who want to shut down the talks, the police officers trying to clear the streets to allow the delegates to get to their meetings, and the delegates convening to decide the fates of nations. This novel is powerful, raw, empathetic – absolute fire.
— Valerie Michael
By signing up you agree to our Terms of Service
We're giving away the
10 best mystery/thrillers of 2019
so far!
Go here to enter.