Buy Borrow Bypass: Trans YA Fiction You'll Actually Find in the Library
Recently I've been running into a major problem: I keep reading great books by trans authors, but when I go to recommend the books I'm reminded that they're not that easy to find. While people who want to buy the books can at least find them from online retailers, it's rare to find a copy at the local library. While I don't have the money to buy more trans lit for every library in the world (trust me, I'm working on it) I can at least share my personal assessment of three trans YA titles that your library is more likely to have. (Notice that this list is all white? Yeah- that's another problem in accessible trans lit.)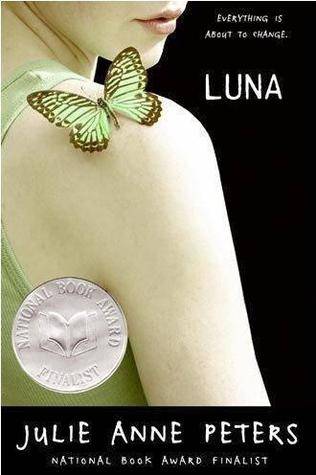 LUNA by Julie Anne Peters
If your local library is going have just one trans book for young adult readers, this is probably the one. Published in 2004, LUNA was one of the first widely read trans YA books to spread across America, and according to my highly unofficial survey, most trans women I know ended up having some sort of interaction with this book. I read it when I was in high school and ended up developing a complicated relationship that I've previously written about for Book Riot. I think LUNA is a well written and engaging story, but it's very much a product of its time (the terms Luna uses for herself are rarely heard today) and when I reread it recently I was pretty upset with how Regan handled having a trans sister. If I'm grateful for one thing it's that Peters made her main character the cisgender sister of the trans character as opposed to trying to write a trans character as a cis author. This is the sort of book that was important for many trans people but it's probably time to retire it from the lists of "10 Books About Trans People To Read."
Verdict: Borrow if you're interested in the history of trans lit.
If I Was Your Girl by Meredith Russo
This is a bit of a stretch since If I Was Your Girl won't be available until (hopefully) May of 2016, but since it's coming out from a major publishing house and has already attracted a fair amount of attention I expect it'll be showing up on the shelves of many libraries and bookstores. If I Was Your Girl is just one of those books that's so easy to love. Russo, herself a trans woman from the South, is a master story teller who has written a book about a teenage trans girl in the rural South that finally feels authentic. If I Was Your Girl shows that you can tell stories about trans people without making us "freaks" or focusing on coming out or medical transitions. This is a gripping book full of humor, kindness, romance, and the triumph of girl power.
Verdict: Buy. Buy. Buy.
Being Emily by Rachel Gold
After I read Being Emily I felt like someone had taken a Trans 101 text and turned it into a story. Setting aside any commentary on the quality of the writing, this book managed to hit all the clichés that I've come to expect from cis people writing about trans characters. As we follow Emily's journey of coming out to her friends and family, each character ends up being a flat depiction of a single trope (the Supportive But Confused Girlfriend, the Refusing To Deal With It Parent, the Other More Experienced Trans Girl). Rather than giving us a new or at least interesting take on the "transitioning" plotline that cis authors prefer for their trans books, Being Emily instead offers simplistic advice on subjects such as how to be a Christian who accepts trans people. While it may be sweet watching Emily ultimately triumph (I'm not completely heartless) we don't end up getting the emotional payoff that a nuanced and fully formed story could give.
Verdict: Bypass and pick up If I Was Your Girl instead.
By signing up you agree to our Terms of Service