36+ of Your Favorite Books About The Undead
This week's Riot Recommendation is sponsored by Shallow Graves by Kali Wallace.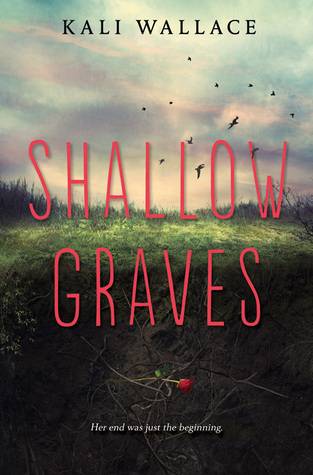 For fans of Holly Black and Nova Ren Suma, a gripping, hauntingly atmospheric novel about murder, revenge, and a world where monsters—human and otherwise—lurk at the fringes.
When seventeen-year-old Breezy Lin wakes up in a shallow grave one year after her death, she doesn't remember who killed her or why. All she knows is that she's somehow conscious—and she's able to sense who around her is hiding a murderous past. Now she must set out to find answers and discover the gritty, dangerous world to which she now belongs—where killers hide in plain sight, and a sinister cult is hunting for strange creatures like her. What she finds is at once empowering, redemptive, and dangerous.
____________________
Zombies, vampires, ghosties, oh my! Halloween isn't the only time to read books about the undead (there's a foot of snow on the ground here and everyone is house-bound and there's something really delicious about reading about flesh-eaters when you're unable to escape your current location).
We asked you to share your favorite stories about the undead, and you answered! Here are 36 of your favorites . . . now to get reading!
13 Bullets by David Wellington
Anna Dressed in Blood by Kendare Blake
The Art of Zombie Warfare by Scott Kenemore
Brief History of the Dead by Kevin Brockmeir
Chronicles of the Necromancer by Gail Z Martin
Death Warmed Over by Kevin J. Anderson
Dracula by Bram Stoker
The Ex-Heroes series by Peter Clines
Feed by Mira Grant
The First Days by Rhiannon Frater
The Forest of Hands and Teeth by Carrie Ryan
Frankenstein by Mary Shelley
The Girl With All the Gifts by M. R. Carey
Handling The Undead by John Ajvide Lindqvist
The Hellbound Heart by Clive Barker
The Hollows by Kim Harrison
I Am Legend by Richard Matheson
Insatiable by Meg Cabot
Interview with the Vampire by Anne Rice
Let The Right One In by John Ajvide Lindqvist
Odd Thomas series by Dean Koontz
The Passage by Justin Cronin
Patient Zero by Jonathan Maberry
Pet Semetary by Stephen King
A Prayer for the Dying by Stewart O'Nan
The Tale of the Body Thief by Anne Rice
The Reapers Are the Angels by Alden Bell
The Shining by Stephen King
This Is Not A Test by Courtney Summers
The Twelve by Justin Cronon
Undead Tide: A Tale of Pirates and Zombies by R.J. Price
Warm Bodies by Isaac Marion
White Trash Zombie series by Diana Rowland
The Wizard of Earthsea by Ursula Le Guin
World War Z by Max Brooks
Zone One by Colson Whitehead
We have 5 copies of
The Library Book by Susan Orlean
to give away!
Go here to enter for a chance to win
, or just click the image below. Good luck!