Buy, Borrow, Bypass: Short Christmas Books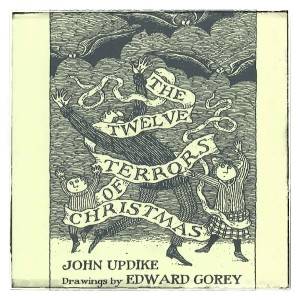 The Twelve Terrors of Christmas by John Updike, illustrated by Edward Gorey
Some very good points about Santa are made. Plus, who doesn't love Edward Gorey??
Verdict: Buy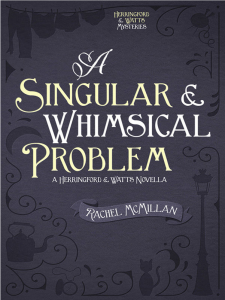 A Singular and Whimsical Problem by Rachel McMillan
Miranda and Jem are bachelor girls living in Edwardian Toronto and making their living by following the detection methods of their hero, Sherlock Holmes. When a wealthy woman asks them to find her cat, they discover their client's problem is neither singular, nor whimsical.
McMillan doesn't give herself a lot of time to develop a rather complex plot here, and as a result this novella's pace is a bit frenetic. But I adored the central characters, the historical detail, and the various shout-outs to Sherlock Holmes and the Murdoch Mysteries. So much so I didn't even mind that the solution to the mystery was entirely dependent on a series of incredible coincidences. I'm looking forward to the first full-length novel in this series!
Verdict: Buy if you enjoy Sherlockian detectives or historicals set in the Edwardian era.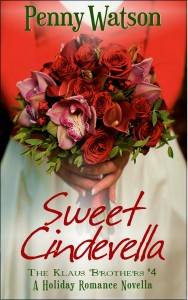 Sweet Cinderella by Penny Watson
Hannah has had the worst year ever, but it's not enough to snuff out her Christmas spirit. Gregor Klaus, on the other hand, is THISCLOSE to turning into the Grinch. When they meet at a fundraising ball, sparks fly, but Hannah can't believe her bad luck streak is over and her dreams are coming true. Will these two crazy kids get together?
The beginning of Sweet Cinderella was a little rough for me, as a lot of time was spent introducing the Klaus Brothers series characters (of the North Pole Klauses) and not much happened. However, once the ball scene was over, the story really picked up. I loved Gregor's spunky elf assistant, Shirley, and Hannah's hellion young boys. And the portrait Watson paints of Christmas in New York City was absolutely charming. It was like watching one of those Christmas movies that give you the warm fuzzies. Also, bonus points for the German words.
Verdict: Buy if Hallmark Christmas movies are your jam.
Once Upon a Christmas by Diane Farr
An orphan, Cecilia is taken in by the Duchess of Arnsford, but the Duchess' motives are not altruistic. She wants to arrange a marriage between Cecilia and her son, Jack. Jack, all too aware of his mother's manipulating ways, decides to act like a lunatic and repel Cecilia forever. Unfortunately this plan backfires.
This is my favorite Christmas book ever. The interactions between Cecilia and her "poor cousin Jack" are hilarious. The story is cleverly and tightly plotted, and the romance between Jack and Cecilia is sweet and believable. But the character who really steals the show is the Duchess. I have a weakness for kick-ass old ladies in books, and while the Duchess is not in any way likable (she really is a cold, manipulative bitch), there's an underlying current of pathos in her as well. The conclusion to Once Upon a Christmas is perfect, wrapping everything up with the scope of a Greek comedy (or is it tragedy?).
Verdict: Buy!
Come bag some bookish perks with
Book Riot Insiders!