34 of Your Favorite Books About Twins
This giveaway is sponsored by We'll Never Be Apart by Emiko Jean. Watch the trailer for the book here!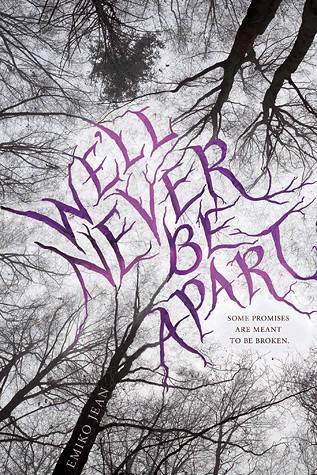 Murder.
Fire.
Revenge.
That's all seventeen-year-old Alice Monroe thinks about. Committed to a mental ward at Savage Isle, Alice is haunted by memories of the fire that killed her boyfriend, Jason. A blaze her twin sister Cellie set. But when Chase, a mysterious, charismatic patient, agrees to help her seek vengeance, Alice begins to rethink everything. Writing out the story of her troubled past in a journal, she must confront hidden truths. Is the one person she trusts only telling her half the story? Nothing is as it seems in this edge-of-your-seat psychological thriller from the debut author Emiko Jean.
____________________
We wanted to know what your favorite books about twins were, and you answered! From identical twins to conjoined twins to twin adventures and more, here are 34 of your favorites.
Alanna: The First Adventure by Tamora Pierce
Brat Farrar by Josephine Tey
Bumped and Thumped by Megan McCafferty
Cutting for Stone by Abraham Verghese
Down To You by M. Leighton
East of Eden by John Steinbeck
Fangirl by Rainbow Rowell
Fear Street: Double Date by R.L.Stine
The Girls by Lori Lansens
The God of Small Things by Arundhati Roy
Her Fearful Symmetry by Audrey Niffenegger
I Know this Much is True by Wally Lamb
The Ice Twins by Tom Knox
Identical by Ellen Hopkins
I'll Give You the Sun by Jandy Nelson
Jacob Have I Loved by Katherine Paterson
Juliet by Ann Fortier
The Magus by John Fowles
Many Water by Madeleine L'Engle
The Memory Keeper's Daughter by Kim Edwards
Mind Games by Kiersten White
Mirror Image by Danielle Steel
One by Sarah Crossan
The Poisonwood Bible by Barbara Kingsolver
The Prestige by Christopher Priest
Singularity by William Sleator
Sisterland by Curtis Sittenfeld
Sisters Red by Jackson Pearce
Slade House by David Mitchell
The Thirteenth Tale by Diane Setterfield
The Truth-Tellers Tale by Sharon Shinn
The Twins by Tessa de Loo
Under Gemini by Rosamunde Pilcher
By signing up you agree to our Terms of Service
Come bag some bookish perks with
Book Riot Insiders!