36 of Your Favorite Books About Art
This week's Riot Recommendation is sponsored by The Muralist by B.A. Shapiro.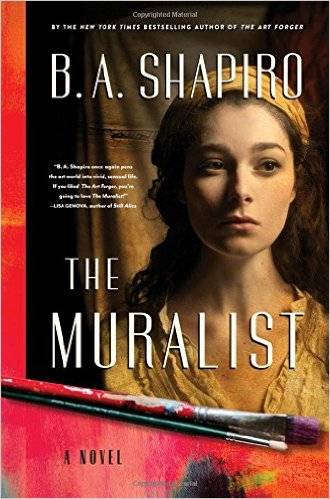 The Muralist — the new novel from B. A. Shapiro, the bestselling author of The Art Forger —traces the life and disappearance of a brilliant young artist, the fictitious Alizée Benoit, on the eve of World War II. She paints murals for the U.S. government's WPA alongside Jackson Pollock and Lee Krasner — and her lover Mark Rothko. When her paintings catch Eleanor Roosevelt's eye, Alizée enlists the First Lady in her desperate attempt to get her Jewish family out of occupied France. Then Alizée vanishes. Seventy years later, her great-niece discovers hidden scraps of paintings and begins to unravel the mystery.
____________________
Art can be subjective, analytical, dramatic, conflicted, and controversial, making it the perfect subject for fiction and non-fiction alike.
We asked you to share your favorite books about art — from painting to dancing to crafting and more — and you delivered. Here are 36 of your favorite art reads.
The Agony and the Ecstasy by Irving Stone
All Our Pretty Songs by Sarah McCarry
Ana of California by Andi Teran
Apollo's Angels by Jennifer Homans
Art & Fear: Observations On the Perils (and Rewards) of Artmaking by David Bayles and Ted Orland
Caravaggio: A Life Sacred and Profane by Andrew Graham-Dixon
Dancers Among Us by Jordan Matters
The Family Fang by Kevin Wilson
The Flanders Panel by Arturo Perez-Reverte
I'll Give You the Sun by Jandy Nelson
The Goldfinch by Donna Tartt
The History of Jazz by Ted Goia
The Interestings by Meg Wolitzer
Just Kids by Patti Smith
The Lady and the Unicorn by Tracy Chevalier
Life in Motion by Misty Copeland
The Lives of Artists by Giorgio Vasari
The Lucy Variations by Sara Zarr
The Monuments Men by Bret Witter and Robert M. Edsel
My Name Is Asher Lev by Chaim Potok
The Painted Girls by Cathy Marie Buchanan
Pointe by Brandy Colbert
Reading Pictures by Alberto Manguel
The Sculptor by Scott McCloud
Shadowshaper by Daniel José Older
She Bop by Lucy O'Brien
Station Eleven by Emily St. John Mandel
Steal Like An Artist by Austin Kleon
Stealing the Mystic Lamb:The True Story of the World's Most Coveted Masterpiece by Noah Charney
That Summer by Lauren Willig
Theater Geek: The Real-Life Drama of a Summer at Stagedoor Manor, the Famous Performing Arts Camp by Mickey Rapkin
Tiny Pretty Things by by Sona Charaipotra & Dhonielle Clayton
Twisted by Bert Ashe
We are Water by Wally Lamb
What I Loved by Siri Hustvedt
The Woman Upstairs by Claire Messud
We have a $100 e-gift card to the country's only romance-only bookstore, The Ripped Bodice!
Go here to enter for a chance to win
, or just click the image below. Good luck!