The Week's Most Popular Posts: November 9 – 13, 2015
Let's take a look back at the week that was, here on Book Riot:
For those of you who are not familiar with Myers-Briggs or the MBTI (Myers-Briggs Type Indicator), it is a personality profiling system based on Jung's typological theory that was developed by Katherine Cook Briggs and her daughter Isabel Briggs Myers. In the Myers-Briggs typology system, there are sixteen personality types consisting of four letters: E for extrovert or I for introvert, S for sensor or N for intuitive, T for thinker or F for feeler, and P for perceiver or J for judger. Psychologist David Keirsey later sorted these types into four temperaments. You can read more about Myers-Briggs here and find books about it here. Myers-Briggs typology can offer a lot of insight into how someone thinks, and in the case of an author, how someone writes.
from The Myers-Briggs Types of 101 Famous Authors by Kate Scott
____________________
Hey, hey, hey! Coloring book time again, or "colouring" when I feel jaunty. The grown-up coloring craze continues to crank away, and we're seeing more and more of these gems pop up with a novel (or series), as their origin. Several new coloring books perfectly suited to book lovers have come out lately or are lingering on the horizon. Hopefully you'll find something that satisfies your coloring and fandom urges.
from Grown-Up Coloring Books Based On Novels by Andy Miller
____________________
November 10th is Neil Gaiman's birthday.
However, instead of creating a list of Neil's books with hyperbolic complements to get you to purchase them, I will write a list of things that I think Mr. Gaiman would like us all to do for him.
As a birthday present.
from 5 Gifts You Can Give to Neil Gaiman on His Birthday by Johann Thorsson
____________________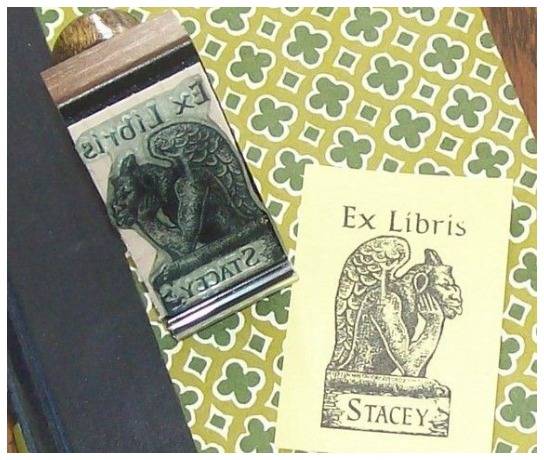 from Beautiful Bookplates of Etsy by Becky Stone
____________________
When Stephen Colbert and Jon Stewart ended their runs on The Colbert Report and The Daily Show earlier this year, book lovers (and, really, everyone else) mourned the loss of these two amazing comedians on late night television. Bookish folks, in particular, had reason to be sad because both shows did an amazing job highlighting great books and authors. Just check out the book lists from both shows — The Daily Show and theThe Colbert Report — to see some examples.
Although we don't know many details about what Jon Stewart will be doing next, Stephen Colbert has been kicking butt as the new host of The Late Show on CBS. And luckily for all of us, he's shown a commitment to including authors and interesting thinkers as his guests each night. Here are seven of my favorite author segments so far.
from 7 Great Author Visits to The Late Show with Stephen Colbert by Kim Ukura
Do you like podcasts like
This American Life, RadioLab, or Planet Money
?
Annotated
is kinda like those, but for books. Go
here to find out more
, or click the image below: