Buy, Borrow, Bypass: Medical Memoirs
I wanted to be a doctor for a really long time. It wasn't until just before medical school that I realized while I might be a good doctor, I would be a really bad medical student so I went another way. But I'm still always curious about the medical profession and eager to pick up a good doctor's memoir. A good medical memoir has plenty to say about what it means to be a doctor and how medicine works in our society. It doesn't get too gory or bogged down in technical details. Instead it explores that strange intersection between a doctor's daily routine and a patient's life-changing malady.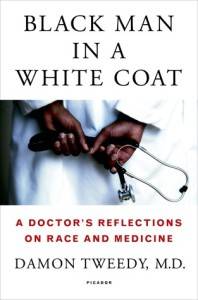 Black Man in a White Coat: A Doctor's Reflections on Race and Medicine by Damon Tweedy, M.D.
A new and timely release, Tweedy takes the format of the medical memoir and adds the lens of race. Following him from his time in training through his eventual practice in Psychiatry, race permeates much of his life. As a student on a mostly white campus he is mistaken by his professor for a janitor. During a rotation in a rural clinic, his patients are all black, all living in poverty, all in poor health. His role as a black man sometimes limits his involvement with patients and sometimes makes him the one person they will communicate with. Some medical memoirs can scare you, but this one will make you think. Buy if you're looking for a thoughtful, measured look at the state of race and medicine today.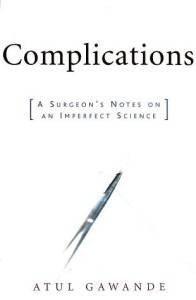 Complications: A Surgeon's Notes on an Imperfect Science by Atul Gawande
Gawande has become everyone's favorite medical writer, with regular pieces in The New Yorker and bestselling books like Better and Being Mortal. Complications is his first book and the most personal. While his later books focus on how to change medicine and improve the profession, Complications shares stories from his training and practice as a surgeon. There are still plenty of the meditations and examinations we've come to expect from Gawande, but this one features more stories from his own life and practice. Borrow to check out his thoughtful prose, but you may want to Buy if you already own his other books and want to complete the set.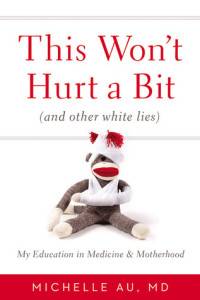 This Won't Hurt a Bit (and other white lies): My Education in Medicine and Motherhood by Michelle Au, M.D.
Given that it's almost entirely women who are left to manage work-life balance in the 21st century, it's not surprising that a medical memoir on balancing family with work is from a female physician. Dr. Au focuses mostly on her training, which consumes almost all of your 20s for your average doctor. She struggles to decide on a specialty, struggles to find time with her husband (also a doctor), and struggles to figure out parenting and childcare when she has a baby while still in residency. Au's story shows just how difficult it can be to navigate a personal life in a demanding profession. This is a must-read that makes a great gift for anyone you know who wants to be a doctor or for someone who wants to see how modern women make career decisions. Buy not just for what you can learn, but for Au's humor and warmth as well.
We have 10 copies of
A Gentleman in Moscow
by Amor Towles to give away to Book Riot readers!
Go here to enter for a chance to win
, or just click the image below. Good luck!