Quick Pick: October 30, 2015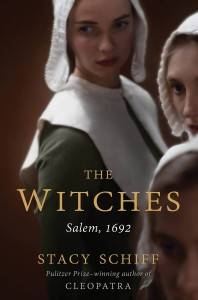 The Witches: Salem 1692 by Stacy Schiff
Schiff has turned a dark mark on American history into a psychological thriller with her meticulously detailed account of the Salem Witch trials. Witches were not a new thing in 1692 Puritan New England. In fact, they had laws that stated after idolatry, witchcraft was the second-most serious offense a man or woman could commit. (Followed by murder, poisoning and bestiality. Meaning turning the milk of your neighbor's cow was worse than putting the moves on it.) But the sheer number of accused – and executed – and the uncontrolled panic that so quickly spread had never occurred before. In fact, up until Salem most witches were punished with lashings, not hangings. Schiff does an amazing job analyzing the factors that may have contributed to the mania. A fascinating book by a fantastic historian.
Backlist bump: The Penguin Book of Witches edited by Katherine Howe
Subscribe to the New Books! newsletter to get weekly updates about new releases:
Enter to win a
new Kindle Paperwhite!