44 of Your Favorite Short Story Collections
This giveaway is sponsored by Night in Erg Chebbi and Other Stories by Edward Hamlin and Excommunicados by Charles Haverty.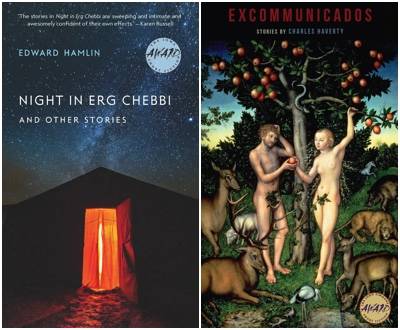 Night in Erg Chebbi and Other Stories spans the globe, taking us from Belfast to Brazil, Morocco to Manhattan. The teenaged daughter of an IRA assassin flees Northern Ireland only to end up in Baby Doc's terrifying Haiti. An American woman who's betrayed her brother only to lose him to a Taliban bullet comes face to face with her demons during a vacation in Morocco. A famed photojournalist must find a way to bring her life's work to closure before she goes blind. These characters must learn to improvise—quickly—when confronted with stark choices they never dreamed they'd have to make. Lyrical, immaculately constructed and deeply felt, these nine stories take us far beyond our comfort zones and deep into the wilds of the human heart.
Excommunicados charts the journeys of men, women, and children cast out of familiar territory into emotional terra incognita where people and things are rarely what they seem. These twelve stories are populated with ex-nuns and Freedom Riders, Chaucer scholars and strippers, out-of-work comedy writers and presidents, navigating their way through bedrooms and emergency rooms, backyard burial parties and airplane crash sites, the Piazza San Marco and the post-apocalyptic suburbs of Boston. There are secrets at the center of each of these daring and original stories—secrets that separate these characters from one another but grow in the mind and the heart, connecting them with all of us.
____________________
Short story collections can be found in every genre, and are perfect for readers of all stripes. Too busy for a novel? Read a short story when you have time. Want to settle in for hours of reading? Short stories give you varied worlds within two covers.
We asked for your favorite short story collections and you had plenty to tell us about. Here are 44 of your favorite short story collections, with some kind of reading for every single type of reader.
The Bloody Chamber by Angela Carter
Books of Blood by Clive Barker
The Boat by Nam Le
Can't and Won't: Stories by Lydia Davis
Changing Planes by Ursula K. Le Guin
The Complete Stories by Franz Kafka
Complete Stories by Dorothy Parker
Cowboys Are My Weakness by Pam Houston
The Divinity Gene by Mathew Trafford
Drinking Coffee Elsewhere by Z.Z. Packer
Everything Begins and Ends at the Kentucky Club by Benjamin Alire Saenz
Ex Libris by Anne Fadiman
Get In Trouble by Kelly Link
The Girl in the Flammable Skirt by Aimee Bender
How to Breathe Under Water by Julie Orringer
I Knew You'd Be Lovely by Alethea Black
The Last Animal by Abby Geni
Last Night by James Salter
Lives of Girls and Women by Alice Munro
The Lone Ranger and Tonto Fistfight in Heaven by Sherman Alexie
The Martian Chronicles by Ray Bradbury
Night Shift by Stephen King
Night Side by Joyce Carol Oates
Nine Stories by J.D. Salinger
North American Lake Monsters by Nathan Ballingrud
The Other Language by Francesca Marciano
A Portable Shelter by Kirsty Logan
Revenge by Yoko Ogawa
Rock Springs by Richard Ford
The Shell Collector by Anthony Doerr
The Simple Art of Murder by Raymond Chandler
Smoke and Mirrors by Neil Gaiman
St. Lucy's Home for Girls Raised by Wolves by Karen Russell
Stay Up With Me by Tom Barbash
Stone Mattress by Margaret Atwood
Tenth of December by George Saunders
The Thing Around Your Neck by Chimamanda Ngozi Adichie
Unaccustomed Earth by Jhumpa Lahiri
Vampires in the Lemon Grove by Karen Russell
Varieties of Disturbance by Lydia Davis
Wanting Only to Be Heard by Jack Driscoll
The Wilds by Julia Elliott
Windeye by Brian Evenson
Withdrawal Method by Pasha Malla
By signing up you agree to our Terms of Service
Have a listen to our new literary fiction podcast,
Novel Gazing!