The Week's Most Popular Posts: September 28 – October 2, 2015
Catch up with the most popular posts of the week, here on Book Riot:
"A dangerous book will always be in danger from those it threatens with the demand that they question their assumptions. They'd rather hang on to the assumptions and ban the book." ― Ursula K. Le Guin
from In Support of Banned Books Week: Quotes on Censorship by Liberty Hardy
____________________
from I Crocheted Katniss's Cowl From Catching Fire by Amanda Nelson
____________________
I want all readers and seekers to have the same access to books that I was privileged enough to have growing up: total. I want them to be able to read about what it's like to grow up not WASPy, cis-gendered, heterosexual, and wealthy. Those aren't the experiences of all Americans. Those aren't the only voices worth hearing. Reading only about people our parents and pastors are comfortable with isn't an education, it's an echo-chamber.
We're facing a lot of really pressing social issues right now. Topics like immigration, marriage, and racism still roil in our political discussions, and when we're approaching them, it helps to have a full picture of their implications. Books are a way in. In communities where it's not comfortable or common to be the odd family out, they may be some people's only way in.
from Dear Slate: Banned Books Week Isn't A "Crock" by Michelle Anne Schingler
____________________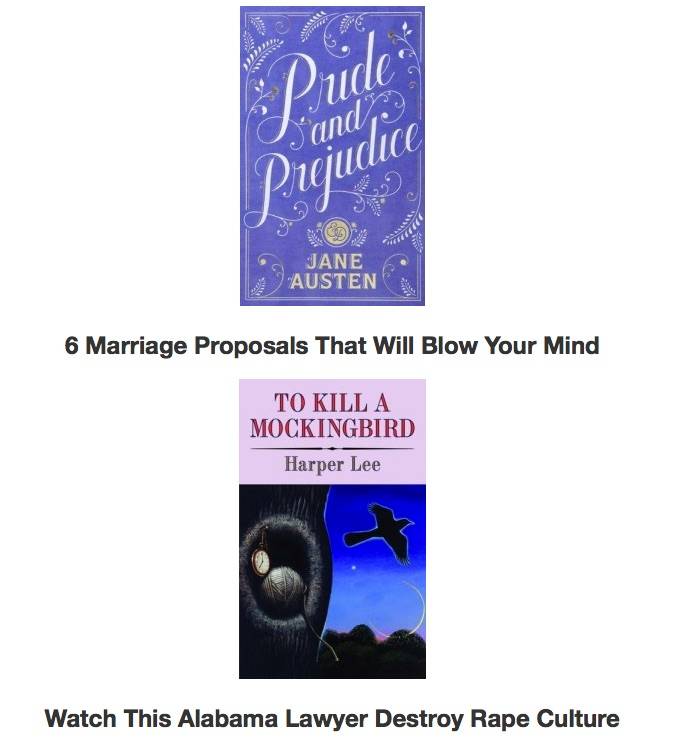 from 8 Classic Novels Retitled As Clickbait by Alice Burton
____________________
We asked our contributors to share the best book they read this month. We've got fiction, nonfiction, YA, and much, much more- there are book recommendations for everyone here! Some are old, some are new, and some aren't even out yet. Enjoy and tell us about the highlight of your reading month in the comments.
from The Best Books We Read In September by Mateeka Quinn
____________________
Maybe, when words are amalgamated together into some combination that we could never imagine, our brains need a split second to allow the synapses to fire and connect, creating a stronger mental tie to the language that binds us together as humans. The typical lapse in breathing is simply the mind handling too many responsibilities at once, momentarily forgetting a crucial life function. In milliseconds that moment passes, the computer freezing of the mind, and then there is new understanding branded within the impossible-to-navigate mess of grey matter.
from What Makes A Sentence Beautiful? by Aram Mrjoian