Quick Pick: September 11, 2015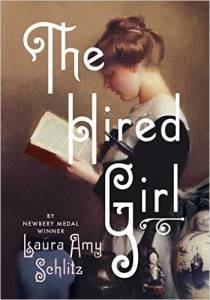 The Hired Girl by Laura Amy Schlitz
THIS BOOK. It had me crying at page one when its heroine, fourteen-year-old Joan, is telling her teacher goodbye. Joan loves school, and reading and learning, but her father insists she end her education and work the farm to help out her family. It's Pennsylvania in 1911, and her father demands she and her four brothers earn their keep. But when Joan gets a job as a maid outside the home, she allows herself to dream of a different life away from her family's farm. And with her big brain, Joan just might figure out how to get it. Inspired by the journal of author's grandmother, The Hired Girl is an inspiring, magical, book lover's delight.
Backlist bump: Anne of Green Gables by L. M. Montgomery 
Subscribe to the New Books! newsletter to get weekly updates about new releases:
Do you like podcasts like
This American Life, RadioLab, or Planet Money
?
Annotated
is kinda like those, but for books. Go
here to find out more
, or click the image below: